Artificially intelligent robotic sorters are the future of data-driven recycling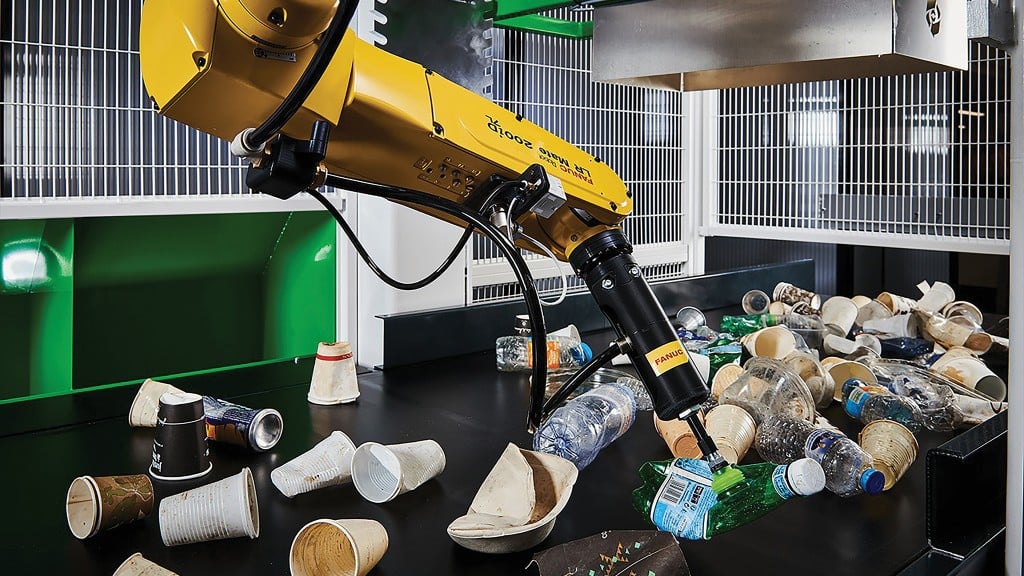 Artificially intelligent robotic sorting technology is the future of centralized, data-driven recycling models. Generally paired with optical sorting technology for the best results, the latest robotic sorters are achieving (and starting to exceed) 70 picks per minute for mixed plastics and paper. They are also being used very effectively for C&D sorting, and they have great potential for other materials including metals, electronics, organics and glass. With contamination of end product being a number one concern for MRF operators due to rapidly changing, highly contaminated incoming streams on the one side, and shrunken global end markets such as China, coupled with underdeveloped domestic markets for many recovered materials, getting to the high purity levels required by today's end markets is among the most significant challenges recyclers face.

The use of artificially intelligent (AI) robotic sorting technology increases yield and recovery rates and improves quality of materials recovered - increasing its ability to compete with virgin product on the market. Also significant is the fact that human pickers, on average, cannot achieve anywhere close to 70 picks per hour, and they can be unreliable, become sick or get injured. We also know that in the very tough recycling facility work environment, there is a very high employee turnover rate. Robotic sorting helps to solve these issues as robots can work as much as required and pick reliably without being affected by dust, hazardous materials and other risk factors in recycling plants.
Machinex SamurAI
Introduced in 2018, Machinex' SamurAI is a four-articulation robot employing AI technology to identify materials for accurate, positive product recovery, or as a precise quality control function. The system's AI operates according to a pre-determined order of task hierarchy to maximize financial return while continually improving and learning from operating experience to assure maximum recognition efficiency. According to Machinex, compared to a human sorter, which achieves an average of 35 picks per minute, the SamurAI can double this average by reaching up to 70 picks per minute. The SamurAI has also been designed to accommodate sorting conveyors with width up to 48 inches, while offering a modular design for multiple robot configurations.

Machinex recently introduced two new high-tech products - MACH Vision and the Intell platform - both compatible for integration with SamurAI robotics as well as MACH Hyspec optical sorters and other high-tech systems for MRFs. MACH Vision is a data acquisition station powered by AI, which can use a combination of field-proven technologies, such as infrared hyperspectral technology, visual recognition and metal detectors, to very accurately analyze fast moving material streams. The new Intell platform connects directly to all of the high-tech automated sorting equipment referenced above to provide real-time material stream data capture and analysis capabilities for operators.
Waste Robotics WAR
Waste Robotics developed their WAR (Waste Autonomous Recycling) software to allow for multi-sensor scanning and real-time artificial intelligence analysis, including waste chemical composition and shape recognition. Used with robotic technology manufactured by FANUC, WAR computes grappling strategies and picking sequences in real time to perform robotic extraction of recyclable materials and provides the ability to unstack pieces piled on a line.

WAR systems combine 2D and 3D colour and hyperspectral chemistry-of-object recognition with a vision system that is adaptable to conveyor widths, and it allows for the ability to put several robots on the same sorting line (with each additional robot adding about 20 percent increased efficiency on a given line, according to Waste Robotics). This technology integrates computer vision and deep learning algorithms with state-of-the-art robotics to enable smaller, more precise, safer and more profitable sorting in organics recovery, MRF applications and C&D recycling.
Bollegraaf ROBB-AQC
Bollegraaf's AI-powered RoBB-AQC is a fully automated robotic sorter designed to improve quality control sorting. According to Van Dyk Recycling Solutions, the North American distributor and product support for Bollegraaf, it is the first sorting robot to combine the accuracy of NIR detection with the adaptability of AI-powered learning, and as a final quality control step on a container line, one RoBB unit will recover up to 70 picks per minute - achieving higher productivity and better reliability than two human sorters.

RoBB also uses a laser-guided system and cameras to detect the height of waste products, which, combined with NIR, enables precision sorting of recyclables by both material recognition and 3D detection. Designed with flexibility in mind, ROBB-AQC can be placed on top of existing sort lines with very minimal retrofit costs and minimal downtime. Material selection only requires the touch of a button, and ranges from PET, HDPE, LDPE, PS and PP to Tetra Pak, OCC or paper/cardboard of various shapes and sizes.
AMP Robotics Clarity
In 2021, AMP Robotics introduced an AI-powered material characterization software solution, called AMP Clarity, that enables the recognition and classification of recyclables that flow through different recovery stages of the recycling process. The company says this latest industry innovation serves as a breakthrough in the effort toward providing measurable transparency on the recyclables captured and missed during different recycling processes, as well as confirming the composition of recovered material bales destined for resale to end markets in the supply chain.

AMP Clarity captures data on mixed plastics including PET, HDPE, LDPE, PP and PS; aluminum used beverage cans (UBCs); and fibre such as corrugated cardboard (OCC) and sorted residential paper and newsprint (SRPN). Material data is collected, classified and sub-classified so MRFs can see what recyclables are flowing through different stages of their operation. According to AMP, this monitoring can help prevent the loss of recyclables to landfill, diagnose gaps in processing efficiency, audit the composition of material streams and create certainty about final bale content and material quality for both buyers and sellers.
Recycleye Robotics
FANUC, one of the world's largest robotics manufacturers operating in a variety of sectors, recently began a partnership with artificial-intelligence specialist start-up Recycleye based out of the U.K. and France. Over the past year, Recycleye has combined its validated AI computer vision technology with FANUC's experience in robotics manufacturing and automation to deploy and scale the Recycleye Robotics AI-powered robotic waste-picking system.

FANUC's engineers designed Recycleye Robotics to weigh 75 percent less than any existing robotic waste picker currently in the market, allowing for plug-and-play installation that eliminates traditional expensive retrofit costs. According to Recycleye, this system performs the physical tasks of identifying, picking and placing material at a rate of 55 per minute, automating traditionally manual operations and enabling facilities to double their total throughput.
BHS MAX-AI AQC-C
In 2019, Bulk Handling Systems (BHS) launched the Max-AI AQC-C, a solution consisting of the Max-AI VIS (Visual Identification System) which analyzes and reports material composition data to operators, and at least one collaborative robot (CoBot). CoBots are designed to work safely alongside people, which allows the AQC-C to be quickly and easily placed into existing MRFs. According to BHS, Max-AI technology identifies recyclables similar to the way a person does, directs both robotic and optical sorters, and collects and reports material characterization information.

The Max-AI AQC (for Autonomous Quality Control) robotic sorter is ideal for placement at the last chance position on a line to identify and capture remaining recyclables before they exit the process, and/or works well in collaboration with a NRT SpydIR optical sorter to identify and remove non-fibre from mixed paper product upstream. In addition, the latest AQC-C solution can be installed in sort cabins, on narrow walkways and in other tight locations, and is easily scalable - allowing for up to four robotic sorters to be added behind each Max-VIS system.
Steinert UniSort Unibot
The newly introduced UniSort Unibot from Steinert combines reliable sensor technology with modern robotics and AI-based recognition software, ensuring precise detection and a pure plastic fraction in the final sorting step. The UniSort Unibot relies on a combination of sensors made up of high-resolution NIR and colour cameras, and employs optimized detection software for fast data processing, even with high belt loads. This technology relies on the use of the AI-based Intelligent Object Identifier and employs a delta robot with a specially developed tool adapter that offers the fastest speeds and greatest accuracy in extremely small spaces.

According to Steinert, the UniSort Unibot checks and simultaneously assesses the quality of material flows, which guarantees that the final product is of the best possible quality. It also creates an interface for digitally processing data, which makes it possible to react to the material flow immediately so that regulatory and customer-specific requirements can be met.
EverestLabs 2.0
EverestLabs has released its most compact, high-recovery robot footprint cells for MRF applications, engineered to deliver up to 208 picks per minute, a 49 percent increase in object picks compared to legacy Delta robot solutions, according to the manufacturer.

EverestLabs says their robot cells are successfully achieving an 85 percent or greater pick success rate - the highest to date for robots in production in MRFs - due to their innovative end-of-arm-tools, software and suction strength. These robot cells are also customizable, highly flexible and use automation, operational intelligence and ERP/ESG components powered by proprietary RecycleOS technology. These robotic cells also use patent pending software with low inference time and can accommodate various MRF belt configurations including slope, low overhead clearance, trough and chevroned MRF belts.
ZenRobotics Fast Picker
The ZenRobotics Fast Picker, introduced in 2018, is a result of a decade-long experience in waste robotics and couples artificially intelligent software with high-speed picking. Designed to improve the efficiency of MRFs, the Fast Picker is ideal for lightweight material such as packaging (LWP) and dry mixed recyclables (DMR), and, according to ZenRobotics, in a three-arm configuration this technology can make up to 6,000 picks per hour.

ZenRobotics' Fast Picker allows for autonomous picking 24/7 and increases recovery while maintaining high purity in recyclables. It is easily integrated into side-streams, reject recovery lines and quality control after optical sorting. It features a robust and compact design and can be retrofitted to different conveyor widths, fitting most picking stations without additional modifications. ZenRobotics Fast Picker are powered by ZenbrAIn, a unique artificial intelligence software that both analyzes data and controls the robots.
This article was originally published in the July/August 2021 edition of Recycling Product News, Volume 29, Number 5.
Related Articles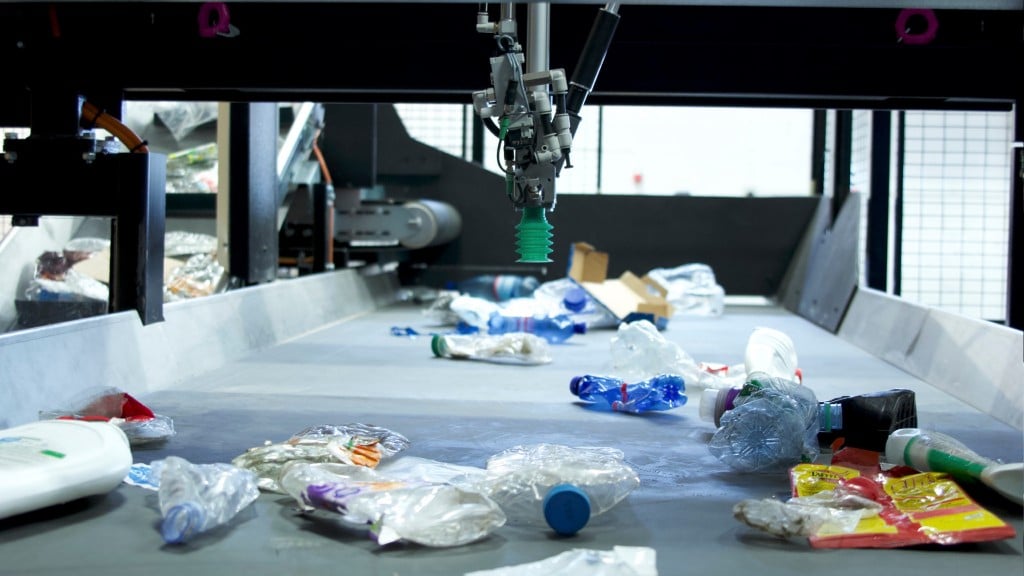 ZenRobotics to retrofit Masotina's plastics sorting facilities with AI-powered robotic sorting station