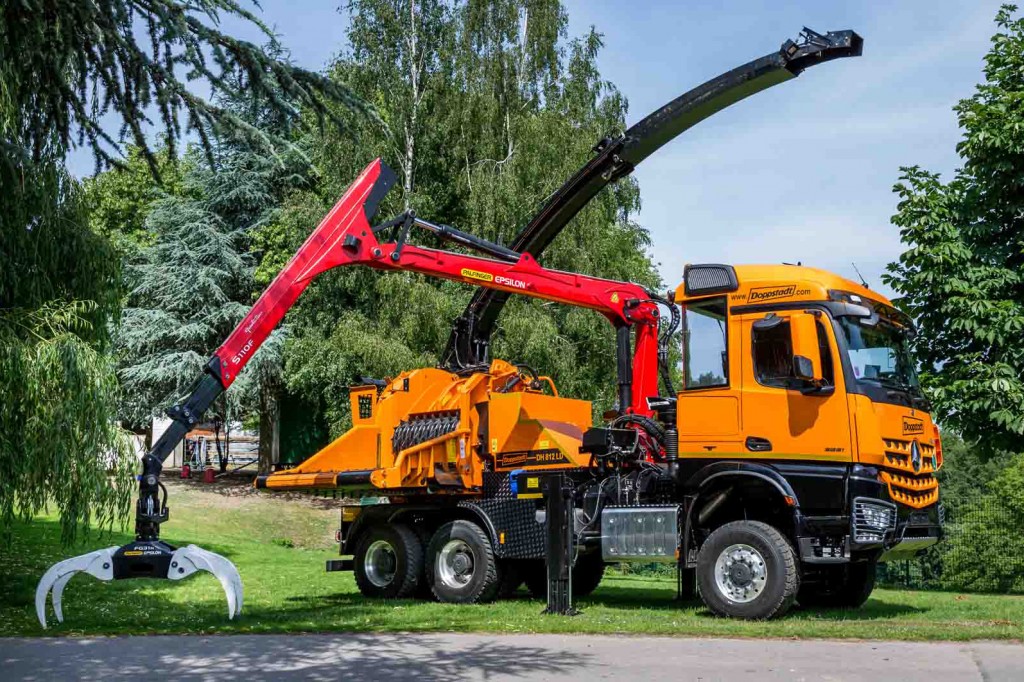 The DH 812 LD is an innovative truck-mounted chipper. The chipping unit is equivalent to the PTO shaft as used in the DH 812 version. By selecting the suitable screen basket the chip size can be seamlessly adjusted from G30 to G100. The rear picture window of the truck allows unrestricted sight at both crane and feeder. The drivetrain requires only modest motor power and works very quietly, but all the more effectively.
Thanks to its closed rotor and the perfect adjustment of screen basket and blade advance the DH 812 LD continuously produces finished goods of the highest grade. Rotating at 500 rpm the chipping unit is the powerhouse of this machine. A transverse in-feed system running backwards and forwards transports the wood to a float-mounted feeding roller.
The full-steel chipping drum is fit into solid steel frames, while the special arrangement of the chippings knives makes the DH 812 LD run with a minimum amount of vibration and ensures perfectly shaped chips from all types of wood. This one didn't just fall off the turnip truck: The DH 812 LD is the perfect solution for your next clearout in the woods - don't miss out on this exciting machine!
Specs
Key Specifications

| | |
| --- | --- |
| Total weight | 25500 - 27500 kg |
| Motor power | 350 / 480 kW / PS |
| Knives | 6 |
| Infeed height | 950 mm |
| Infeed width | 1200 mm |