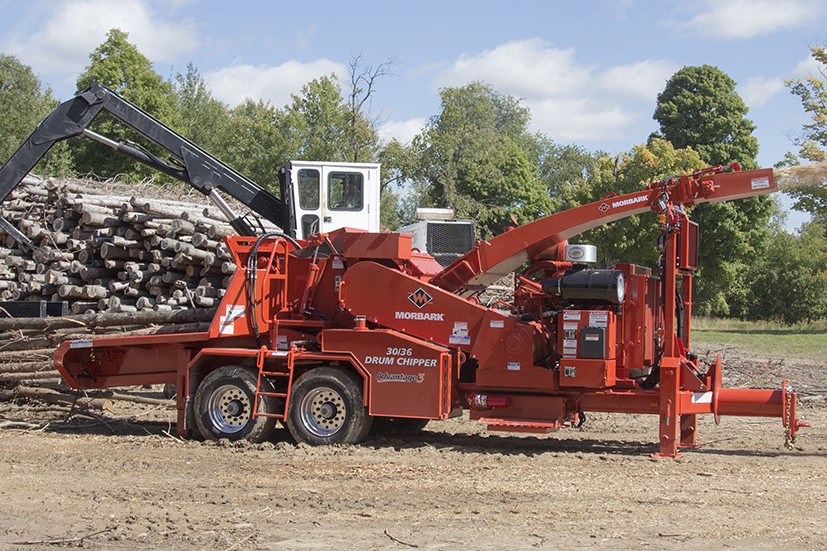 The Morbark 30/36 Whole Tree Drum Chipper's high production rate lowers operating costs by increasing fuel efficiency. The aggressive live floor feeding system with two strands of durable WHD-120 chain and a large top and bottom feed wheels ensure positive feeding of material, including brushy tops and limbs. Morbark's Advantage 3 Drum produces more consistent chips, while the heat-treated, AR-400 steel drum skin provides longer wear life for lower replacement costs and less downtime.
Features & Benefits
Morbark Integrated Control Systems (MICS)
This ultimate diagnostic system monitors hydraulic pressures, temperatures, clutch systems and engine efficiency to maximize performance.
Drum
The Advantage 3™ drum creates more uniform chips and reduces operating and maintenance costs.
Discharge
Directional flow discharge chute is hydraulically adjustable by remote control for maximum chip loads.
Sloped Infeed System
Aggressive, sloped live floor and large top and bottom feedwheels ensure positive feed of brushy tops and limbs.
Optional Forestry Grate
The operator-friendly, slide-in forestry grate system reduces oversized chips for more consistent, higher-quality chips.
Optional Chip Accelerator
A mechanically driven chip accelerator fully loads vans with chips.
Specs
Key Specifications

| | |
| --- | --- |
| Gross weight NCL | 36,500 lbs. |
| Infeed opening | 31″ x 34″ |
| Chipping capacity | 23″ diameter |
| Engine: CAT or John Deere Horsepower | 440 HP to 600 HP |