Revisit Recycling Product News' most popular stories of the year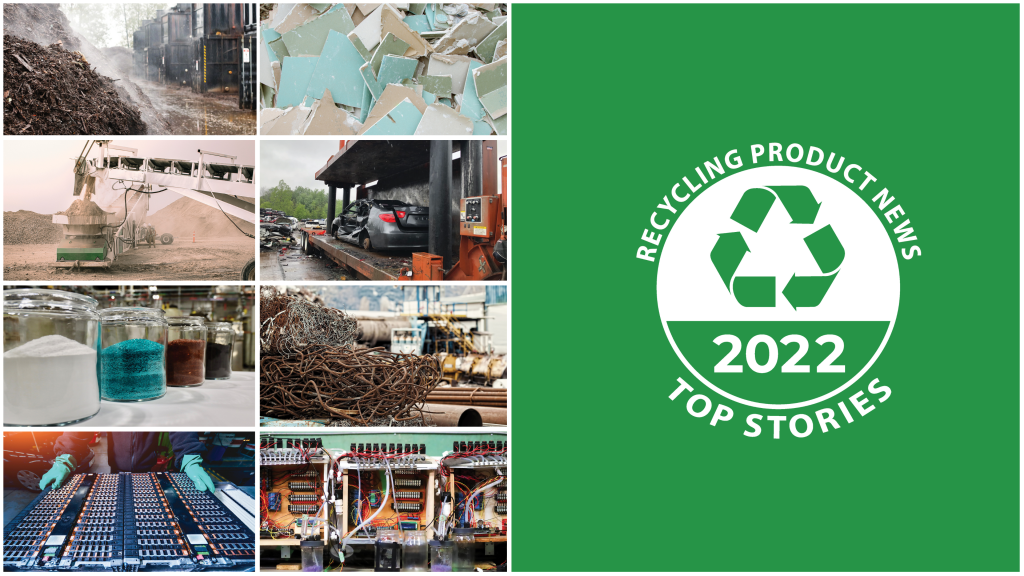 A lot has happened over the past year. So much so that we wanted to revisit some of our most-read articles of 2022. This past year, some of our top stories covered how the Davis Index set scrap recyclers up for success, Anaconda Systems developed an urban composting solution, and the Construction & Demolition Recycling Association took on the challenges of drywall recycling. In 2022, we also looked ahead to the challenges still facing the industry, such as opportunities in the auto recycling industry, how investment in Canadian soils can help offset carbon emissions, and why battery recycling is such a hot topic. Check out the list below for our top 10 articles from 2022.
Opportunities and challenges for the auto recycling industry
Steve Fletcher, the managing director of the Automotive Recyclers of Canada, has worked in the automotive recycling industry for thirty years. In the last five years, he's seen more industry changes than in the rest of his career combined. But despite those changes, many opportunities and challenges remain for the auto recycling sector: electric vehicles, lingering impacts from the pandemic, and more.
Read Steve Fletcher's full article and learn more about the opportunities and challenges present in the auto recycling industry.
The Construction & Demolition Recycling Association is taking on drywall recycling challenges
The recovery and reuse of drywall has long been a challenge in the C&D recycling industry. Both government officials and the public don't know what to do with drywall. Plus, drywall is mixed with other C&D debris and gets broken into smaller pieces or fines while on the way to the recycling facility. Due to the lack of knowledge surrounding the handling of drywall, Jason Haus, the CEO of Dem-Con Companies and past president of the CDRA, has shared how the CDRA is taking on the challenges of drywall recycling.
Read the full article and find out how the CDRA is tackling drywall recycling.
Calgary C&D facility cleans up contaminated materials with new plant
As the City of Calgary continues to grow, the amount of contaminated soil dug up from construction sites grows too. With few facilities capable of remediating the soil, much of it is landfilled instead of reused. Calgary Aggregate Recycling plans to fix that problem with a CDE-built custom plant that will be able to recycle up to 600,000 tons of contaminated soil each year.
In the full article, find out everything you need to know about Calgary Aggregate Recycling's new plant.
How Anaconda Systems is cutting costs and commutes with urban composting
Russell Zishiri was once one of the many people trucking organic materials out of Vancouver and into a rural processing facility, but spending countless hours in bumper-to-bumper traffic is frustrating and undesirable. Zishiri's solution? Bringing the processing facility closer to the city. Odour, land costs, and permitting are just a few factors that have previously prevented organics processing facilities from operating within city limits. Still, Zishiri wanted to find a solution. And with that, Anaconda Systems was formed.
You can learn more about Russell Zishiri and his urban composting facility in the full article.
Davis Index sets up scrap metal recyclers for success
Accurate scrap metal prices are needed to make informed decisions about buying and selling scrap. That's where the Davis Index comes in. The Davis Index aims to provide the scrap metal recycling industry with transparent and accurate information about scrap metal in order to make the entire recycling industry more sustainable. This year, the creator of the Davis Index, Sean Davidson, sat down with Editorial Director Arturo Santiago to discuss how the Davis Index is setting up scrap recyclers for success.
You can learn everything you need to know about the Davis Index in the full article.
Q&A: Ascend Elements takes lithium-ion batteries from grave to cradle
Ascend Elements manufactures advanced battery materials by using the elements from reclaimed and discarded lithium-ion batteries. Editorial Director Arturo Santiago sat down with Rogin Lin, the vice president of Global Marketing at Ascend Elements to get the latest about Ascend Elements' recycling technologies that are cost-effective, environmentally friendly, and yield high-quality materials.
Read the full Q&A between Arturo Santiago and Rogin Lin in the full article.
Ferrous markets rebalancing after blockbuster 2021
In 2021, steel prices reached an all-time high, the production of steel expanded, and the volume of scrap processing increased. Plus, the impacts of the COVID-19 pandemic also caused significant market disruptions. As 2022 began, the market for ferrous metal began to rebalance after a record-setting 2021. Joe Pickard, the chief economist and director of commodities at the Institute of Scrap Recycling Industries (ISRI), shared some of the reasons why the market bounced upward in 2021 and why it began to rebalance in 2022.
Read the full article to learn more about how ferrous markets are rebalancing after a blockbuster 2021.
How investing in Canadian soil can help offset agricultural carbon emissions
According to the Recruiting Soil to Tackle Climate Change: A roadmap for Canada report, composting and soil-carbon sequestration has the potential to play a major role in combating the climate crisis. In order to reap the benefits that soil can provide, substantial investment is needed. The report includes input from soil health researchers and practitioners and is a call to action for the Canadian government and others to invest in the benefits that soil can provide.
Read the full article to find out more about how Canadian soil can help offset agricultural carbon emissions.
Commentary: Why battery recycling is such a hot topic in 2022
Electric vehicles (EVs) are selling more and more each year. The increased amount of EVs on the road reduces harmful emissions, but also creates a bigger need for lithium-ion battery recycling programs. In this article, Gary Moore, the director of global business development at UNTHA, delves into the hot topic of battery recycling and the role that EVs have in the wider battery recycling debate.
You can learn more about why lithium-ion battery recycling is such a hot topic in the full article.
Regenerative Waste Labs finds value in organic waste
How far are we from living in a reality where everything we use is biodegradable? If you ask Regenerative Waste Labs, they'd say that vision is much closer than we previously thought. Regenerative Waste Labs consults and guides businesses through the entire lifecycle of their products and helps keep them out of landfills. Editor Slone Fox recently spoke with Dr. Love-Ese Chile, the co-owner and technical director of Regenerative Waste Labs, about the approach Regenerative Waste Labs takes to organic waste.
Learn more about Regenerative Waste Labs and its organic waste process in the full article.