Recycling Product News' 2020 Top Introductions
Our picks for the top technology and equipment innovations of the year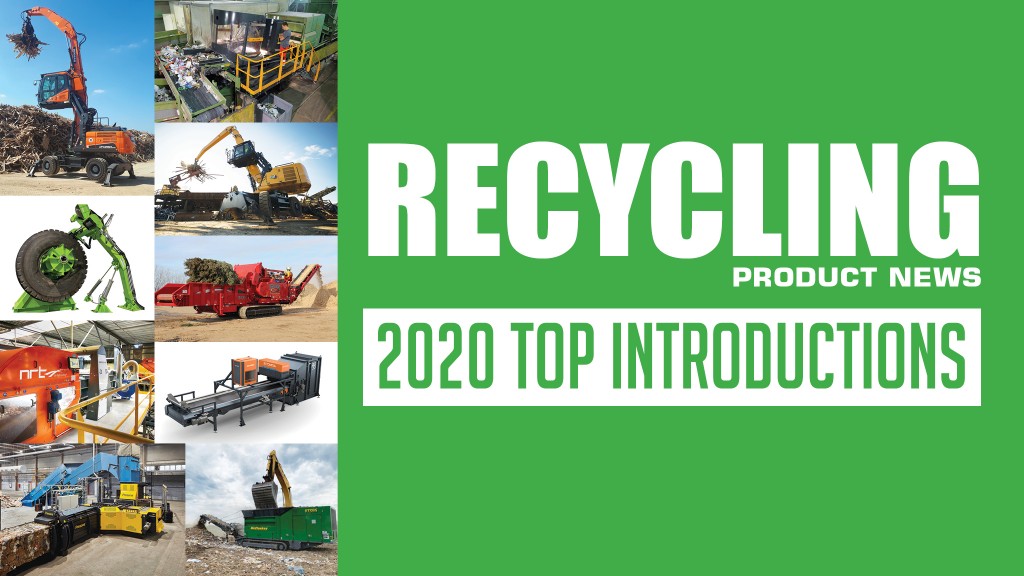 Every year there is an impressive amount of new equipment and technology introductions for the recycling and waste industry. These advances are coming faster than ever and are paramount to the sustainability and profitability of our industry, even more so when we look back on a year as challenging as 2020.
Artificial intelligence and automation continues to make its way into all aspects of our industry, as has electric power. Essential equipment to our industry, such as material handlers, shredders, grinders, screens, balers and automated sorters, just keeps getting faster, safer, more comfortable and more environmentally friendly - all while becoming more efficient.
Here are our picks for the top equipment and technology introductions in 2020.
TOMRA next generation AUTOSORT
Optimal recyclables sorting requires both speed and accuracy. Ultra-compact and highly versatile, intelligent and accurate, TOMRA's new sensor-based sorting lineup includes updated advanced optical technology, SPEEDAIR high-speed throughput, and CYBOT AI robotic technology, which combines near-infrared, visible light spectroscopy, and DEEP LAISER artificial intelligence, as well as induction for ferrous and non-ferrous metals recovery.
Bollegraaf ROBB-AQC sorting robot
Robotic sorting of recyclables continues to advance very quickly. Bollegraaf's new RoBB-AQC fully automated, artificially intelligent robot is the first to combine the accuracy of NIR detection with the adaptability of AI-powered learning. Just one robot in a MRF can make up to 70 picks per minute on materials ranging from PET and HDPE to Tetra Pak and OCC.
McCloskey tracked primary shredder
The first offering from McCloskey's recently created recycling division, the VTS95 mobile, track-mounted primary shredder is capable of effectively reducing virtually any type of material from solid waste to industrial and commercial waste, including materials which vary greatly in terms of size, composition and difficulty to shred.
ECO Green EcoRazor off-the-road tire recycler
Designed specifically to facilitate the efficient recycling of large mining and OTR tires, the new Eco Razor 63 is equipped with an articulating head that facilitates three-sided rubber removal, and adjustable knives that allow for control of output size.
Doosan wheeled material handler
Doosan's new wheeled material handler uses two arm cylinders to improve machine performance and control of material during lift and placement cycles. A droop-nose arm is standard, with an optional straight arm. A hydraulic cab riser provides enhanced visibility when loading and unloading material, and four outriggers add stability.
Updated Rotochopper HOG
Rotochopper's most recent updates to the FP-66 mid-sized horizontal grinder are meant to increase the capacity of materials that can be processed. These grinders include a larger 30-inch feed opening and are now available with a more aggressive powerfeed and either a 630- or 755-hp diesel engine to grind a variety of raw materials.
NRT ColorPlus with Max-AI
This next-generation optical sorter from BHS subsidiary National Recovery Technologies (NRT) integrates artificial intelligence (AI) into the ColorPlus optical sorter. The ColorPlus with Max-AI combines high volume and high accuracy capabilities with human-like identification decisions, employing a high-resolution RGB line-scan sensor to identify and sort recyclables by colour.
Caterpillar mobile material handler
The new MH3040 material handler is the largest in Cat's lineup, featuring boom, stick and other high-stress areas with thick, multi-plate fabrications, castings and forgings to withstand wear and deliver years of durable operation, reduced fuel and maintenance costs, as well as specially designed mountings on the upper frame to support a new heavy-duty cab.
Vermeer electric-powered trommel
Electric power is surely the future for recycling equipment of all stripes. Vermeer's new TR5300EM trommel screen is powered by an industrial-duty, fan-cooled 60-hp (44.7-kW) electric motor, and delivers a drum speed of 0-24 revolutions per minute to handle multiple organic material types. These mobile plants provide quiet operation with reduced exhaust emissions, noise levels and maintenance, and feature a low hopper infeed with a capacity of 5.5 cubic yards (4.2 cubic metres).
Presona turbocharged baler
The new Presona MP 270 MH baler creates super-high-capacity bales while being cost effective, allowing recyclers to potentially replace two balers with one. High performance is based on automatic self-optimization and parallel, simultaneous processing of two bales: one is pre-compressed while the second finished bale is produced.
Tigercat carbonator for wood-to-fuel
This unique mobile plant allows for carbon sequestration from waste organics in a single step, requiring no pre-processing. The Tigercat 6050 carbonator reduces waste wood by up to 95 percent using an environmentally friendly process, and creates biochar, a highly efficient fuel source for various industries.
Lindner Atlas twin-shaft pre-shredder
Waste management never stops. Lindner's next generation Atlas 5500 twin-shaft pre-shredder is designed for automated 24/7 operation. These machines will reduce a range of input materials to the ideal output size and chunkiness for subsequent sorting processes with high energy efficiency, easy operation and remote-control capability. Plus, with its patented FX fast exchange system the entire cutting system can be completely exchanged in under an hour.
This article was originally published in the November/December 2020 edition of Recycling Product News, Volume 28, Number 1.