​Circular Economy "Hottest Ticket" at K 2019
Largest trade event for global plastics and rubber industries focused on responsible handling of plastics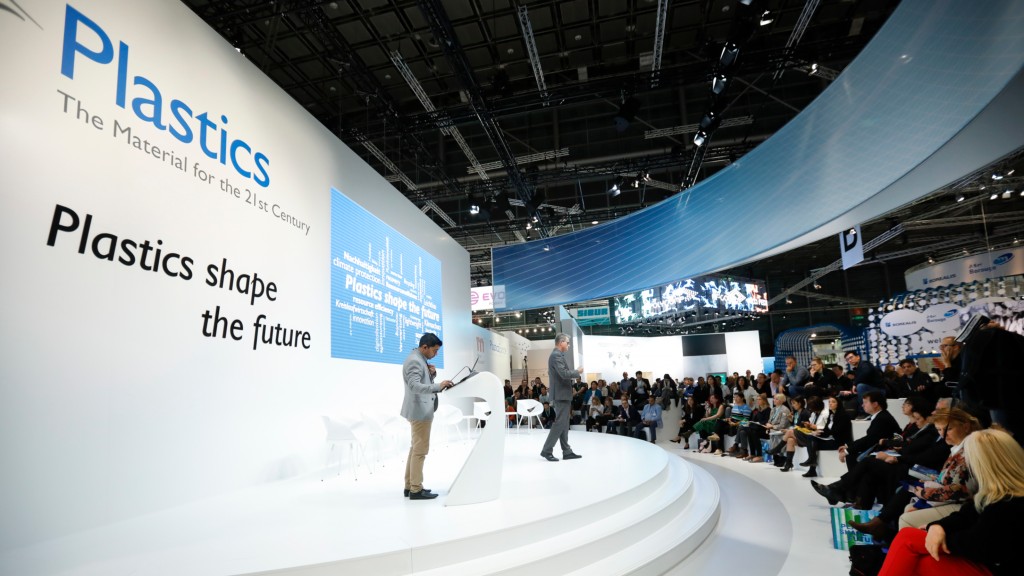 K 2019, the largest global trade fair for the plastics and rubber industry, which hosted more than 3,300 exhibitors from over 60 nations and approximately 225,000 attendees, drew to a close in Düsseldorf, Germany after eight days on Wednesday 23 October. According to a press release issued by show organizers following the event, this year's K highlighted the necessity of having operational circular economies along the complete plastics industry material chain, and visitors this year took great interest especially in recycling systems, sustainable raw materials and resource-saving processes.

"K 2019 came at precisely the right point in time," said Werner Matthias Dornscheidt, President & CEO of Messe Düsseldorf. "There is no other place the industry is represented so internationally and completely as here in Düsseldorf every three years. Especially in times of great challenges, a platform like the K is indispensable. It provides guidance and perspectives, sets sustainable economic impulses, shows forward-looking trends and concrete approaches. The industry and its professional associations enjoyed the unique opportunity here to present sector-specific solutions and debate questions of socio-political relevance on a global scale."
Ulrich Reifenhäuser, chairman of the Exhibitor Advisory Board at K 2019, commented: "The plastics and rubber industry succeeded in proving once again that plastics are not only very valuable materials with outstanding properties but also that this industry assumes responsibility along the entire value chain."
"Never before has the industry addressed an issue so unanimously and worked on solutions so consistently as is the case now in the fields of environmental compatibility, saving resources and avoiding waste. There is a spirit of new departures prevailing in the industry and current dynamics are overwhelming."
Below is a summary of some of the innovative companies which showcased the latest plastics recycling technology, innovations and solutions at K 2019 -- for shredding and size reduction, washing and sorting, extruding and molding, and additives.
Lindner-Recyclingtech GmbH presented the next generation of their Micromat shredder, along with an additional model and a new and improved universal cutting system. In terms of processes, the mechanical recycling of plastic waste always starts with shredding, which is precisely why Lindner says they demonstrated their new Micromat 1500 shredder this year. The new model is available globally.
Lindner subsidiary Lindner Washtech, launched a new Hot-Wash System for effective plastic recovery (shown above) offering continuous output of plastic recyclate that is barely distinguishable from virgin material, according to the company. Lindner Recyclingtech exhibited for the first time at K in the outside area, showing a system solution consisting of a shredder and a dry-cleaning system, which during the event, recycled plastics twice daily.
Borealis: With their acquisition of the plastics recycler mtm plastics, Borealis, a leading chemicals and plastics group, has become the first plastics manufacturer to work towards a circular economy. According to Borealis, their group has been consistent in its efforts to drive plastics circularity and is developing regranulates of the highest quality. The result is sophisticated and innovative products jointly created with partners from the waste management and plastics industries, including Austria-based equipment supplier Lindner-Recyclingtech GmbH.
TOMRA Sorting Recycling presented its INNOSORT FLAKE and a preview of a groundbreaking innovation in the fields of Artificial Intelligence. TOMRA says their new INNOSORT FLAKE, available in North America as of the first quarter of 2020, is designed to positively impact and purify the recycling process, and has shown to be the ideal dual-sorting solution for plastic recovery facilities, sorting plastic fractions from 0.08 to 0.47 in (2 to 12 mm) by color and simultaneously by polymer types.
STEINERT focused on its latest technology that allows black plastics to be sorted from the general waste stream into pure grades. This enables plastic-processing companies to respond to the new challenges of the circular economy in a cost-effective manner and to be equipped for all the processes involved in plastic recovery and processing in equal measure. Steinert's UniSort BlackEye and UniSort Black machines were on display this year.
Vecoplan LLC unveiled a completely new and highly versatile shredder - a milestone in mechanical processing, a new Flexible-drive shredder. The single-stage shredder is a new model in the Vecoplan Infinity Shredders (VIZ) series. The machine can be equipped either with a high-torque, quick-start HiTorc drive or a frequency-controlled, belt-type direct drive.
Sesotec GmbH, a specialist in metal detectors and sorting systems for the plastics industry, showcased its tailored solutions that help to conserve resources and increase production efficiency at the most critical points in the plastic cycle: manufacturing, processing and recycling. Sesotec unveiled its RAPID PRO SENSE 6 metal detector and the FLAKE SCAN plastic material analysis system this year.
Coperion presented the company's enhanced ZSK Mc18 twin screw extruders. According to Coperion, these redesigned models are loaded with numerous new features that optimize convenience and handling while minimizing downtimes and energy use. Against the backdrop of the show's focus on circular economy, Coperion is demonstrating how recycling can be implemented using the newest ZSK Mc18 technology, at both industrial scale and at the highest level of quality.
Rodepa Plastics, a Netherlands recycler, was presented with Bühler's yield optimising color sorter for plastic flakes, the SORTEX B1 MultiVision optical sorter, in a K Show lottery draw held October 23rd. The SORTEX B MultiVision is available with up to seven chutes and can be used for PET, HDPE, uPVC, pellets and ELV and WEEE. Bühler's proprietary color cameras uses up to three wavelengths to provide excellent color sorting and foreign material detection.
STF Group featured two brand new machine designs: the new STF Self-Cleaning Friction Cleaner and new Star Screen. Both new machines can be retrofitted in existing Sorting and Washing Lines. Zimmer America Recycling Solutions is the exclusive sales and service representative for STF Group in North America.
Ettlinger, a member of the Maag Group, unveiled its brand new ERF 1000 high performance melt filter for very high throughputs in recycling applications for plastic materials.
Nordson Corporation focused this year on the company's Polymer Processing Systems (PPS) and announced worldwide investment in process laboratories for the BKG, EDI, and Xaloy brands, new BKG systems for PET 'bottle-2-fiber' recycling, and Xaloy screw designs that reduce cycle time in injection molding.

SABIC, a global leader in the chemical industry, showcased its range of advanced packaging material and technology solutions at K 2019 designed to help manufacturers create sustainable packaging options for increased performance and reduced waste. Under the theme 'Making a World of Difference Together', SABIC unveiled its new TRUCIRCLE initiative and services for circular solutions. TRUCIRCLE includes: SABIC's flagship certified circular polymers made from the chemical recycling of mixed plastic waste; certified renewable polymers; mechanical recycled polymers and material solutions designed for recyclability.

When recycling polyamides, Brüggemann's BRUGGOLEN M series of reactive chain modifiers allow precise and reproducible adjustment of relative viscosities, by either lengthening excessively short chains or shortening those which are too long. Producers can use small amounts of these modifiers to tailor relative viscosities to their needs in a single compounding step. The resultant upcycled materials exhibit excellent mechanical properties and are suitable for the same applications as prime materials of similar viscosities. This removes the need to blend the recyclate with prime polymers and opens up a wide range of possibilities for establishing a profitable market for secondary polyamide raw materials which meet the high-quality requirements of the molding industry.

Ulsan, South Korea-based Songwon Industrial Co., Ltd., the 2nd largest manufacturer of polymer stabilizers in the world and a key global specialty chemicals player showcased its sustainable solutions and highlighting its focus on sustainability and positioning as an enabler of circularity during K2019. SONGWON's range of polymer stabilizers prolongs the lifetime of polymers, contributes to making materials reusable and stabilizes the polymer through the mechanical recycling step.
Other companies at this year's K 2019 with equipment, technology and innovations that contribute to the efficiency of plastics recycling include: AMUT and EREMA (thermoforming and processing), Engel (injection molding machines), Agr International (vision systems for PET), Baerlocher and Clarient (additives). RPN