Coperion to display enhanced extruders for plastics recycling at K 2019
Latest twin screw extruders feature optimized convenience and handling while minimizing downtimes and energy use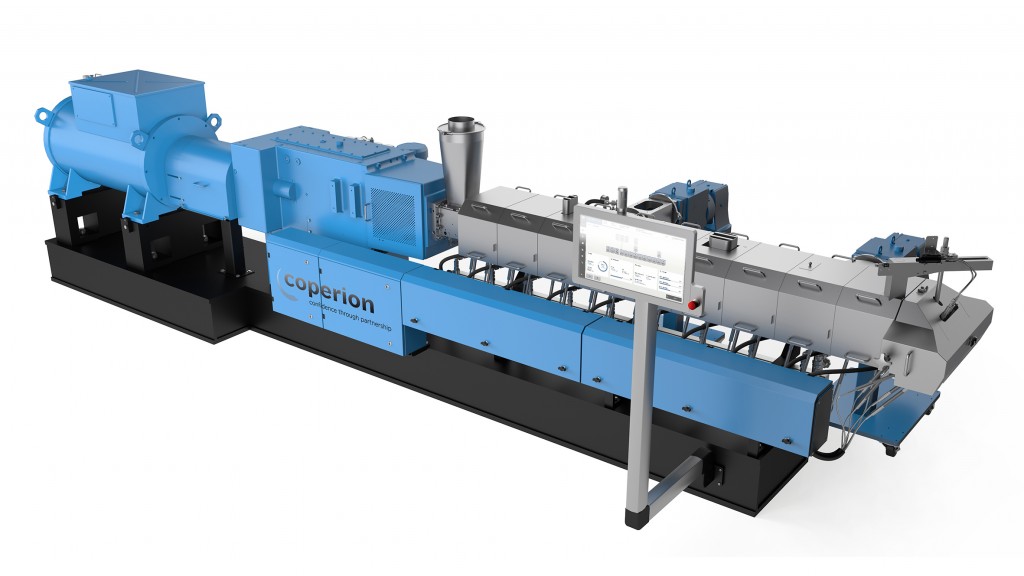 In keeping with the show motto "Making more out of your plastics", Coperion will present their enhanced ZSK Mc18 twin screw extruders at K 2019, being held from16-23, October, in Düsseldorf, Germany. The company says their latest, redesigned models are loaded with numerous new features that optimize convenience and handling while minimizing downtimes and energy use.
Against the backdrop of the show's focus on circular economy, Coperion is demonstrating how recycling can be implemented using the newest ZSK Mc18 technology, at both industrial scale and at the highest level of quality. These machines can be implemented for various applications in plastics recycling: for regrinding plastics such as HDPE, PP, ABS, PS and PVC, for manufacturing films, for PET recycling, and for upcycling of various materials. Moreover, new solutions for feeding (Coperion K-Tron), pelletizing, and conveying will be on display at the Coperion booth, all of which allow design of complete recycling systems when combined with Coperion's twin screw extruders.
At the show booth, Coperion is exhibiting a ZSK 45 Mc18 and a ZSK 70 Mc18, representative of the Mc18 series, each with numerous new features that increase efficiency in regard to processing, energy, and other resources, and that simplify handling. On display at the Coperion booth will be, for example, the next generation of user-friendly extruder controls. These can be individually modified for customer requirements and, thanks to smart features, can be seamlessly integrated into Industry 4.0 environments. Furthermore, the modern user interface is convenient and intuitive to operate.
Moreover, the new ZSK extruders come with one-piece insulation covers that can be detached without removing the cartridge heaters and that optimally insulate the process section, simplifying use and leading to higher energy efficiency. One further convenience function is the pluggable cartridge heaters that allow efficient temperature control on the inside of the barrel. They are individually connected using IP67 plugs and service staff can remove them for maintenance in no time. The gearbox lantern can be optionally equipped with an electronically secured maintenance opening. As soon as the screw shafts come to a complete stop, service personnel can open the gearbox lantern without tools, guaranteeing secure, easier access to the screw shaft coupling during maintenance, which again reduces the machine's downtimes, thus contributing to greater efficiency.
The ZS-B easy twin screw side feeder as well as the ZS-EG easy twin screw side devolatilization unit are now available for sale. Both can be removed very quickly from the process section thanks to the intelligent easy design. The time needed for screw changes, cleaning, or maintenance drops significantly, minimizing downtimes.
One further new feature on the ZSK 45 Mc18 is that the process section is no longer assembled with tie rods; instead, each barrel is equipped with flanges, making disassembly of individual barrels markedly faster than before. Thus, the ZSK 45 Mc18 model equals the larger ZSK series machines in terms of ease of assembly.
The ZSK 70 Mc18 will be on display with a Coperion K-Tron K3-ML-D5-V200 type vibratory feeder and an accompanying ZS-B easy with a K-ML-SFS-BSP-100 Bulk Solids Pump™ (BSP) feeder. The smaller ZSK 45 Mc18 will be equipped with a gravimetric K2-ML-D5-T35 twin screw feeder and an accompanying ZS-B easy with a K-ML-SFS-KT20 twin screw feeder for high accuracy feeding at low feeding rates.
"Along with classic compounding applications, the latest generation of ZSK Mc18 extruders offer clear advantages in many recycling applications as well: Operators profit from the gentle operation and very good mixing behavior, even at very high throughput rates. The result is constantly high product quality in compounding and recycling - something that is not always possible with single screw extruders widely in use on the market. That is first and foremost because, as a result of their volumetric feeding and comparatively low mixing effect, single screw extruders reach their limit when large quantities of material are compounded at a constant level of quality," explained Peter von Hoffmann, General Manager Business Unit Compounding Machines Engineering Plastics and Special Applications at Coperion.
Machines in the ZSK Mc18 extruder series are able to process high percentages of calcium carbonate, talc, glass or natural fibers with highest energy efficiency, thanks to their high 18 Nm/cm³ torque and optimally adjusted process parameters. Homogenization and melt devolatilization take place with high intensity that positively affects odors that may be present in the recyclate, effectively removing them. With the ZSK Mc18 twin screw extruder, the recyclate's properties profile is optimized according the requirements provided by the end customer, at a constant high level of product quality.
Coperion will be in Booth B19 in Hall 14, at K2019.