Optical sorting advances are driving the MRF of the future
Staying ahead of contamination and rapidly changing streams requires the right methodology and the right technology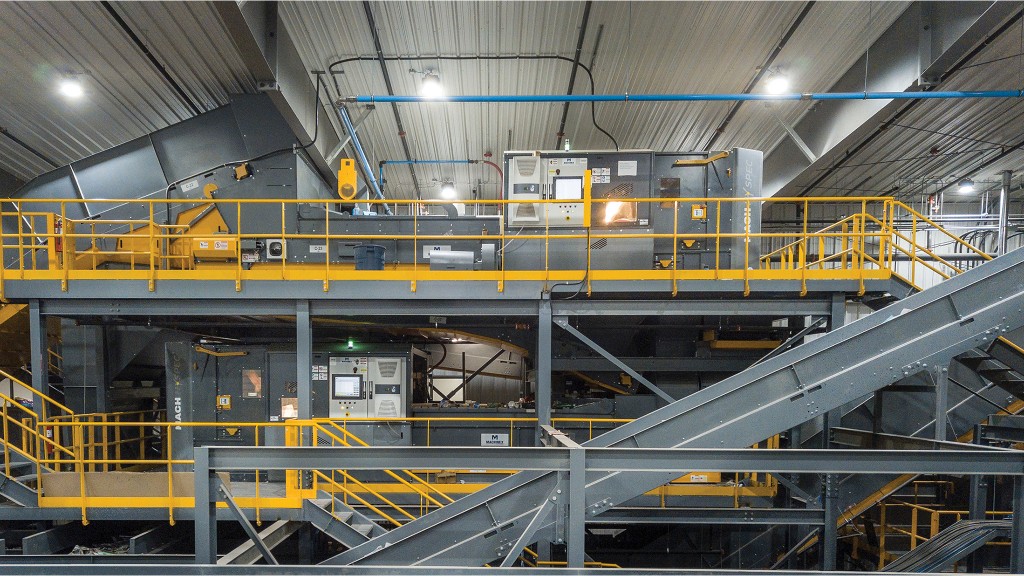 Until recently, optical sorters for the recycling industry have been used mostly in plastics and metal applications. Over the last several years, this technology, integrated with artificial intelligence, sophisticated monitoring and control systems, robotics and increasingly high-speed conveyors, is also making its way more into fibre, glass, cartons, organics, e-scrap and C&D recycling applications. All of these streams are changing fast, and continuously, and optical sorting is doing a very good job of keeping up. In fact, the growing breadth of options and the speed with which optical sorting technology is advancing is remarkable.
A long way from just plastics
"Historically, if we look back 15 to 20 years ago, the main purpose of optical sorters in MRFs was for the extraction and purification of plastics," says Jonathan Ménard, VP sales and strategic positioning at Quebec-based Machinex, the only Canadian manufacturer of optical sorters. "As of six or seven years ago, we started seeing more requests for automation on fibre streams. Now we're in a position to quality control fibre by ejecting rigid film, metal and cardboard, OCC or we can shoot positively on the fibre (pull it out of the stream) to maximize purity.

Machinex uses hyperspectral camera technology in their optical units, which is different compared to more traditional optical sensor technology (sometimes referred to as multipoint).

"The hyperspectral camera sees the full spectrum, providing improved detection of new packaging, and it identifies material with very high accuracy and flexibility, resulting in enhanced recovery and purity of output," says Ménard.

In 2019, Machinex updated their MACH Hyspec optical sorting system with a new design of the ejection hood, and much improved access to the interior of their machine, so operators are afforded easy, safe access for repairs and cleaning. The machine opens up to full standing height for operator entry, features an internal guard rail system and uses a pivoting lighting system and ejection nozzle bar, facilitating cleaning, bulb changes and other maintenance.

"The feedback we have received from our customers is that this improvement has reduced by about 50 percent, their cleaning and maintenance time required," says Ménard.

Going forward, there are big advances to come in the very near future for the Mach Hyspec optical sorting system. "We are working on three developments that will improve different aspects of our machine. The first is the addition of our AI technology within the optical units, which will enhance recovery and purity rates. The second is a more user-friendly HMI interface, which will increase the adjustment flexibility of the technology for customers and lead to more autonomy in their operations. The third development is the integration of a new dashboard, consisting of a platform that will collect and exchange data within a specific piece of equipment to a full system. This data exchange platform along with the machine's interconnectivity will allow the MRF of the future to become a reality."
Combined strengths
Mark Neitzey, Director of Sales at Van Dyk Recycling Solutions, a long-time North American distributor for Sweden-based recycling equipment manufacturer TOMRA, says that when we are discussing optical sorting, we would be remiss if we didn't start by mentioning that any optical sorter (regardless of brand) is only effective if material is properly fed to it.
"Developments in mechanical technology for an optical sorter have a huge impact on the future improvements of an optical sorter's accuracy and speed," begins Neitzey.

"There have been several advancements in mechanical and air technology to improve the way material is evenly spread in a single layout on an acceleration conveyor that is feeding an optical sorter. Our Deft Air / Air booster is designed to allow an optical sorter's feeding conveyor to operate up to two times faster while stabilizing light materials (like film and light sheet paper) on the conveyor."
Neitzey also emphasizes the importance of disk spreaders to provide an even, consistent feed of material as well as elliptical (or ballistic) separators, which are the perfect clean up and preparation device prior to optical sorting. Outside of mechanical components, he says many of the latest optical sorting systems use a combination of detection technologies for very high levels of accuracy and flexibility.
Detection devices including NIR (near-infrared) spectrometers, visual cameras, laser object detection and metal sensors, by working together, can recognize virtually any and all materials in the average MRF's incoming mixed stream.
For Neitzey, one of the most impressive recent advances they have seen is Deep LAIser laser object detection.
"It acts as an assistant to the NIR scanner and really allows the optical sorter to see any and all objects in the stream and make better sorting decisions," he explains. "This includes black objects and organics. This helps make cleaner end products specifically."
Keeping up with packaging trends
For Felix Hottenstein, sales director, MSS Inc., a division of California-based CP Group, the projection is that the overall accuracy and speed of conventional optical sorters will continue to improve, but only marginally, especially for the majority of standard plastic containers in MRFs (PE, PET, PP). However, he says that because optical sorters have the capability to provide a much more selective sort, they will start to replace mechanical sorting equipment, such as disc screens, more and more.
"Because brand owners are continuing to push their packaging developments towards new materials, packaging types and shapes (flexible plastic packaging being among the most prominent) as well as new labels, coatings and colours (NIR-detectable black plastics are one of the hottest topics in the industry right now), MSS is continuing to improve our existing NIR, colour, shape, AI-based and metal sorting technologies to keep up with those trends," says Hottenstein.
Multiple new features on both their FiberMax (designed specifically for fibre streams) and PlasticMax optical sorters are designed to provide significant benefits to recyclers facing rapidly shifting inbound streams.
"Our new patented MaxSelect sequential scanning technology provides a very high combination of scan rate, number of utilized wavelengths and UV/VIS/NIR wavelength range (400-2,500nm).
"We have also integrated ClearLight technology that provides the best signal-to-noise ratio of any optical sorter in the industry, because MSS doesn't use gratings or light beam splitters," Hottenstein continues. "High pixel resolution provides high sorting efficiency even for small packaging such as pill bottles."
Optimizing the system with data capture
The latest in optical sorting based on machine learning and artificial intelligence from Austria-based manufacturer Redwave is 2i. Different types of sensors, including NIR, camera, XRF and multi-sensor systems, are linked together for high-level material and colour recognition.
According to Parker Pruett, sales manager recycling at Redwave Solutions US LLC, "Our sensor fusion technology combines near-infrared sensors, RGB cameras and all-metal detectors in one machine for improved sorting results."
Another significant recent advance from Redwave, she says, is the "mate" process monitoring and control system designed to provide artificial intelligence support and optimization to all Redwave optical sorters, as well as entire recycling plants and MRF systems.
"Our new mate is the first program to measure qualities and to record and evaluate information during production," says Pruett. "The data can not only be used as a source of information and for monitoring purposes, but also to ensure optimum system and sorting operation. Communication between the sorting machines takes place in real time and cross-platform monitoring makes the flow of information easy to manage."
Redwave mate is designed to increase system availability, and optimize both sorting rates and final quality, for applications in plastics, paper, glass and metals recycling. "This not only guarantees an optimal performance of the plant, but also ensures the highest possible quality of recycled materials. In addition, service life of individual machines can be significantly extended, as both overloads and under-capacities are avoided."
Maximum AI changing the game
In 2020, NRT, part of Bulk Handling Systems (BHS), based in Oregon, launched their NRT ColorPlus with Max-AI, designed with the flexibility to change targeted material types and allow MRF operators to quickly and easily adjust to both market and material fluctuations.

According to NRT, their latest vision systems with AI provide operators with valuable, real-time data on both system efficiency and on the ever-changing composition of materials in the recovery stream. With this information operators can more quickly respond to changing trends to optimize plant performance.

NRT ColorPlus with Max-AI uses a high-resolution RGB line scan sensor to identify and sort recyclables by colour. When combined with Max-AI technology the system can make additional sorts that are not widely possible currently. For example, in fibre applications, according to BHS CEO Steve Miller, ColorPlus precisely targets brown OCC while Max-AI targets all OCC and boxboard of various colours. This results in higher recovery and purity of both paper and OCC, with lower product loss and decreased labour. The combination of proven colour detection and the added layer of AI ensures the ultimate removal of non-spec fibre.

"From the beginning we realized MAX was a game changer, not just for robotic sorters, but really for the industry on a system-wide level," comments BHS CEO Steve Miller. "We continue to integrate MAX into more of our equipment and intelligent system controls.
Security against obsolescence
For France-based Pellenc ST, the latest product innovation on their proven Mistral+ optical sorter line is their CNS (Central Nervous System) a new electronic and software platform designed to integrate future sensors and technologies.

"In the context of rapidly changing regulations that have an impact on quality and sorting requirements, a main challenge facing our customers is that of securing their investment against obsolescence," says Eric Westerhoff, Marketing Director at Pellenc ST. "Upgradability is the legacy of the Mistral+ and Pellenc ST has decided to take that concept to the next level by introducing the CNS."

Westerhoff says this new sorting engine further reinforces the Mistral + lineup's upgradability, enabling recyclers to keep their system up to date at all times. "A CNS retrofit opens up new possibilities in terms of sorting. It features a new material classification software called Advanced Classification. This new technology makes it possible to separate more complex materials, such as PET bottles and trays, or better distinguish paper and cardboard."

Options available for Mistral+ optical sorters include: vision spectroscopy to sort by colour, NIR/VIS combined to sort by material and colour, an inductive sensor to recover metals, and the latest option called Profile Detection. "Profile Detection will eliminate the loss of carbon black objects or inert materials invisible in the near-infrared spectrum, and improve the purity of recovered fractions in negative sorting. In practice, this will detect black plastic films in a paper stream or sort carbon black contaminants in a PET or PE fraction."
Flexibility and the power to adapt
According to Germany-based manufacturer Sesotec, the efficiency and flexibility of their latest optical sorting system, VARISORT+ is what sets it apart.

"A key advantage of the VARISORT+ system is its flexibility, allowing for the combination of up to three sensors, NIR combined with sensors for colour and shape, and for metal," says Nikolas Wolf, Regional Sales Manager Sorting Recycling America for Sesotec. "The flexible system configuration of VARISORT+ can be adjusted according to the quality of the input material or degree of contamination."

He adds that the unit's optional tri-shaft construction enables simultaneous sorting into three material fractions, and flexibility is further enhanced as these machines are designed to accommodate a wide range of conveyor belts.

Wolf says VARISORT+ also provides low maintenance and cleaning requirements along with high-level accuracy at throughputs to eight tons per hour, and with rejection accuracy up to 99 percent, it also ensures fractions achieve the highest degree of purity, even with poor-quality input. "The latest model can also be equipped with innovative new FLASH technology for optimal colour recognition, which can efficiently detect bottles made with additives and PET, and retroactive sensor upgrades are available at any time." RPN
This article was originally published in the January/February 2021 edition of Recycling Product News, Volume 29, Number 1.