Customer feedback based on proven designs is shaping the latest wood waste processing machines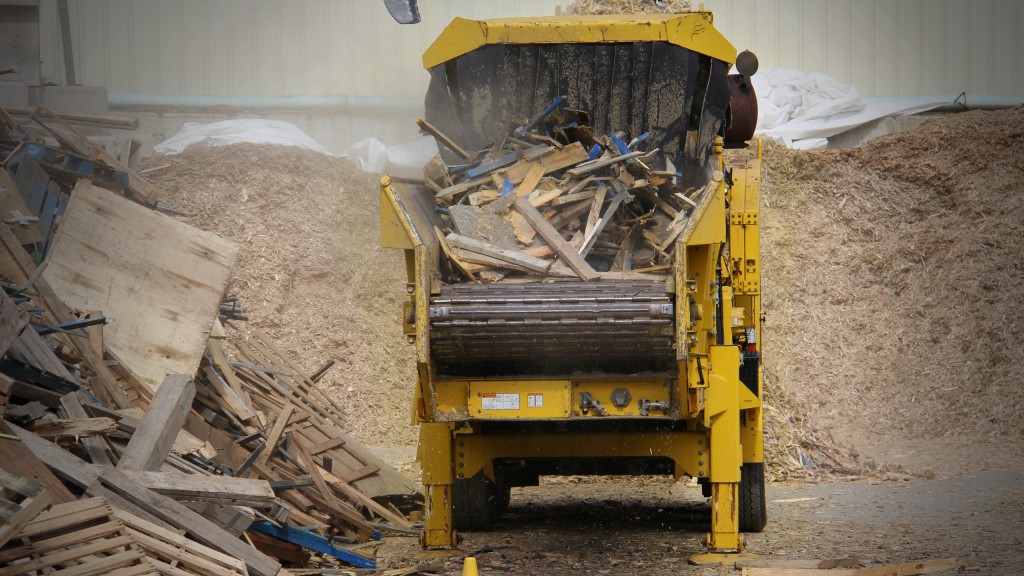 Multiple major manufacturers of horizontal grinders have released new models in 2018. HOGS, as they are sometimes called (HOrizontal GrinderS), are unquestionably the workhorse of the wood recycling industry and are a key piece of equipment for composters, land clearing contractors and biomass-for-energy producers, as well as C&D and MSW processors, where in both cases, wood and other organics are part of a mixed stream of materials. The latest model horizontal grinders feature lighter weights with higher production, increased transportability and site mobility, diesel, hybrid and fully electric power options, along with sophisticated controls systems, and ease of use and maintenance for operators and owners. This article looks at the latest horizontal grinder models and updates from Morbark, CW Mill, Rotochopper, CBI, Diamond Z, Bandit, Vermeer, Precision Husky, and Peterson Pacific.
Customer input shaping Morbark's next generation 6400XT Wood HOG
Morbark's 6400XT Wood Hog, introduced in May 2018, is the newest model in the company's next-generation platform of horizontal grinders.
According to Michael Stanton, Morbark director of industrial sales, "Morbark listened closely to our customers when we developed the 6400XT Wood Hog. We took our previous proven design technology and added the features our customers want and the versatility they need when we created this high-production unit.
"Industry demands for high-production mobile units that meet stringent logistic restrictions but remain economically viable were the leading drivers during the design phase."
The new 6400XT includes many feature improvements which are similar to the smaller 3400XT, introduced in 2017. The infeed bed is 24 inches (60.96 cm) longer than previous Morbark grinders in the 1,000-plus horsepower range and has sloped sides. This configuration improves operator sightlines for more efficient loading of material. Standard on the 6400XT is a removable infeed chain return floor, which allows excess material to fall away to minimize the wear on the floor, bed chain and inserts, particularly useful in land-clearing or other applications processing "dirty" material. As part of a focus on transportability, the 6400XT is designed to weigh in at less than 96,500 pounds (43,772 kg) and measures 3.49 m wide with the standard Caterpillar 325L undercarriage. Combined with 600-mm double grousers, this allows the unit to be transported to nearly all domestic and international markets.
"When we introduced the 3400XT last year, our customers responded very favourably," explained Stanton. "It had a major impact on the market, and so far the 6400XT has been as well-received."
Another key improvement is the 42- x 61-inch (107- x 155-cm) solid-plate rotor with 3-inch (7.6-cm) retaining rods and a 42-inch (106.7-cm) tip swing. The 6400XT's standard hammer pattern includes 18 hammers with 18 rakers, but like all Morbark rotors, it can be configured to multiple patterns for various application requirements. The standard engine options for these new grinders are the Caterpillar C27, 1,050-hp (783-kW) engine or Caterpillar C32, 1200-hp (895-kW) engine, both Tier 4 Final.
Morbark's proven and exclusive driveline protection system is also standard on all Wood Hog models, including an externally adjustable breakaway torque limiter that helps protect the driveline and hammermill from catastrophic damage caused by contaminants.
CW Mills' HZL Series based on decades of tub grinder experience
HZL Series horizontal grinders are designed to put CW Mill Equipment's long experience in industrial grinders to work, and are built with the same commitment to reliable performance that HogZilla has provided with its Monster tub grinders for decades, according to the Kansas-based manufacturer. By providing similar features including solid construction and high-production-oriented design, the HZL Series can be configured in stationary, portable or track mounted arrangements with engine choices ranging from 400 to 1,000 hp.
The HogZilla HZL-6250T horizontal on tracks features a CAT C27 engine, 1,200-hp rated torque converter mill drive designed to provide greater production and fuel economy, a 16-belt, 1,600-hp Jackshaft Drive designed for longer service life and reduced maintenance, dual feed rollers, and a 44-inch single feed wheel with integrated hydraulic motor. HZL model horizontal grinders can be equipped with a variety of different mill drive systems including wet clutch, hydraulic coupling, or torque converter, and provide several choices in hammermills, feeder sizes and styles, allowing the grinder to be custom built for the end user.
Rotochopper B-66 L grinder design based on customer feedback
According to Rotochopper, their latest horizontal grinder, the B-66 L-Series is designed to be an aggressive, flexible and heavy-duty machine that is the result of a focus on innovation and growth, based largely on customer feedback.
"Today's world requires the ability to execute change with laser focus to meet your customer's changing needs and wants," said Rotochopper President/CEO Art de St. Aubin. "When you sell direct to end users, you have the unique advantage to listen, adapt, change and innovate through customer feedback.
"The new B-66 L-Series launch required extensive R&D, data evaluations, engineering assessments and, most important, customer partnerships," he continued. "This new heavy-duty superior machine will compete on a world-class market platform."
The new B-66 L's infeed hopper is designed lower, longer, and produces less drag, a newly designed aggressive powerfeed pulls materials into the grinding chamber effortlessly, and the unit's 38-inch throat opening accommodates some of the toughest material including large logs, whole trees and brushy feedstocks.
Plus, remote monitoring, through Rotochopper's RotoLink system, provides reporting and tracking data to ensure consistent efficiency, predict maintenance needs and reduce downtime. Rotochopper says customer feedback resulted in the following options as standard features on the B-66L grinder: wear liners, bolt-in anvil, 24-tooth rotor with 2-inch-thick drum, and a reinforced case.
In addition, the B-66 L-Series grinder can be powered by either a 950- or 1,050-hp diesel engine and can be paired with an enhanced Generation II Dolly to seamlessly transition the machine from highway transport to work site navigation modes in minutes. The re-engineered Gen II Dolly incorporates a longer, more robust axle spread to more evenly distribute the weight of the grinder, mitigating transport restrictions and obstacles.
"Our belief is we are not doing our customers a favour by serving them," said de St. Aubin. "They are doing us a favour by giving us an opportunity to do so."
Earlier in 2018, Rotochopper also introduced the B-66 E 1,000-hp dual-motor-drive electric-powered horizontal grinder. The dual-motor drive on this machine is designed to reduce operating and maintenance costs compared to a single-motor drive, and minimize amperage surges at start-up.
"The growth in yard waste composting, municipal waste and other high-volume markets is driving increased demand for bigger electric grinders with higher horsepower," said de St. Aubin.
CBi's new 6800CT grinder on display at 2018 Factory Forum
Industry professionals from around the world gathered in Newton, New Hampshire, at the start of October for the 2018 CBI and Ecotec Factory Forum. CBI's expanded on-site demo arena included live demos of 12 machines from the CBI and Ecotec product lines, including the all-new CBI 6800CT Horizontal Grinder.
The three-day event featured a pair of CBI 6800CT horizontal grinders which, according to the company, have been engineered to improve on CBI's 6800BT model design.
The new 6800CT features a 15 percent larger screening area that wraps more than 190 degrees around the rotor, allowing production rates to surge beyond 200 tons per hour. In addition, according to CBI, the naturally efficient design of the new grinder's offset helix rotor minimizes kinetic energy loss from each strike, requiring less power to rotate while evenly distributing wear and outproducing the competition.
"The 6800CT has been designed completely with the end user in mind, including serious production and maintenance upgrades," said Art Murphy, director of sales and marketing at Terex Environmental Equipment.
Supported by a larger shaft and bearings and an optional 1,200-hp CAT C32, the 6800 CT engine powers a forged drum rotor through the toughest materials. These grinders are built to process land clearing debris, pallets, clean industrial waste, stumps, logs, mulch, bark, shingles, railroad ties and whole trees as fast as material can be loaded.
DZH3000 designed to prevent hammermill loss
Diamond Z's latest-model horizontal grinders include the DZH3000, a smaller, lighter, cost efficient machine infused with all of Diamond Z's proven heavy-duty performance features. These units provide 580 hp in a 63,000-pound package, and units are designed durable with a patented breakaway mill bearing feature to prevent horizontal hammermill loss due to contaminant impact. These units also feature an class-leading mill shaft/bearing design, according to DiamondZ.
Standard features of the DZH3000 include: fluid coupling mill drive transmission, reversing fan, radio remote control, tool box, engine cover, and super-screw belt lacing. Production rates are up to 50 tph (140 yph), with a screen area of 3,146 square inches.
Latest Bandit Beast model grinder designed for productivity, mobility and ease of use
In 2018, Bandit Industries added an additional option to the Beast horizontal grinder lineup by introducing the Model 2460XP. Available as a towable or track machine, the 250-hp 2460XP is built from the ground up to outperform every other horizontal grinder in its class, according to Bandit.
The company says special attention was paid to making the 2460XP among the easiest horizontal grinders to service and maintain. Common maintenance items were designed to be accessible from either the ground or on built-in platforms. This reduces maintenance downtime and increases useful uptime.
"Key to any of The Beast horizontal grinders is the patented downturning cuttermill," said Bandit sales manager Jason Morey. "The 2460XP is equipped with a 60-inch-wide by 30-inch-diameter, 30-tooth cuttermill running Bandit's patented saw-tooth-style cutterbodies. This regulates the size of the tooth's bite, so most of the material is sized on the initial cut, allowing material to be sized correctly on the first pass so it exits the larger screening area more quickly."
For the tracked 2460XP, Bandit offers Strickland and Caterpillar undercarriages, giving customers an additional option for their track machines.
"We looked at everything when designing the Model 2460XP," added Morey. "Every design decision, every standard feature, and every option was chosen to make this the most productive horizontal grinder with 520 horsepower.
"Anyone who sees the 2460XP in action will be able to immediately see what makes this unit so special."
Vermeer HG6800TX damage defense system protects from contaminants
Ideal for all wood and organics material grinding applications including land clearing and pipeline right-of-way operations, Vermeer's most recently introduced tracked model, the HG6800TX horizontal grinder, uses a high-horsepower 708-kW (950-hp) engine on a 41,730.5-kg (92,000-pound) machine with a compact design.
Units are available with Vermeer's Damage Defense system that reduces the likelihood of certain metal contaminants from entering the hammermill by reacting to the initial contact with the contaminant and reversing the feed system to allow removal of the contaminant. "The optional Damage Defense system is ideal for any tub or horizontal grinder operation that may encounter metal mixed in their incoming material," said Jeff Bradley, Vermeer's product manager for recycling and forestry. "The system can be factory-installed on new Vermeer grinders, and is available as a refitted option for many older Vermeer grinder models."
In addition, these units feature Vermeer's SmartFeed system that monitors engine rpm and adjusts grinding speed for optimal machine performance, as well as easy-change screens and an infeed design built specifically for feeding larger materials such as whole trees and large stumps. "The feed roller on this machine can climb up to 127 cm (50 inches) to help tackle the tough material elements," added Bradley.
Other key features on the HG6800TX grinder include a Series III hard-faced duplex drum that offers durability and convenient maintenance, with the ability to remove and replace single hammers and balance the drum externally, and low side walls that aid in feeding whole trees and other larger material with less restriction, reducing the need for operator interaction with material.
Pro-Grind horizontal grinders easily switch to chipper
Precision Husky's fuel-efficient, low-maintenance and low-noise grinders are busy all over the world manufacturing mulch, compost and boiler fuel. High-speed ProGrind horizontal grinders are ideal for working with long limbs, and each unit is built with a down-cut design, which allows users to switch out the hammermill for a two- or four-knife chipper drum. Additionally, the unit's dual cutting surfaces at various depths eliminate frustrating jams, and each model is remotely controlled and comes with a rugged diesel engine that offers from 520 hp up to 1,050 hp. Each unit is also equipped with a steel infeed belt and all models can be track- or trailer-mounted.
Precision Husky ProGrind horizontal grinders include H-3045, H-3060 and H-4060 models with either 30- or 40-inch cutting diameters, 45- or 60-inch infeed widths, and a self-adjusting clutch. Other features include a large-diameter feed wheel and dual opening doors for easy access to the screen and hammermill area, as well as a raised feed wheel that locks in place with hydraulically operated safety pins for ease of maintenance.
Peterson to display largest model at USCC 2019
Peterson's largest available model, the 6710D Horizontal Grinder is scheduled to be on display at this year's US Composting Council event in Phoenix at the end of January. Designed for operations that need the most durable, highest output machine, these machines are powered by a 1125-hp (839-Kw) Tier 2, Caterpillar C32 engine (or an optional Tier 4 Interim Caterpillar C32 engine), and include a feed opening of 50 x 66 inches (127 x 168 cm).
The 6710D can process large stumps traditionally reserved for tub grinders, and is particularly suited for land clearing operations or other applications where mobility is desired. Track mounting also reduces material handling costs in conventional recycling yards, and with the unit's R+ package, the 6710D Horizontal Grinder can be configured as a mid-speed grinder to handle heavily contaminated piles, and easily converts back to a high-speed grinder.
In addition, Peterson's three-stage grinding process with an up turning rotor and large grate area enables the 6710D Horizontal Grinder to produce materials to exact specifications, and a quick change multiple grate system makes it easy to customize grate configurations to produce a wide variety of finished materials.
This article was originally published in the November/December 2018 edition of Recycling Product News, Volume 26, Number 8.