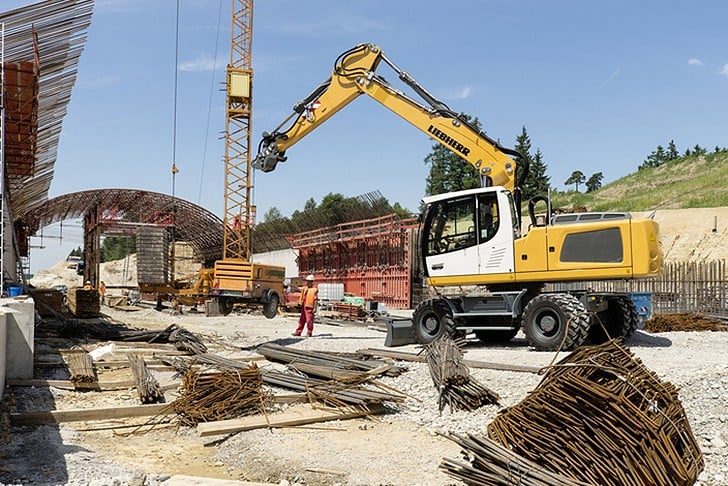 Wheeled excavators with operating weights of 11 to 27 tons are characterized by an integrated machine concept utilizing the latest in state-of-the-art technology. These machines are used in civil engineering, horticultural and landscaping projects, as well as water management and special civil engineering.
All digging tools, irrespective of whether these are backhoe buckets, swivel buckets, ditch cleaning buckets or clamshell bucket grabbers, have been developed and manufactured by Liebherr.
Features & Benefits
Performance
Liebherr wheeled excavators have the performance to get construction work done faster. Excellent high lift capacity and maximum digging forces deliver extraordinary productivity. Maximum performance for greater efficiency.
Comfort
The cab provides a spacious work area for optimum comfort allowing the operator to easily manage all machine's functions. The operator's seat comes with air suspension, heated seats and lumbar support as standard. Greater comfort for maximum performance.
Reliability
Main components such as diesel engines, swing drives as well as the steel structures are developed, produced and tested in-house by Liebherr. This delivers the high quality customers have come to expect for reliability and machine longevity.
Efficiency
The A 924 Litronic combines outstanding performance with exceptional efficiency. The powerful Liebherr D 934 L diesel engine in conjunction with the efficient Liebherr particle filter reduces emissions and operating costs.