Liebherr reports very successful CONEXPO 2014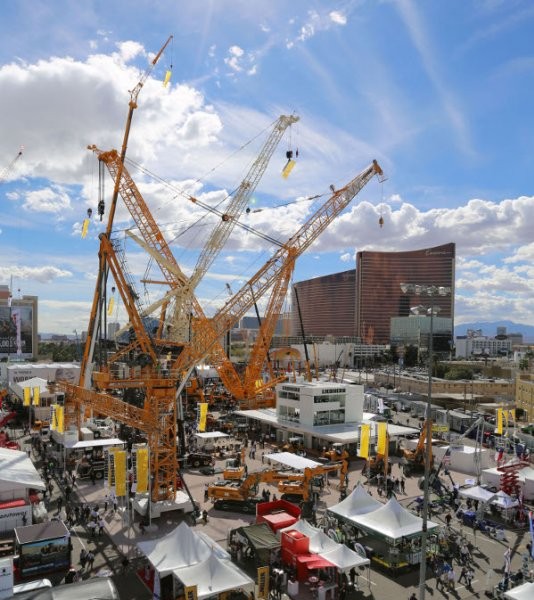 Following the 2014 CONEXPO, which took place from March 4-8, in Las Vegas, Liebherr has reported successes in all product areas. The Liebherr Group considers its presence at the 2014 Conexpo to have been highly successful. The company says their more than 20 machines on display at the show, from the group's earthmoving, material handling, tower crane, mobile and crawler crane, concrete technology, deep foundation and component product areas aroused strong interest.
At the Liebherr press conference held on the first morning of the show, the company emphasized the increasing importance of the North American market for the company. Liebherr's Peter Mayr, President of Liebherr Construction Equipment Co. out of Newport News, Virginia, said the company expects significant growth in their waste and demolition segments, and that they project approximately 2-5 percent increase in turnover in 2014.
On the Liebherr booth, of particular relevance to the scrap and recycling sector this year: a Liebherr next generation wheeled excavator, model A924, as well as a R924 crawler excavator and an L542 wheel loader, both configured in a scrap/recycling build. The A924 wheeled excavator is a Tier 4 interim compliant unit, featuring a new, enlarged cab, with a 13-foot 7-inch hydraulically adjustable boom, 10-foot stick, 1.5 cubic yard bucket and four-point outriggers. The R924 crawler excavator on Liebherr's stand this year, featured a hydraulic adjustable cab and a sorting grapple, and the L542 wheel loaders were shown with driveline protection, particle protection, a reversing fan, solid tires and more -- all specific to application in waste and recycling operations.
Compared with the 2011 Conexpo, Liebherr reports that the number of visitors was distinctly higher, and informative discussions were conducted with greater intensity than three years ago. As expected, most of the visitors to Las Vegas were from the North and South American markets, but the number of visitor groups from overseas countries such as Australia, India and Scandinavia was a surprise. Many of Liebherr's most important business associates from well-established European markets were also welcomed on the Group's stand.
Exchanges of views with many of the earthmoving division's customers confirmed that higher construction-machinery efficiency is already an increasingly important factor in purchase decisions – on markets targeted in North America. Also very favorably received: Liebherr's work on restructuring its sales and service organization in the USA.
Liebherr also emphasized that their components division, which exhibited at this year's Conexpo for the first time, identified strong interest in the presentation of its "SCRonly" technology for stage IV or Tier 4 final diesel engines. Now that its components are being offered actively to customers outside the Liebherr Group, the company says many of the initial contacts made at the Conexpo may well open up interesting prospects for future projects.
Company info
Related products