The latest shear/baler/loggers provide scrap metal recyclers with the versatility needed to profit and grow
Heavy Metal Workhorses: an in-depth report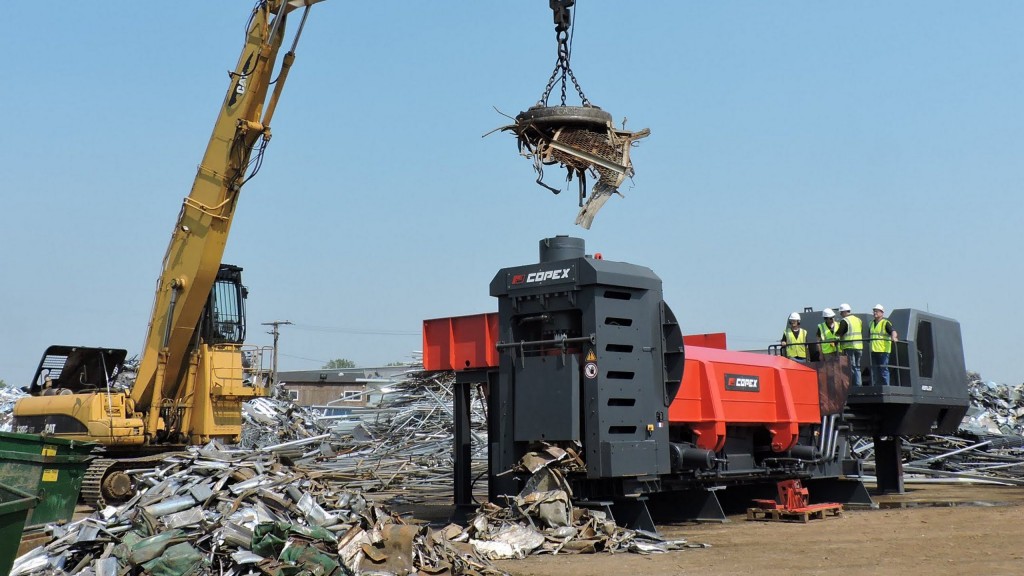 As a category of heavy-duty machine engineered specifically to provide scrap recyclers with the versatility to process heavy metal materials as well as light metals - creating logs, bales or sheared-to-length material, ready for efficient transportation to buyers - the growing popularity of shear/baler/loggers (SBLs) is not surprising.
At a basic level, in operation, the SBL is fed ferrous or non-ferrous metal. Material is initially reduced to the right size for compression into a loose log, and is then either cut to length by the shear or compressed into a more dense bale. Logs, bales or sheared-to-length material (commonly between three- and four-foot lengths) are expelled, ready for transport. Material produced by SBLs is generally sold direct to a smelter, or to another scrap recycler for shredding or further processing.
Over the last decade, these machines have become increasingly robust, automated and mobile. Units are now available from some manufacturers in track-mounted configurations for high-level mobility on any site. The latest model SBLs, whether stationary, portable or mobile, are also built with high-strength steel structures and engineered for extreme conditions. They are integrated with sophisticated software, electronics and hydraulics, and include remote-control operation, advanced safety and machine monitoring features, as well as simplified maintenance. Many of today's portable and mobile units are also hydraulically self-raising, requiring no crane for easy loading onto a trailer for transport, and due to their integrated outriggers, provide for quick setup and no need for foundation. Similar to stationary models, which are generally built heavier and with higher capacity, both portable and mobile SBLs are extremely versatile. These machines will effectively handle heavy ferrous metal including rebar, railroad ties and i-beams, as well as non-ferrous such as white goods and other light metals. Plus, these machines are increasingly being used in C&D recycling applications.
Selecting the right SBL for the application involves first considering that moving such heavy machinery (the shear makes these machines especially heavy) can come at a high cost, and may pose challenges based on local road regulations. If machines do not require being moved, stationary machines are a great choice. Buyers need to match machine capacity, user features and manufacturer support with their mobility requirements, volume of material that is being processed and the type of scrap being handled.
Lindemann (now part of Finland-based company Metso) built their first stationary shear in the 1950s. More recently, in response to growing market demand for site-to-site and on-site mobility, Metso has developed the NMS (N-Series modular shear) available in stationary, transportable, mobile and track-mounted configurations.
"Application opportunities provided by this category of machine's high mobility include the ability to take the equipment to a remote jobsite, facility or relocate it within a facility to minimize scrap movement," says Bob Pfeffer, Metso's product manager - shears & balers / Western regional manager. "Mobile or transportable SBLs are also increasingly being used for demolition projects to reduce material volumes for transportation efficiency."
He says the right SBL for the application can provide for improved operational uptime and advises potential buyers to carefully compare, evaluate and understand the features and benefits of different machines.
"Metso NMS Series SBLs utilize state-of-the-art electronics and hydraulics to assure one of the lowest operational costs per ton," explains Pfeffer. "The shear frame construction and superior guidance system assures a durable and maintenance-friendly operation."
He adds that a quality service and parts support network are also very important considerations for the SBL investment.
"SBLs from a solid manufacturer with current technology and efficiencies will provide operational security, so the processor can achieve their operational goals," says Pfeffer.
Metso NMS Series
Metso NMS Series shear/baler/loggers are available in mobile, stationary, transportable or track-mounted versions, and designed so that processors can choose which version will best satisfy their requirements. These SBLs feature a robust, proven, durable, heavy-duty design for long life, a true clamshell chargebox - each side fully articulates for fastest action - and high chargebox side force, providing excellent trapping and folding ability.
NMS series SBLs are available in diesel or electric-drive, and are designed to be self-contained, with hydraulic power unit and electrical controls that are protected from the environment and easy to maintain. These machines also feature Hardox 450 wear surfaces for improved durability, and high pusher ram force - providing good quality logs and/or bales.
Other key features of Metso's NMS series include: remote control for ease of operation and less required manpower; Bladeslide guidance system, a trapezoid guidance system with easy adjustment; and integrated ethernet router or modem for remote diagnostic connection ability. These machines are available in electric or diesel drive.
Finland-based Metso provides North American service and support out of San Antonio, Texas, and critical spare parts inventory out of Columbia, South Carolina.
_______________________________________________________________
Sierra International Machinery, based in California, introduced their T550 shear/baler/logger to the market nearly 40 years ago and currently offers 12 different models. According to the company, many of their original machines are currently still being used in yards. The latest Sierra CLS-series of portable SBLs come equipped with a pre-load table engineered to increase production by 18 to 20 percent, while the Sierra SLK-series of portable SBLs comes fully equipped with remote-control operation.
"A shear/baler/logger offers the versatility of three machines in one," explains Jose Pereyra, Sierra's general sales manager. "The application most suitable for a Sierra SBL depends on the tonnage of scrap a yard acquires and the cutting force needed for the material."
He says Sierra's line of portable shear/baler/loggers are transportable without compromising the weight, strength and structure of the machine, and that units are self-loading, which means that the machines can raise themselves onto a truck without a crane by using integrated hydraulic outriggers.
"The popularity of the portable SBLs has grown tremendously in the past few years," continues Pereyra. "Their popularity will only continue to grow because of the versatility and financial savings they offer.
"The way market conditions are globally today requires any recycling facility to be nimble and have material prepared and ready to ship into the market, quickly, whether the market is going up or down."
According to John Sacco, president/owner of Sierra International Machinery, "The most critical point of selecting a shear/baler/logger is selecting a shear that meets your needs and your production.
"You need to ask: how many tons a day do you need to produce? How many tons do you believe you're going to grow your company in the coming years? The machine selected needs to be capable of producing those tons."
Sierra T550SL, T900CLS and T715SLK
Sierra International Machinery's line of portable shear/baler/loggers are designed to offer strength, mobility, versatility and time efficiency. These machines are available as diesel or electric and do not require a special foundation. Sierra offers a range of portable shear/baler/logger models, ranging from 500 to 900 tons, including the T550SL, T900CLS and T715SLK. According to the company, their entire line of shear/baler/loggers are built to handle the rigours of the scrap industry, expertly manufactured with Sierra's innovative L-Box shaped design and 11/16-inch replaceable abrasion-resistant steel Hardox 450 liner plates. Sierra SBLs also feature an outer honeycomb construction to create a greater box integrity.
_______________________________________________________________
ELV Select, an Ontario-based recycling equipment distributor and service provider, recently entered into a partnership with Taurus, an Italian-based shear/baler/logger manufacturer, as the company's Canadian distributor and service representative.
According to ELV's Henk Huijgen, the shear/baler/logger is most suited for producing sellable heavy metal steel products. Rebar is a particularly notable material that SBLs can help recyclers turn into a more sellable, transportable material.
"A lot of yards need to separate rebar, which can be onerous to work with," he says. "It often bounces back and it has a very high tensile strength, so you can't just shear it with a finger shear. It is very hard to manipulate.
"The Taurus SBL will compress rebar and shear it quite easily into manageable sizes that can be fed into a smelter," he continues. "Many shear/baler/loggers on the market are not designed to handle rebar well. When rebar is being pushed through the machine, it can get stuck at the bottom and drag down the length of the chute. This is one aspect that Taurus has worked on, to make sure this does not happen.
"The advantage of the shear/baler/logger, as opposed to a baler/logger is primarily for the handling of heavy metal steel," says Huijgen. "Recyclers also get angle iron, railroad ties, I-beams and other big items. It's about getting material to exact lengths (3 to 4 feet generally), to a size that will make it through the doors at the smelter. That's the primary goal. And these machines can do the logging and baling, if required, as well."
He continues, "A key standout feature on the latest Taurus SBLs is that they are built heavy and incredibly strong. These machines are built with Hardox 40-millimetre milled steel on both the inside "wing" and on the outside, and with Hardox plate inside the chute."
Without this kind of heavy-duty build, Heijgen adds, after a few years, wings can get bowed. Imperfections on plate steel inside the chute can cause material to bind. "Because of its extremely heavy-duty build, the Taurus SBL will not allow for this."
Taurus Bluline Compact ACH shear/baler
The Taurus Bluline Compact ACH range of shear/balers are categorized as medium-sized machines, built on a space-saving single-piece frame which does not require expensive foundation. ACH shear/balers are quick to set up, easy to reposition on site, and can be moved between sites.
Taurus Bluline ACH models are built on a single continuous frame with the main compression cylinder, engine (diesel or electric), hydraulic and electrical components all safely placed at the rear of the shear and protected in a metal housing. The ACH range of shear/balers also includes the original Taurus Bluline twin swinging wings system with overstroke function on both wings (patent pending).
The overstroke function increases the density of the scrap while significantly minimizing frictional wear within the squeeze box. The internal surface of the squeeze box as well as internal and external surfaces of the wings are comprised of high-strength, wear-resistant Hardox 40-mm thick steel. In addition to their shearing capability, ACH shear/balers can produce bales with an automatic bale ejection function.
Taurus' range of balers, shear/balers, inclined shears, pre-shredders and hammermills are built in Italy, and distributed and serviced in Canada by ELV Select.
_______________________________________________________________
According to Florida-based Lefort America product experts Julien Lefort, procurement & project manager, and Jon Miller, GM, Lefort shear/baler/loggers are suitable for processing most metals and demolition scrap while ensuring low operating cost and versatility.
"Scrapyards are looking for solutions to save time and cost," says Julien Lefort. "As a result, we have developed and patented a shear/baler/logger in a crawler version, which allows the operator to easily bring the machine to the piles of scrap, as opposed to losing valuable time moving scrap to the shear. This has been a real success in the U.S."
Lefort adds that their shear/baler/loggers are also engineered for extreme conditions. "Most components are produced in-house and are therefore perfectly tailored to work in synergy," he says. "This ensures machine robustness and reliability. Our shear/baler/loggers are also available with a fully automatic lubrication system, which helps productivity and avoids damage to the machine."
In addition, according to Lefort and Miller, their crawler units are equipped with hydraulic components engineered by Lefort, as well as a high-performance engine, making them the most powerful and quickest shear/baler/loggers on the market.
"Selecting the right machine depends on the type, rate and volume of material being processed, but also where the machine will work," continues Lefort. "Thanks to a very large range of machines, we can accommodate any operation, from the smallest to the largest scrap yard facilities, with a product that will help bring success and growth to a recycler's business."
Lefort Crawler shear/baler/loggers
Available in 660-, 770- and 1,100-ton cutting force models, Lefort's patented Crawler shear/baler/loggers are designed to offer the utmost in scrapyard mobility. A flip of a switch on a remote control converts the machine into crawler mode, allowing the operator to move to the scrap, instead of moving the scrap to the machine. Used properly, this ability allows the creative operator to substantially reduce processing time and minimizes the number of times scrap is touched prior to being loaded for transport to the mill. Used to its highest degree, this design allows one material handler operator to process scrap and load trucks at the same time, while potentially touching the scrap only two times in the process. Another key feature of these SBLs is Lefort's patented wraparound box (TS Box). The large curved lids of this design fold metal into a log before it is cut to length by the shear or further compressed into a bale.
Lefort shear/baler/loggers are available in three other configurations: stationary, portable and towable, all suitable for processing most metals and demolition scrap, while ensuring low operating cost and versatility. Lefort America is based out of Florida.
____________________________________________________________
Cesar Benitez, Imabe America's CEO, notes that versatility is definitely a key benefit for operators of the latest models of Imabe mobile shear/baler/loggers (manufactured in Spain by Imabe Iberica).
"These machines are designed to provide multiple options," he explains. "In the event operators do not want to shear scrap, they also have the possibility of making packages. And because these machines are easily movable, it allows for vast amounts of business opportunities.
"Mobile machines allow our clients to transport the press instead of the scrap, allowing them to increase their production without increasing the cost of manipulation."
Benitez adds that Imabe transportable and mobile shears are also extremely reliable machines that require little maintenance. One of the key features of Imabe's line of mobile presses is their simple fabrication, he says, which reduces costs of maintenance as well as maintenance time required.
"Imabe shear/baler/loggers are well balanced machines, built with quality components and designed for simple maintenance," says Benitez.
Imabe PCP-500 portable shear/baler
Designed to be versatile and transportable but strong, the Imabe PCP-500 shear/baler/logger is ideal for any yard looking to avoid big foundation, or for civil works locations with electric energy supply issues, and for those who need to move their machine on site or from site to site.
Imabe SBLs are built for reliability and for simple maintenance, and include full remote control operation, providing one-operator capability for feeding and processing a wide range of scrap materials. The Imabe PCP-500 also employs a high-quality hydraulic system and structural features. Plus, an available semi-stationary unit opens the spectrum to those yards running only with crane-attached shears, to receive a higher volume of mixed scrap, opening new markets for ferrous products.
Imabe of America is headquartered in Miami, Florida, with all machines, including a wide range of balers, shears and conveyor systems, built in Spain by Imabe Iberica.
_____________________________________________________________
Ian Lewandowski, regional business & marketing manager for ShearCore, the North American distributor of France-based Copex shear/baler/loggers, says this category of machine is especially recommended in applications where the volume of material is high, and in which there is a need to bale or upgrade material.
"The Copex design is a smart, durable design with approximately 800 machines sold worldwide since World War II," says Lewandowski. "It is designed for ease of maintenance, low cost of operation and high output."
He says the Copex SBL offers high horsepower and comes in two different lines - the Reflex line which offers wing-style doors, and the much larger Lidex line which offers side compression.
"Copex' unique design is innovative and will set a trend for years to come, with features including side rails that extend well below the cutting blade of the shear, which supports the shear head better than traditional designs," continues Lewandowski. "ShearCore not only sells Copex in North America, we also service and support machines from our factory in Superior, Wisconsin, where we stock a large warehouse with spare parts, available immediately when needed.
"By selecting the right SBL, recyclers will be able to grow their business by bringing in materials that they were not able to in the past, and it provides the ability to create mill-ready commodities that they were not able to create in the past. The right SBL will enable recyclers to increase the volume of production in their operations as well as upgrade lower-grade material by mixing it in with higher grade material, and it offers the ability to do it at a lower cost per ton."
Copex Reflex mobile and portable
The Copex Reflex mobile scrap shear/baler/logger is specifically designed for the shearing and compacting of welded structures, white goods, car bodies, collected scrap and all kinds of non-ferrous metals.
According to ShearCore, Copex' Wisconsin-based distributor, the Reflex shear/baler/logger is the most recent offering in this category from Copex, and represents a big step ahead with regard to mobile machines for the recycling of scrap and metals. As this type of machine is generally operated under very hard conditions, the new Reflex range features the same technical components and strength of build as Copex' heavy-duty stationary Lidex scrap shears with side compression.
Key features of Reflex mobile and portable shear/baler/loggers from Copex include: innovative guiding of slide-block for more reliability and lower costs; new kinematics of wings to optimize box closing power and reduce cycle times; reinforced sound-proofing through full covering of engine compartment by means of sound-proofing materials and large acoustic panels; and optimization of hydraulics and PLC for more reliability and smoothness during operation.
Reflex mobile scrap shears are versatile machines suitable for many different operation configurations. While engineered to achieve excellent cutting performance, these machines are also perfectly suitable to produce high-quality bales,
Units are available with cutting forces of 500 tonnes through 900 tonnes. Mobile units use 3, 4 or 6 axles and the machine can also be configured as semi-mobile, with optional hydraulic legs. RPN
This article was originally published in the September 2018 edition of Recycling Product News, Volume 26 Number 6.

Company info
Related products
Related Articles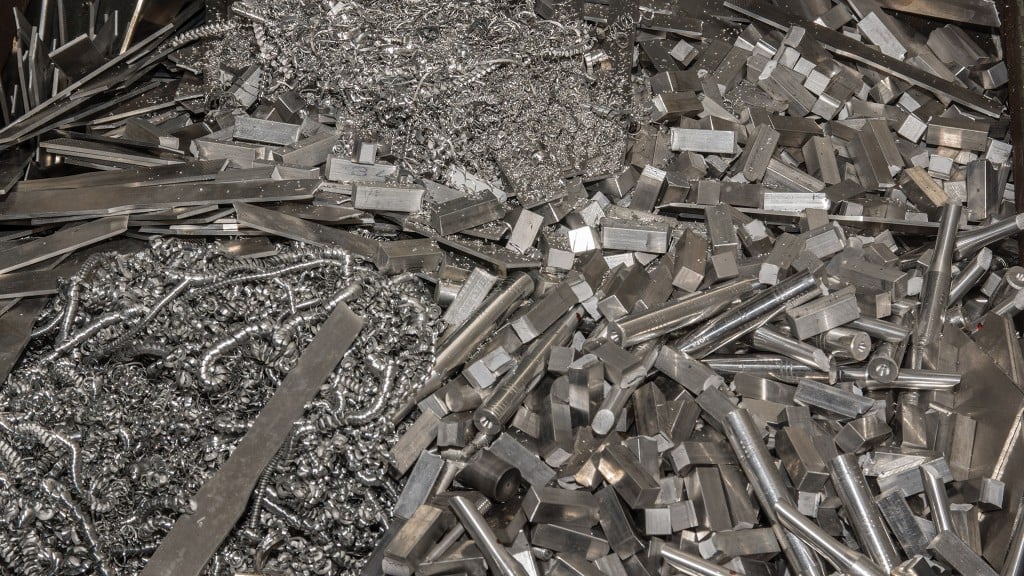 A look at the trends that will impact the primary and secondary aluminum markets in 2023 and beyond