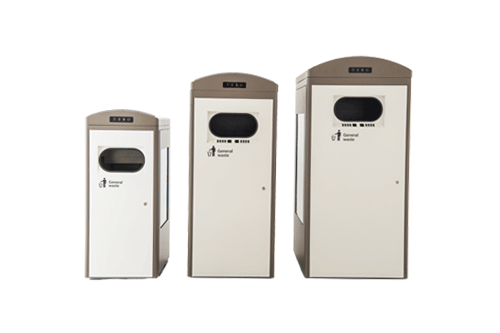 The EcoClean CUBE automatically compacts garbage so that it can hold-up-to 8 times that of standard trash/recycling bins. Monitor real-time bin fill-level, bin status, and analytics that optimize schedule and route. Plan ahead to increase waste collection efficiency, which bins need or do not need collecting utilizing Clean CITY NETWORKS which also assists using predictive algorithms.
Features & Benefits
The EcoClean CUBE features a built-in, patented waste compactor which triggers automatically based on the bin's fill-level.
It is compatible with standard 32G/120L & 64G/240L wheeled carts for easy and safe emptying of the bin.
Carts can be emptied with a standard rear or side loader avoiding manual lifting and potential injuries.
The EcoClean CUBE communicates the information it collects in real-time through wireless transmission to Ecube Labs' smart waste management platform.
Clean CITY NETWORKS. 2G and 3G telecommunication modules are available through WCDMA and GSM networks.