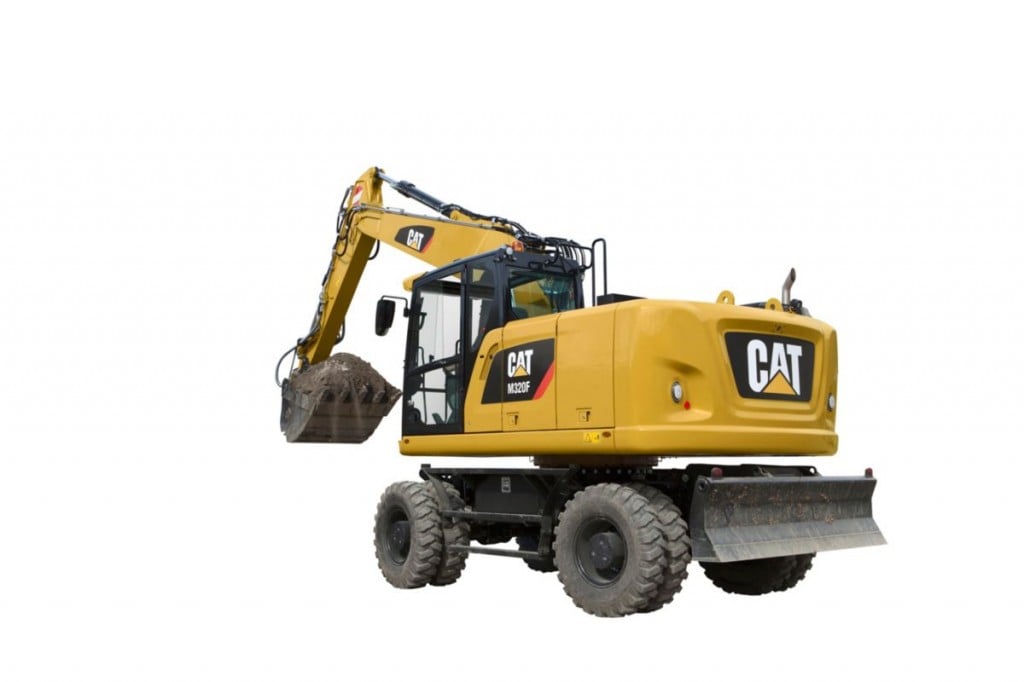 The new F Series generation is here to help you take on the wide variety of challenges you face every day, more easily and with more pleasure. F Series – Easier Than Ever.
Features & Benefits
FUEL EFFICIENCY AND REDUCED EXHAUST EMISSIONS
The engine meets Tier 4 Final emission standards, performs the same amount of work, while burning significantly less fuel than the previous model, which means more efficiency, less resources, and fewer CO2 emissions.
QUIET OPERATION
Outstandingly low sound levels, you won't believe your machine is running.
TRANSPARENT TECHNOLOGIES
The new Eco Modes, Auto Engine Speed Control and Engine Idle Shutdown help further reduce your overall fuel consumption.
BIODIESEL AND BIODEGRADABLE HYDRAULIC OIL
The M320F has the flexibility of running on either ultra-low-sulfur diesel (ULSD) fuel with 15 ppm of sulfur or less or up to B20 biodiesel fuel blended with ULSD.
ENGINE
The Cat C7.1 ACERT engine meets today's Tier 4 Final emission standards, and it does so without interrupting your job process.
FUEL SAVERS
Automatic Engine Speed Control: lowers engine speed when it is not needed. NEW Engine Idle Shutdown (when activated): turns the engine off when it's been idling for more than a pre-set amount of time.
ERGONOMIC LAYOUT
Storage compartments are useful...when well designed. The lunch box provides sufficient room to store a hard hat. Several other areas include drink, phone, or key holders.
COMFORTABLE SEAT OPTIONS
Our seats provide all the comfort needed for a long day of work, including FULL adjustment. All seats are heated and air suspended. Automatic weight adjustment and air cooled seats are available.
INCREDIBLY LOW SOUND LEVELS
Increased cab pressure, preventing from dust entry, combined with the new design contributes to reducing sound. Add in new hydro mounts to fix the cab on the frame and you have a cab that's as quiet as any of today's pickup trucks.
OUTSTANDING VISIBILITY
Standard LED working lights and halogen roading lights LED dome light. All glass areas have been drastically increased. Choice of 70/30 front windshield or one-piece windshield. Parallel intermittent (four speeds) wipers covering the whole windshield.
DIG AND GO AUTO AXLE LOCK
The machine automatically detects when the service brake and axle need to be locked (like when digging), or unlocked (roading), hence removing the need for the operator to systematically press the pedal.
HYDRAULICS
Simple Design: The new hydraulic valve compartment and routings offer a simple and clean design to help ensure durability. Everything is reachable from ground level.
HEAVY DUTY AXLES
Long life with effective heavy duty axles. The transmission is mounted directly on the rear axle for protection and optimum ground clearance. The front axle offers wide oscillating and steering angles.
JOYSTICK STEERING
Keep both hands on the joysticks even when simultaneously moving the implements and repositioning the machine, by the use of the slider switch on the right joystick.
RUGGED PERFORMANCE
Booms and sticks are welded, box section structures with thick, multi-plate fabrications in high stress areas for the tough work you do.
ROCK SCRAPING
Scraping rock and finishing work is easy and fast. SmartBoom simplifies the task and allows more focus on stick and bucket, while the boom freely goes up and down without using pump flow.
CAT CONNECT
Cat Connect makes smart use of technology and services to improve your job site efficiency. Using the data from technology-equipped machines, you'll get more information and insight into your equipment and operations than ever before.
Specs
Key Specifications

| | |
| --- | --- |
| Engine Model | Cat® C7.1 ACERT™ |
| Net Power | 169.0 hp / 126.0 kW |
| Maximum Travel Speed | 22.0 mph (35.0 km/h) |