Cat F Series Wheeled Excavators and Material Handlers refined for 2017
Revised F Series feature decreased fuel consumption, ability to limit travel speed in reverse and more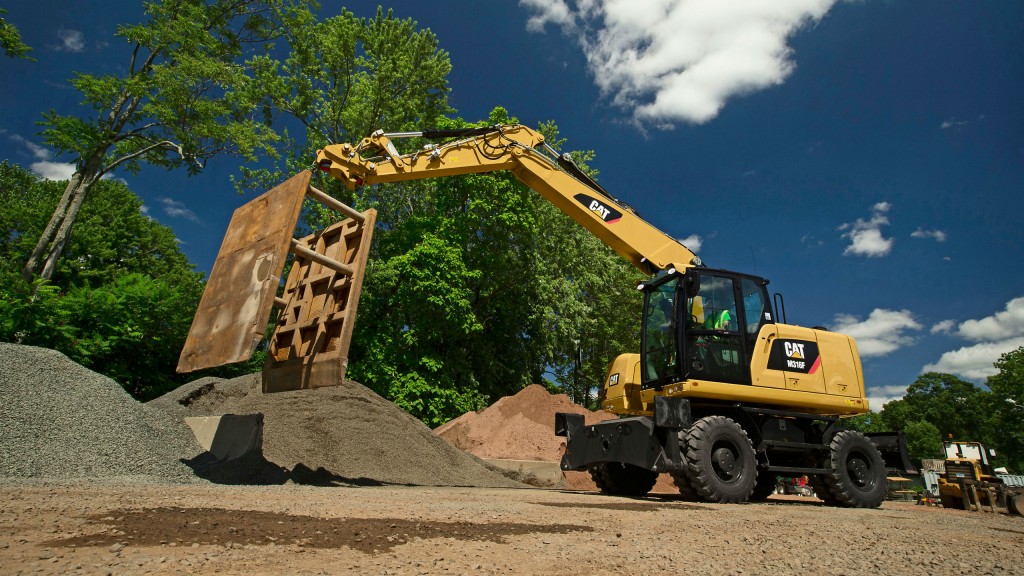 The recently released Cat F Series Wheeled Excavators (M314F, M316F, M318F, M320F and M322F) and Wheeled Material Handlers (MH3022 and MH3024) are designed to meet high standards for initial quality, reliability, low operating costs, operator comfort and safety, simplicity of operation and maintenance, and environmental friendliness. To further enhance overall value for the machine owner, Caterpillar has further refined these product lines' design for the 2017 model year to provide increased fuel efficiency, versatility, and operator safety and convenience.
Decreased fuel consumption
The wheeled excavators use the Cat C4.4 ACERT (M314F and M316F) and C7.1 ACERT (other models) engines. These engines feature high torque and fast response to load changes, while meeting current emission standards. Emissions technology includes the Cat NOx-reduction system, selective catalytic reduction system, diesel oxidation catalyst, and high-pressure/common-rail fuel. The Cat Clean Emission Module also includes a Diesel Particulate Filter for all models, excluding the M314F and M316F, which do not require it to meet the emission standards.
New for these machines is a system that adjusts engine speed to match speed demands during travels. The system provides the exact level of power required for varying roading situations, resulting in reduced fuel consumption and reduced sound levels.
Increased versatility
An integrated optional Tiltrotator-ready package is now available for all models, but the material handlers, and provides a factory-installed, on-board platform for a Rototilt tiltrotator. All modifications required to the cab, electrical, and software systems are incorporated in the package. The system requires no additional monitor; all necessary settings and parameters are integrated directly into the machine monitor. Included with this package are the new advanced joysticks.
The available advanced joystick control system is designed to provide added comfort and functionality. The ergonomic design of the controls and rubberized surfaces allow fingertip control of hydraulic functions, while two sliders and five buttons on each joystick allow integrating additional functions, such as rotation/tilt and lever steering.
An added standard feature is extended flexibility for work-tool-function assignment, on the left foot pedal and joysticks. The system allows more freedom to choose which work tool function will be assigned to which control.
The new trailer-ready package (optional on M314F, M316F, M318F and M320F, and not available in Australia and New Zealand) lets you be more autonomous than ever while increasing your mobility and flexibility. The new trailer-ready package provides another factory-installed solution including all the necessary electrical and hydraulic systems, so that you now just need to hitch your trailer and go. Move your attachments, tools, and fuel along with you to each jobsite or move material directly on site. The hydraulics on the machine allows you to operate the tailgate and dumping devices of your trailer.
Also standard is the new permanent auxiliary-flow feature that simplifies control of work tools requiring constant rotation, such as mowers and mulchers. Operators can now press the control button once to engage constant flow. The function can be disabled if the operator chooses.
New quick-coupler controls now are operated from a switch, not from the monitor, in order to comply with the new ISO 13031 standard. The quick-coupler control switch is located in place of the previous radio-mute switch, which is relocated to the right console (below the armrest). The new system allows quicker tool changes.
Safety enhancements
The ability to limit travel speed in reverse mode is also a new feature, allowing the machine owner to set a safe speed when the machine is swinging and moving in reverse. In addition, a modified swing lock now functions independently from the implement-lockout system. When loading the machine onto a transport truck, for instance, this feature allows for greater maneuverability, offering the ability to adjust implement position, while eliminating the risk of accidentally swinging the upper frame.
A cab pre-filtration system (optional on MH3022 and MH3024) is available ex-factory to prevent the need from adding additional system to material handlers to almost completely eliminate dust entry and air contamination. It is composed of HEPA 13 compliant filters to reduce dust entry and particles entry from the outside along with a HEPA 13 re-circulation filter that improves the air quality inside the cab.
Accommodating operator's environment
A new split-screen monitor for the side-view and rear-view camera displays allows both images to be seen at a glance by the operator. These views are displayed on the second monitor, which provides a wider screen for enhanced visibility. Also, an added LED light for the side-view camera allows improved visibility from the front right-hand side to the rear of the machine. The new light for this camera, coupled with the current light for the rear camera, ensures optimum visibility for operators.
Also available are electrically adjustable mirrors that allow the operator to position mirrors while seated in an operating position. This capability eliminates the need for operators to climb on machines with a variable-adjustable boom – a plus for safety.
Company info
Related products