Event recap: Highlights from the 2022 MRF Operations Forum and Paper & Plastics Recycling Conference
Sorting systems, evolving tech for MRFs, and value adding systems take centre stage in Chicago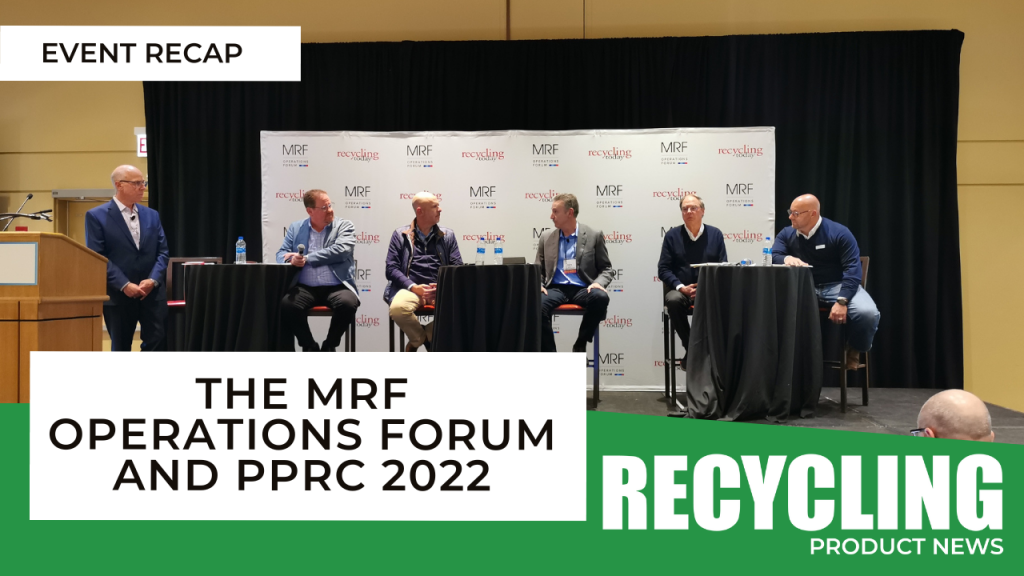 After a two-year hiatus, the Paper & Plastics Recycling Conference returned to Chicago from October 19 - 20, 2022, preceded by the MRF Operations Forum on the 18th. As the longest-running conference and trade show in the paper and plastics recycling industries, the event addressed the biggest challenges and opportunities facing the recycling sector, from supply chain issues, to the rapid adoption of AI, to the significant advances in sorting, screening and other equipment being put forward by leading manufacturers.
Produced by the Recycling Today Media Group, the event was well organized, informative, and well attended. With sessions that offered something for everyone, this year also saw Fast and Furious sessions that offered a 15-minute insight into the industry and allowed attendees to connect with industry leaders on a deeper level. The event also offered countless curated networking opportunities that allowed attendees to connect with brand owners, recyclers and consumers alike.
Read on to find out more about some of the key takeaways from this exciting event.
Evolving plants bring new approaches to MRF processing
Material recovery facilities are ever evolving, and MRF operators are continually integrating new technologies to keep up with these changes. In the first session of the MRF Forum, Case Studies: New Approaches to MRF Processing, Jake Westerhof, area recycling director of eastern Canada for GFL Environmental, discussed the major points to take into consideration when designing these new systems:
Material composition that is based in evidence
Environmental outcomes including what needs to be done in terms of material recovery and material purity
Geographic conditions and their limitations
Contractual requirements and their ability to change
Future outlooks and the ability to adapt to shifts in material composition, the marketplace, and regulatory changes
Finding the best equipment for the job
In the same session, Andrea Rodriguez, director of engineering for FCC Environmental Services, presented a case study that discussed how adding a coarse shredder in place of a drum feeder resulted in better homogenized materials and eliminated jamming. Many other case studies presented during the panel also emphasized the importance of using a trommel screen early on in the process to aid in the size reduction of inbound materials.
In his case study, Michael McCoy, the executive director of Metro Waste Authority, focused on the company's new material recovery facility in Des Moines, Iowa. At the front end of the system, the primary auger screen and OCC auger screen work together after the infeed conveyor to fractionate material prior to reaching any human employees, eliminating the pre-sort and creating a safer environment. The facility also features the first-ever installation of CP Group's new auger silos that maximizes silo storage volume. The augers act as a material metering system that eliminates half and quarter bales by emptying the correct amount of material to be baled. You can learn more about the installation here.
Are optical sorters outperforming other options?
Sorting robots are still relatively new to the marketplace, while optical sorters are already well established in the industry. What is the advantage of one over the other?
Speakers on the panel at Opticals: The Sorting Workhorse included Jim Marcinko, vice president of recycling operations at Waste Management, Thomas Ferretti, operations manager at Sims Municipal Recycling, and Ronald Grinold, area manager of plant operations at Republic Services. The speakers explored issues ranging from the industry's tendency to use the words "robot" and "AI" interchangeably, to the importance of effective training for the operators of these machines.
While both sorting robots and optical sorters are accurate, the panelists emphasized the speed difference between the two options. While robots can be programmed to be more specific in the types of materials that they pick and can even learn how to be more efficient over time via learning software, optical sorters still far surpass robots in terms of speed, with sorters capable of picking materials up to ten times faster than robots. While it's clear that robots are still gaining popularity, there's still a lot of optimizing to do before they become a viable subsitute for optical sorters.
How can system data improve operations at MRFs?
One of the biggest challenges in the industry when it comes to system data is how to take a seemingly endless number of metrics and turn it into something actionable.
If used correctly, system data is incredibly powerful and specific. It can give real-time insights into peak hours, as well identify process interruptions and analyze bale quality. This type of data can then be used to help MRF owners decide on which types of new equipment to invest in, and can also help make facilities safer by analyzing the metrics associated with fires and other safety hazards.
Later in the session, the panel also discussed the pros and cons of a common data collection platform that could be integrated across the entire industry. A standardized data collection platform would reduce integration costs and as well as the number of different panels that MRF operators have to visit in a day. While the industry is still far from acting on this idea, the panelists made it clear that they respond to customer demands, and if the industry demands it, it's possible that it could one day become a reality.