Recycling Product News 2021 Newsmakers of the Year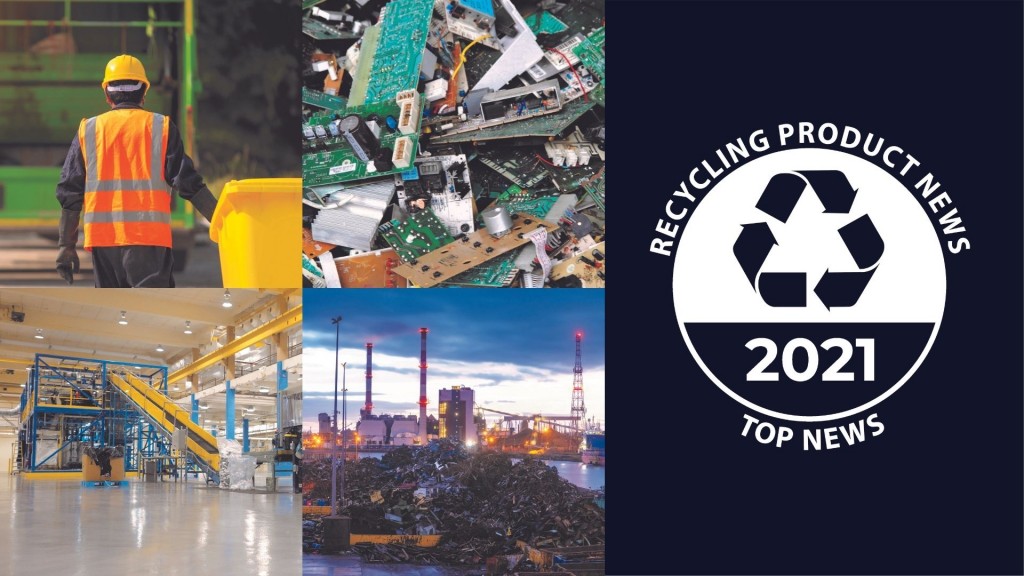 It's the start of a new year, a time when we can look back at the central themes that dominated the last twelve months in recycling and waste diversion. In 2021 we saw significant advances in both plastics and battery recycling, great progress for EPR programs across Canada, as well as global shipping challenges, and record mergers and acquisitions activity. Read on for our picks for top newsmakers of 2021.
SWANA report shows decrease in fatalities
Findings from the Solid Waste Association of North America (SWANA), released in June, 2021, indicated a decrease in solid waste worker fatalities for the first half of the year. Through June 25, preliminary data collected by SWANA showed 50 percent fewer on-the-job deaths compared to the previous three years in the United States and Canada. The most common event leading to a worker death in 2021, as of June, was being struck by a waste vehicle or heavy equipment.
Li-Cycle leading the way on lithium-ion battery recycling
Li-Cycle, the Kingston, Ontario-based specialist in end-of-life lithium-ion battery recycling, and the largest in North America, entered 2021 on the heels of a very busy 2020. Within the first few months of the year, Li-Cycle completed a pilot project processing electric vehicle batteries from buses with New Flyer Industries Canada, and entered into an agreement with Peridot Acquisition, becoming a publicly traded corporation. The company went on to receive multiple industry accolades through 2021, and launched The Green-Cycle Podcast, which covers the latest news, trends and innovations in clean technology.
Li-Cycle began several important collaborations in 2021, including one focused on improving the efficiency of the EV battery supply chain in the U.S. and Europe, one on energy storage applications and one to create a sustainable recycling solution for lithium-ion batteries used in e-scooters and e-bikes.
Heading into 2022, Li-Cycle plans to build its first commercial hub facility in Rochester, New York, where the company will produce battery-grade raw materials for use in new batteries. Li-Cycle will add two additional facilities in the U.S. to feed the new hub facility.
Tough year for scrap exporters
Scrap recyclers and other exporters were greatly affected by shipping and container shortages and delays caused by a range of factors in 2021, including the COVID-19 pandemic, labour issues and the physical backlog resulting from the grounding of the Ever Given container ship in the Suez Canal.
Canada Plastics Pact launched
At the end of January 2021, the Canada Plastics Pact (CPP) was launched as part of a global plastics pact, which involves commitments to take serious action on reducing waste plastic packaging from nations around the world. Through 2021, the CPP has approximately doubled in size to include 81 industry, NGO and public sector organizations which together account for over a third of plastics packaging produced and sold in the Canadian market. These partners, representing unprecedented cross-value-chain collaboration, are working toward 2025 targets to create a truly circular economy for plastics packaging in Canada, where the material stays in the economy and out of the environment.
Specific progress this year includes the introduction of Golden Design Rules for Plastic Packaging, which provides a clear framework to drive innovation and scalable actions that will result in less plastic packaging overall and easier to recycle plastic packaging by 2025. In October, CPP also released its official Roadmap to 2025: a shared action plan to build a circular economy for plastics packaging.
EPR advances made from coast to coast
Under new regulations in Ontario, existing municipal, local and First Nation blue box curbside residential recycling services will be transitioned to a producer responsibility model between 2023 and 2025, requiring producers to be responsible for a consistent set of blue box materials and eligible sources as of January 1, 2026.
In B.C., where EPR is the most established in Canada, it was announced in September, that electric-vehicle batteries, mattresses, solar panels, single-use fuel canisters and fire extinguishers are among new products that will be eligible for province-wide recycling as part of a five-year plan.
In November, Alberta tabled new legislation to approve the introduction of EPR which, if passed, sets the foundation for the implementation of an EPR Framework starting in 2022, which would create provincial systems for managing single-use plastics, packaging, paper products and hazardous and special products like household pesticides and solvents. In New Brunswick, an amendment to the Clean Environment Act's Designated Materials Regulation has moved EPR for packaging and paper products one step closer to reality. The program, aiming for startup in 2023, will be a first of its kind in Atlantic Canada.
Mergers and acquisitions hit record levels
Major diversified waste management firms in North America, including Waste Management, Republic Services and GFL, all reported relatively healthy overall revenue as of their Q3 statements, with double-digit growth compared to 2020 numbers, and all are reporting record-breaking M&A activity through the year. Republic Services reports being on target to hit $1 billion USD in acquisitions by the end of the year, and Toronto-based GFL reported over $2 billion in spending through the third quarter, with expectations to surpass a total of 40 M&A deals for the year.
Notably, Waste Management, which reported fewer acquisitions this year, but continues to integrate its $4.6 billion acquisition of Advanced Disposal from 2020, cited substantial revenue growth driven by other factors, including increases in market prices for recycled commodities, and a less labour-intensive operating cost model. WM also reported on its five-year total investment in recycling infrastructure, including the installation and upgrading of MRFs and technology, at $700 million, including an expected $200 million in investments to come for 2022.
Davis Index scrap futures first to decentralize global trading
Commodity price reporting agency, Davis Index, launched the word's first decentralized futures contracts for recycled steel, now listed on Mettalex, a decentralized exchange for commodities trading. Mettalex is meant to provide better access to hedging tools for small- and medium-sized enterprises by allowing physical asset holders a cost, capital and risk-efficient access to commodities markets, enabled by DeFi (decentralized finance) liquidity, and automated by blockchain-based smart contracts.
RIOS and R2 form global e-waste standards alliance
At the start of 2021, the Recycling Industry Operating Standard (RIOS), which is managed by the Global Recycling Standards Organization, formed an alliance with the R2 Certification program, developed by Sustainable Electronic Recycling International (SERI). This alliance will allow the organizations to work closely together to improve training and education programs internationally, streamline the certification process for companies seeking both R2 and RIOS certification, lower the overall cost of certification, and support the responsible recycling, reuse and repair of electronics and electronic scrap around the world.
International composting alliance formed
National compost organizations from around the world, including the US Composting Council and the Compost Council of Canada (which celebrates its 30th anniversary in 2021) established the International Compost Alliance in 2021, a voluntary partnership to advance awareness and understanding of the benefits and use of compost on a global scale. By pooling expertise and knowledge, the Alliance seeks to maximize the recycling of organic wastes and advance the manufacturing of certified, high-quality compost globally.
This article was originally published in the November/December 2021 edition of Recycling Product News, Volume 29, Number 8.