An eye on optical sorting
RPN talks with Machinex' Jonathan Menard about the current state of high-tech optical sorting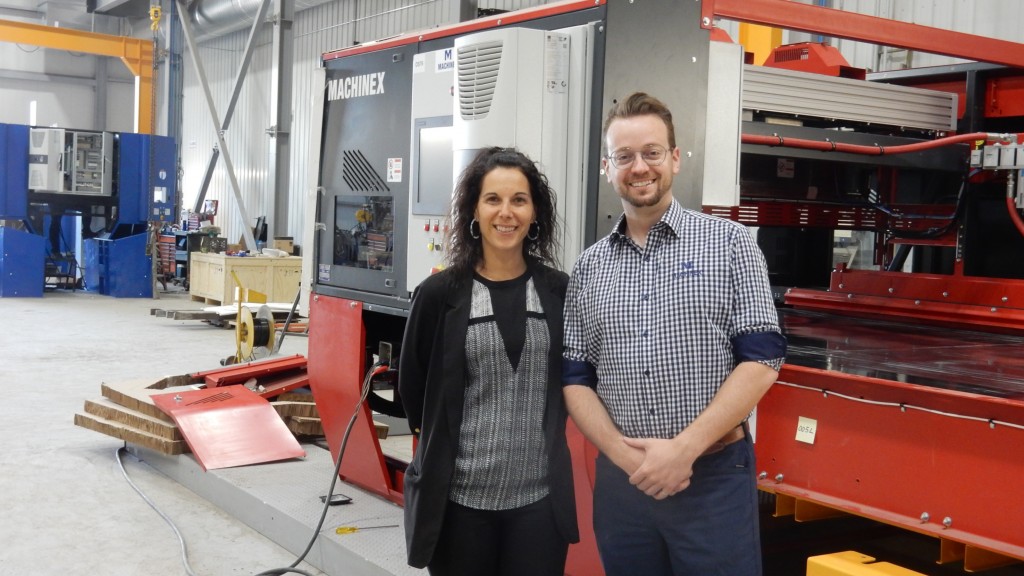 In June, RPN had the opportunity to visit Canada's only turnkey MRF technology provider, Machinex, at the company's headquarters in Plessisville, Quebec. The company is very busy, with multiple MRF design/installation and retrofit projects across Canada currently and through 2020 - which will mark Machinex' 50th anniversary in manufacturing.
Current focus for Machinex is largely on the continued development of the latest artificially intelligent robotic and optical sorting technology. In this article, we'll focus on Machinex' latest developments with the MACH Hyspec optical sorter, which has been updated for easier access, simplified maintenance and overall aesthetics.
The MACH Hyspec optical sorter was originally introduced in 2012, with the latest generation unveiled to the industry at Waste Expo 2019. According to Jonathan Ménard, P. Eng., project director and Executive VP Sales and Strategic Positioning at Machinex, the first of the updated machines are being installed this summer.
"Our new regeneration of the MACH Hyspec optical sorter is an update of both ergonomics and aesthetics," explains Ménard. "We significantly refreshed the aesthetics of the unit by harmonizing its design with our newly released SamurAI robot. We also did a customer survey about 18 months ago to confirm what users think about our MACH Hyspec."
He says comments about a need for improvements in access and maintenance were among the most recurrent comments made by customers. "The large majority of the comments/requests we received from customers have been featured within the new improved design and operation of our latest MACH Hyspec Optical Sorter.
"With the overall increase in the use of optical sorting within new and existing facilities, these features will result in significant time savings per shift," says Ménard. "For the same cleaning and maintenance tasks, we're probably cutting about 50 percent of the time it takes. The optical sorter becomes more accessible, it's safer and it's more economic to operate.
"The payback of the revisited design is really between one and two years."
According to Ménard, the most exciting new technology that will take throughput capacities and material recovery and purity capabilities at MRFs to the next level will be the implementation of AI devices throughout the different equipment components of the sorting systems.
"The implementation of AI into our equipment portfolio enhances their performances while providing real-time material composition monitoring and valuable data for operators leading toward automatic adjustments of the key machinery for continuous maximized performance of the sorting facilities," says Ménard.
Stay tuned.
MACH Hyspec key maintenance features
• A built-in platform allowing a standing working position (81-inch height x 23-inch width).
• A full-size access door into the ejection hood.
• An internal guard rail system ensures the security of the worker when inside the machine, and an optional secondary splitter is positioned by a rail when the platform moves into place.
• Both the lighting system and the ejection nozzles bar can be easily moved into an ideal position to facilitate cleaning and maintenance.
• Outside the machine, an access ladder has been added to maintain the components accessible from the speed belt conveyor.
• These units also include a mechanism to easily retract the air tunnel.
This article was originally published in the July/August edition of Recycling Product News, Volume 27, Number 5.
Company info
Related products
More from Paper Recycling
But we've been successfully sorting paper on the front end with optical sorters since 2005. Why have we been so successful? Because we know it's not JUST about the optical. We focus on your entire operation, so you make the most of your fiber line. Is your optical sorter living up to its potential? Call us at 203-967-1100 for a free system evaluation.
Traditionally, recyclers across Canada have sent a huge percentage of their recovered scrap metal to Hamilton, Ontario, or Pennsylvania in the U.S., via open-top rail cars and truck trailers. The scrap is then melted down and turned into new steel. This is still the case for much of our scrap steel, but recently the growing trend toward containerization has introduced new opportunities for efficient, cost-effective shipping of both non-ferrous and ferrous materials to overseas markets.