Editor in the field: From the factory floor to the MRF – in Quebec
RPN recently had the chance to visit Machinex HQ and the upgraded Sani-Éco MRF in Granby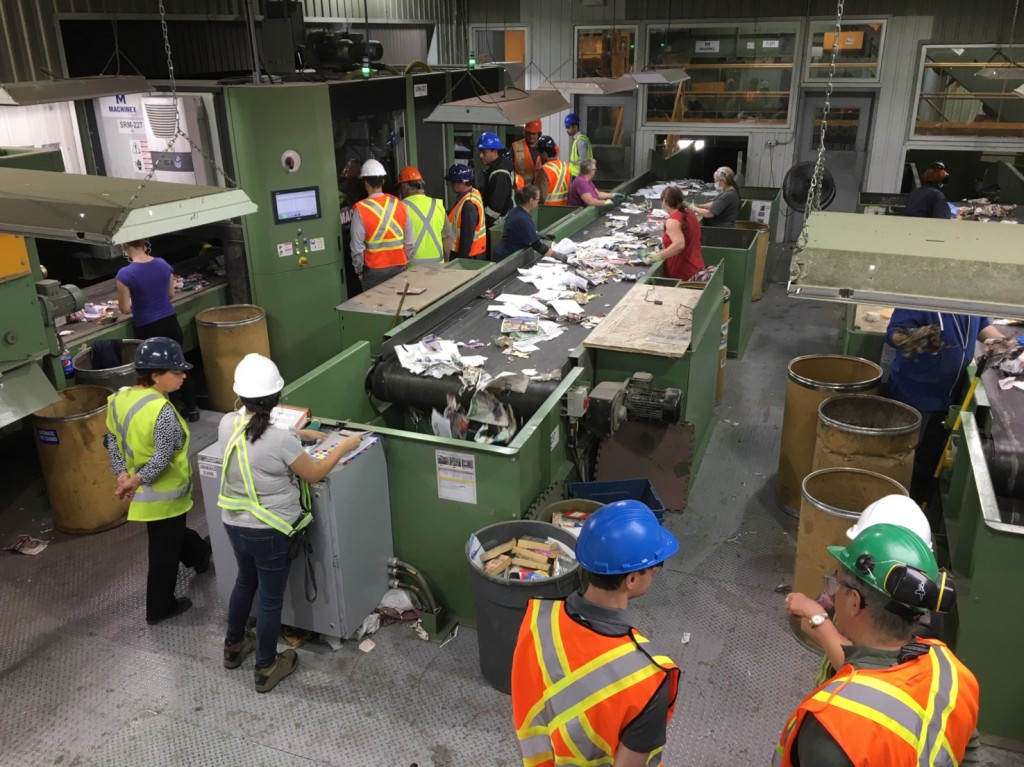 June 12th: Machinex HQ, Plessisville, Quebec.
As the only turnkey MRF provider based in Canada, Machinex has an impressive history in the recycling industry. With origins in agriculture and a specialization in conveyors, Machinex built their first recycling sorting system in 1985. By 1989, the company had turned their focus primarily to the design and manufacturing of sorting equipment and systems for recycling. In 2020, the company will celebrate 50 years in manufacturing.
Last winter, Machinex built an extension of their main facility in Plessisville to increase production capacity, due to high demand in the market. This expansion allowed the addition of four overhead cranes, to securely load and move around large equipment such as balers. In addtion, currently the company is working on a new Center of technologies in Construction on the Machinex Campus in Plessisville.
Currently the company is also working on a wide range of MRF installations and projects, including:
Winnipeg MRF (Canada Fibers Ltd) : started May 31, expected be in operation by October.
City of Montreal MRF: begins June 17 with operation startup expected for late Fall
Waste Management, Laval single-stream MRF, near Montreal: installation starts end of June and is expected to be in operation by the end of summer.
Peel Region (Toronto area), Canada Fibers Ltd MRF retrofit: installation starts end of August and is expected to be in operation at the beginning of 2020.
In addition, three new sorting robots are scheduled for installation in July at a Canadian MRF (to be announced).
June 13th, Sani-Éco MRF tour, Granby, Quebec.
Machinex provided Sani-Éco with their recyables sorting system more than 18 years ago. The latest modernization is meant to allow an increase of their current sorting capacity in addition to bringing a direct improvement to the quality of fibre and plastics produced. Since the upgrade, finished in April, the Sani-Éco single-stream system, which sorts residential and commercial recyclables has doubled its tonnage capacity, going from 10 to 20 tonnes per hour.
The upgrades include disc separators replaced by a MACH Ballistic separator and three MACH Hyspec optical sorters, as well as a film capture system and a Machinex single-ram baler. The two new SamurAI sorting robots at Sani-Éco employ artificial intelligence, and are configured one after the other on a single line. These robots are positioned on the containers' line specifically to remove HDPE plastics and aseptic cartons (juice and milk containers). Sani-Éco's two SamurAI machines are the first Machinex sorting robots installed in Canada.
According to Julie Gagné, operations director at Sani-Éco, they have not altered their labour force since the installation, but they have seen improvements in capacity (about double, close to 17 tonnes per hour) and in purity of end materials.
"Our first objective with this upgrade, with the robots, was to achieve clean output quality," said Gagné. "Our new optical sorter (installed in December 2018) has also improved our PET sorting efficiency by about 30 percent." She added that another benefit of the new robots is that, while they have not laid off any employees, it does alleviate some of the pressure with respect to the current labour shortage for new pickers in the region.
According to Charles-Étienne Simard, Eng., Machinex project director for the Sani-Éco upgrade, our main speaker and a tour leader on the day, key benefits of robotic technology compared to human sorters, includes the pick-rate of up to 70 picks per minute, compared to 30-50 for the average employee. And robots do not take breaks, he said.
"At Sani-Éco currently, the robots pick 50-55 items per minute, so between the two of them, they are picking over 100 per minute," said Simard. "Our system provides 90 percent efficiency, which results in up to 98 percent purity of fibre output. We do positive sorting of, HDPE, aluminum cans and cartons.
"The more robots we have in the field, the more intelligent these robots become," he continued, adding their robots are modular and feature easy maintenance. According to Simard, after the first year, recycling facility owners using the technology pay a yearly Cloud-based subscription fee to keep their robots updated with the latest types of materials it can recognize. AMP Robotics is the company behind the AI technology used on these robots, and the updated learning is provided via the Cloud-based online subscription.
"What we see with these robots is the same as the human eye. New items need to be labelled in the system," said Simard. "With every new sight, new knowledge of items, the robots get more intelligent. We work with AMP, our AI provider, on new items in the stream. They label them and then the robots can recognize them."
More on the Sani-Éco upgrade, and about the latest developments in robotics technology are planned for coverage in coming issues of Recycling Product News. Stay tuned.
Keith Barker, Editor
Company info
Related products