Two-ram balers – rising star of recycling
The popularity of two-ram horizontal balers in recycling continues to grow for good reason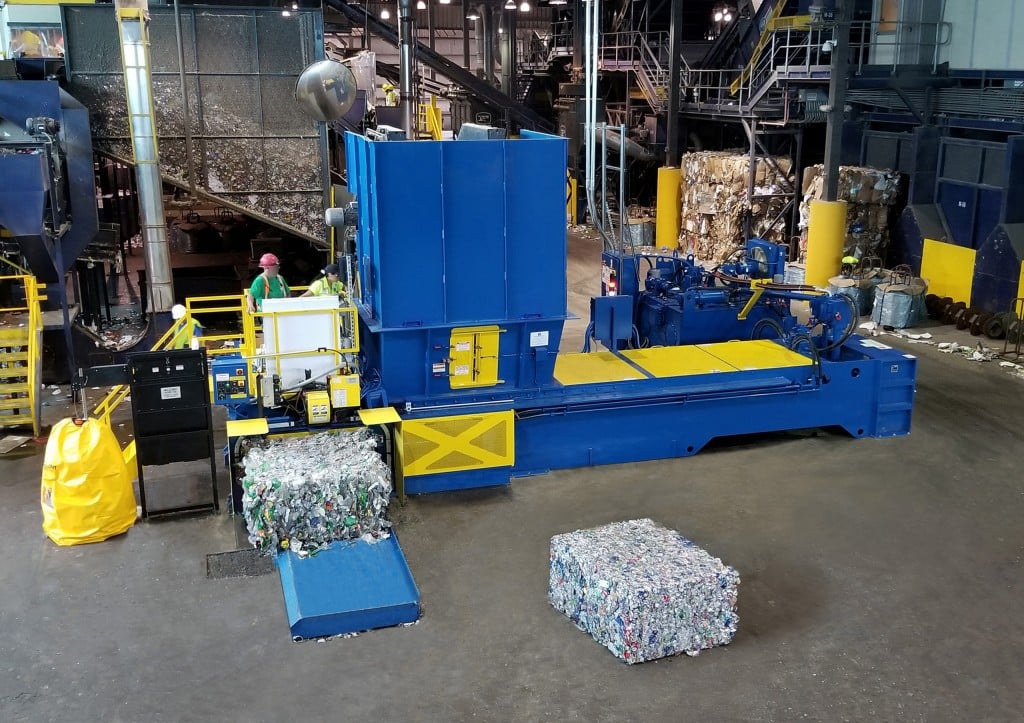 If there's one thing in common with almost any material collected and processed in a recycling facility, it's this: it is bulky and difficult to handle. When it comes time to ship to end markets, the need to reduce that bulk for the sake of transportation costs and more efficient downstream processing is key. Balers serve this purpose for most recycling facilities. Product goes into the baler's hopper and comes out compacted and neatly squared off for easy storage, shipping and handling.
The challenge with balers, as with any piece of equipment, is to sort through the many options available and determine what the best fit is for each facility. There are many different configurations on the market. While single-ram options, including channel balers, remain most widely used in MRFs and other large recycling facilities, two-ram horizontal balers, using one ram to compress material and one to eject the bale, have become an increasingly popular choice.
Recycling Product News reached out to a number of manufacturers to provide expert insight into the key features of this essential industry technology and about considerations when selecting the right two-ram horizontal baler for recycling applications.
The benefits of dual-ram technology
According to Scott Holder, director, Western region sales for Harris, "The two-ram baler offers the greatest flexibility for all materials that need to be baled. If your materials to bale change in the future, a two-ram baler will allow for those materials to be baled without any process changes or addition of material conditioners." He adds that hard-to-bale materials which need compression in an enclosed baling chamber to maximize density and formation of a good stackable bale are better suited in a two-ram baler. "The benefit of the two-ram baler's larger feed opening is always a plus. When the materials baled are bulky, that allows for higher throughput without the worries of material bridging in the hopper, 'killing' production to clear these bridges."
Todd Wondrow, president of Maren Engineering, says that compared to channel balers and other single-ram options, while two-ram balers may have slightly less horsepower, they provide lower labour and wire costs, higher throughput, and will bale almost anything, yet operate and tie automatically like a channel baler.
"With two-ram balers, the bale is made against a hard wall allowing you to bale almost anything. The bale separation door prevents fluid materials from extruding or contaminating prior bales and almost any material can be accommodated since the baler can be made to apply as many bale ties, in as many positions, as any particular material would require.
"Another bonus for the two-ram baler is that when tying with high-tensile galvanized wire, as used in two-ram tiers, as opposed to black annealed wire used by channel balers, the cost per pound of tensile strength is much lower for the two-ram."
"Combine the lower cost per pound of holding power with the fact that a typical wide-box two-ram uses far less wire than a channel baler for a given pound of baled material, ROI may show the two-ram as the clear winner," he says.
Two-ram balers have also proven excellent for handling materials that can vary in density, such as plastics, according to Chris Hawn, executive vice president, sales and business development with Machinex.
"The use of a two-ram baler is efficient for plastics since the compaction is done on a wall and not on the next bale," he says. "Since plastics tend to expand, having a great compaction force is important. Also, with the two-ram baler, we can choose the number of wire ties for each bale. So the two-ram remains versatile."
Harris' director of technical services, Forrest Wildes, agrees that two-ram balers are very efficient for plastics processing in particular. "With the two-ram baler you can program any number of wires or wire pattern. Therefore you can make heavy and dense bales for export weight." He adds that they are also excellent when it comes to handling non-ferrous materials.
"Non-ferrous doesn't expand much," he says. "A tension-type strapper will make up for that by tightly tying the bales. With a two-ram baler, all the bales are the same size, making loading easier and more predictable."
Sean Usoff, director of sales and marketing with International Baler, agrees that the two-ram's capability for baling multiple materials is a key feature to their design.
"When regular changes are being made to the material going through the baler, it's important that changeovers be fast and seamless," he says.
Innovation over time
While the concept of a baler might be simple - push materials into compacted bales and tie them - industry manufacturers are always seeking ways to improve and innovate with their products. From structural design modifications to the addition of sophisticated technology, two-ram balers have changed significantly over the last several decades and are expected to adapt even more to meet the needs of recyclers in future.
According to Sean Usoff, International Baler has incorporated a removable end-wall since their two-rams first came on the market. "Our frame design evolution over the last decade has been the most significant," he says. "We key our major frame structures so that the steel construction of these sections interlock."
"You are not just relying on the strength of the welding alone," continues Usoff. "We also incorporate a single-plate wall design that has one solid plate section for the sides, from front to rear of the baler."
Machinex recently introduced an improved pre-fill valve on its hydraulics. "This high-tech hydraulic system with pre-fill valve generates twice the speed of a regular hydraulic system with regen, both using the same horsepower," says Chris Hawn. "This results in more productivity, cost and energy savings."
Wondrow says that Maren's latest Propak series two-ram balers, from 88 tons to over 230 tons, are a far cry from their first two-ram, built in 1988.
"Today multi material capabilities, fast material changes, high compaction force and maximum throughput are the benchmarks, along with rock solid dependability and safety," he says. "With labour costs on the rise, buyers expect a baler that has an 'auto' mode to really be 'automatic,' to un-tether operators to do other tasks like run a loader feeding the baler."
Wondrow adds that Maren has also kept electrical efficiency in mind as they have developed their line of balers, along with the need for effective high-pressure operating parts.
"Electrical efficiency is important to today's buyer," he says. "To meet these requirements Maren employs the best factory-hardened sensors and controls to ensure reliable, true, automatic baler operation. To achieve superior compaction forces and cycle times, yet maintain reliability, our newest two-ram balers are equipped with high pressure hydraulic systems - far more efficient than the high/low hydraulic systems of the past. High pressure makes some think 'high failure'. This is not so with today's piston pumps rated for operation to 6,100 psi. We run our systems at only 4,200 psi." He says this is what allows a 10-inch bore two-ram to push 40 percent harder than a similar machine from just a few years ago.
"The compression lid on the Harris two-ram baler is the biggest innovation since the combination bale separation and release door," says Scott Holder. "Increased efficiency gained in the baling of containers is unmatched, and lower operating costs maximize customer's value and return per ton."
Forrest Wildes adds that with Harris' compression lid, baling bulky plastic has become much faster, there is no shearing and liner life is extended by 100 percent. "Another development is our high pressure hydraulic systems," he says. "With higher pressure, the two-ram baler can operate with smaller main cylinders and lower horsepower motors saving on electrical cost.
Connectivity a common thread
Internet connectivity is a common thread among modern manufacturers, in a wide variety of industries. All of the companies interviewed for this article noted the availability of remote monitoring technology for their latest models, and stressed the importance for recyclers to have the capability to efficiently interact with their balers.
"Harris balers are equipped with an internet connection," says Wildes. "The programming and setup parameters can be changed from the factory, over the internet, with ease. It is even possible to run the baler with an iPad or iPhone. Also, our balers can be equipped with a Smart Report that gives the customer more detailed operating cost information."
Maren Engineering has also "gone mobile" for monitoring of its baler operations.
"Our SmartBale mobile remote app allows full wireless visual monitoring of the baler, allowing a loader operator to be the baler operator as well," Wondrow explains. "No less important though is diagnostic and upgrade support. One of the most overlooked items on a new baler purchase is adding connectivity through an industrial VPN. All Maren two-rams can be equipped with an industrial wired or wireless VPN that allows quick remote updates to touchscreen and PLC software."
Machinex says they are fully connected with all their equipment within a system. "When a customer calls us for troubleshooting, we can connect to the machine... and take complete control. We can start and stop the functions of the machine, detect the trouble and assist the customer," Hawn says. "We can apply a temporary corrective action, and our service is 24-7. This is a huge savings of time and money for the customer since we don't have to send a technician at their facility."
Machinex also offers a SCADA system for their balers to help productivity.
"The SCADA logs all other relevant information for maintenance and troubleshooting and allows facility management to follow the live data," says Hawn.
Usoff adds that all IBC Two-rams come standard with an Ethernet (internet-based) remote monitoring device that can be used to either monitor the baler at the customer's request for troubleshooting, or they can provide programming updates remotely.
"We also offer a Strategic Reporting package that can be purchased, which can provide shift data reports for tracking production, throughput and downtime."
Considering the baler purchase
The type of material to be baled and volume of production are commonly two of the biggest variables to be considered when it comes to selecting a two-ram baler. "A first main consideration is the volume of material to be baled and shipped," says Hawn. "With a two-ram, we can maximize transportation, since we can have bales with more density of material. A second consideration is the type of material. When a facility has an important volume of plastics, the best baler for this application is a two-ram."Beyond volume, the qualities of the material must be considered as well.
"Begin by analyzing the material to be baled, the daily volume, hourly surge requirements, the method of introducing the material to the baler and the frequency of material changes," says Wondrow. "Materials that are difficult to shear, such as non-ferrous metals or reinforced plastic sacks fed without a conveyor, may force you towards a larger baler with higher ram forces or shearing capabilities.
"Materials that are very fluid when being compressed, such as PET, or operations where repetitive material changes are anticipated, will benefit from a bale separation door," he continues. "Keep in mind that the 'dry cycle time' listed on baler sales brochures are not indicative of real cycle time under load. Often a baler with a slower dry cycle time that uses a more modern piston pump hydraulic system will solidly outperform the baler with a high/low system, even though the dry cycle time is faster." He says that only sophisticated tools or real time observation will provide reliable cycle times under load, and adds that it should be verified that the baler will truly run in automatic mode.
Wondrow also recommends that buyers request an analysis from baler suppliers to determine the throughput required for the machine to be efficient, and notes that a baler should be large enough to manage future growth, but not so big that it doesn't provide benefits for many years after purchase.
Sean Usoff says that "While baling multiple materials in a two-ram baler is a key feature to their design, you might look for certain features based on your material makeup. "For instance, if you have large bulk material, books or slab waste, IBC offers features such as 'start in forward position,' which allows for baling bulkier materials with limited shearing."
Usoff adds that as with any baler purchase, material type and production volume should be key drivers in selection of the proper baler. "Buyers should be aware that the bale size is a fixed dimension in a two-ram, so it is critical to select the right cylinder size for any desired bale weight requirements."
Scott Holder points out that most two-ram balers today have a bale door, making it very easy to change from one grade to another grade. "The learning curve is to know how much of each grade you have so as to make full or 75 percent full bales," he says. "This will make it more efficient to change grade."
He adds that suppliers will be happy to discuss options available for buyers to consider when they are looking at purchasing a two-ram baler, and emphasizes the importance of quality and durability.
"The value of the two-ram baler is not how much it costs initially, but the value of the baler over its life," he says. "We have many balers in operation currently with 20-plus years and they are still running everyday."
Holder continues; "Discuss targets and future growth with an experienced manufacturer, so the best two-ram for your needs can be selected. There are many variables in sizing a baler for an application - not every 13-inch main-ram, 200-horsepower two-ram is equal. Experienced manufacturers can walk the recycler through bale weights and production requirements, and help lower costs in electrical, wire and number of bales handled - not to mention lower maintenance costs through the life of the baler."
Looking forward
There are many directions that two-ram balers may go in terms of future development. Safety, efficiency improvements and continued technological advances are all likely.Reliability and interoperability are important to Maren's customers, Wondrow notes. "Customers want turnkey solutions that don't burden them or their local contractors with system integration or interface responsibilities," he says. "Maren offers complete baler packages that fit together because they are designed together, including balers, rubber belt conveyors, cart tippers, chain-edge steel belt conveyors and even bale weighing systems."
"Baler electronics have improved the most in the last ten years, and I think that will continue with more Bluetooth and even voice-activated controls in the future," adds Wildes. "I also think balers will move to higher pressure and more efficient hydraulics."
Usoff concludes; "We are seeing the trend going to larger, faster, single production machines that can handle entire product and volume loads. Customers are requiring more emphasis on remote access and data acquisition so they can streamline their facilities. "It's all about doing more with less." RPN
This article was originally published in Recycling Product News, September, 2017, Volume 25, Number 6.