From mushrooms to rooftops
Steady commitment to creating a quality product and high-tech trommels key for composter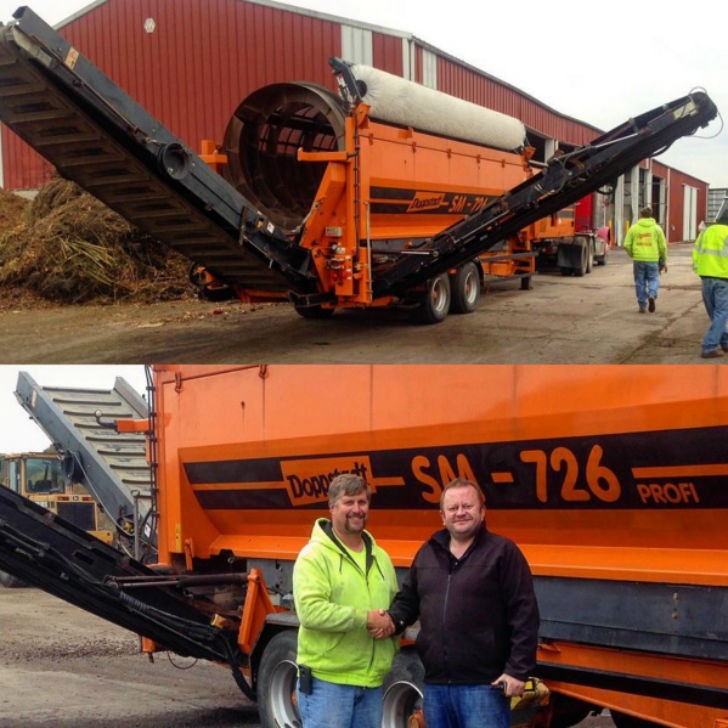 From the lowly mushroom to high up on the rooftops, Compost Supply has found quite a few applications for their products over the years. Their first foray into compost was to provide Campbell's (yes, that Campbell's) with a mushroom growth medium; most recently, they became the licensed regional blender of rooflite soil for eco roof systems. What has remained consistent over that more than three decades of evolution is their steady commitment to creating a quality product. And as the variety of available source fractions has grown, additional effort and attention has gone into making sure the ratios and mixes still result in a valuable outcome.
The responsibility of overseeing production and maintaining quality falls on the shoulders of Operations Manager Jeff Herlien. Jeff has been with Compost Supply since 1990, and has seen the company grow dramatically in his 26-year tenure. "We were mostly in cruise control for quite a few years," admits Jeff. "We started making compost for Campbell's Soup who used it as a medium to grow mushrooms, and did that for a long time until they sold to another company which ultimately moved or closed back around 2002." Their facility had grown significantly from that opportunity, and the team worked hard to transition to meet new markets.
One of the most recent application opportunities they were able to leverage was the blending of rooflite, a lightweight Certified Green Roof medium with performance characteristics optimally engineered for the unique environment of a roof top green space. "We were approached by rooflite in 2007 after a chance meeting with their director at the USCC show," Jeff explains. "It just so happened that he had been to our facility years prior doing some research into mushroom compost. So the ball started rolling from there, and we became their official blender for this region."
Mixed according to a proprietary formula, rooflite is a blend of a unique porous aggregate and compost designed to create a strong growth medium that is lightweight and effective in retaining moisture. "In our first year, we probably only blended about 100 yards of rooflite," continues Jeff. "But last year we topped more than 3,000 so it has become a nice component of our production now." Each order they receive is custom blended to match the characteristics and performance needed from the specific site. "We can control the final product to the customer's request. And once blended, deliver either in bulk or in super sacks."
Much of the rest of their production is compost, which is generated from a broad range of source material. Green waste is collected from regional transfer stations, garbage companies and landscapers. They receive horse manure from a few providers. And some food waste is accepted too, though mostly pre-consumer spoilage from grocers and other wholesalers. They have not yet begun full acceptance of post-consumer food waste, as Jeff explains.
Jeff rates their operation as a "medium producer" from an annual yardage perspective, which is a humble assessment for a fairly decent-sized facility. Keeping up with their demand requires a reliable stable of equipment, and recently, Compost Supply acquired a new Doppstadt SM 726 trommel screen to expand their capacity. "We really bought that to handle the rooflite material screening and bagging, and to handle the overflow of compost screening. It's been very helpful to have a second screener."
While he was aware of the reputation of Doppstadt trommels before they were in the market for new equipment, it was not until he saw it perform at the 2015 USCC demonstration that the light bulb went off in his head. "If you weren't in Austin for USCC that year, it was a rainy, muddy, sloppy mess." he recalls. "All the companies had to do their demos in pouring rain, and the Doppstadt was the only one actually putting out material." That eureka moment sold Jeff, and they took delivery of their SM 726 in October of 2015.
"There are a lot of reasons to like this machine, but one of the biggest improvements we realized immediately was how much more quickly we have been able to screen and bag the rooflite," shares Jeff. "Now we can simply pull a forklift with a bag on it up to the discharge belt, fill it, turn the belt off, replace the bag, and continue. We've seen a dramatic increase in the number of bags we can fill in an hour and that itself has been amazing. It's the biggest advantage to the whole machine."
For nearly three decades, Jeff has worked with the Compost Supply team to achieve some tremendous goals. From the production of mushroom growth medium, to the blending of rooflite, to the consistent generation of high-quality compost, innovation is part of this company's DNA. And as the market continues to grow and change, still more new opportunities are being reviewed and pursued regularly. "Compost, green roofs, soil remediation, growth amendments. The consumer base in this industry has become much more aware of the value of good organic material, and the demands are so much more specialized than when I first got involved." he says. "I love the idea of recycling; taking something of value that is discarded and transforming it into something else that's valuable rather than dumping it into a hole. We're actually doing something good for the environment and that's really rewarding for me personally."
The challenges and problems presented in this industry will keep coming. But from their track record, it is clear that Compost Supply will not only continue to find ways to overcome them, but turn them into valuable opportunities as well. The future here is bright indeed, and they will continue to look "up" for new ideas.