After six decades Vermeer remains a family-owned company with an eye for innovation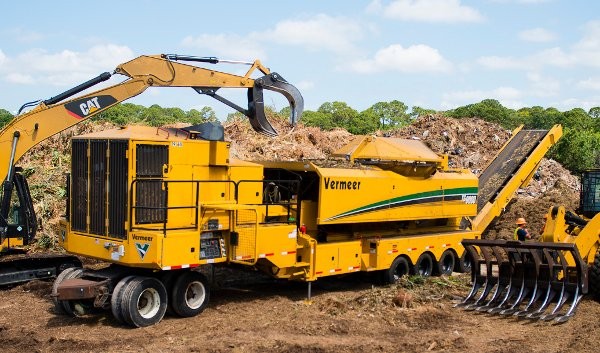 by Keith Barker, Editor, RPN
In 2013, Vermeer Corporation, founded in 1948, celebrated their 65th year in business. With headquarters in Pella, Iowa, the company also has a manufacturing facility in South Dakota, as well as operations in Beijing, China, and the Netherlands, with distribution networks in over 60 nations.
If you talk to anyone at Vermeer, you will get a sense that they are very proud to be part of one of the oldest and largest family owned equipment manufacturers in North America. This is an organization built upon the agricultural industry experience and engineering brilliance of company founder Gary Vermeer, and which is now a multi-industry equipment supplier led by his children and grandchildren.
Make no mistake; it is not exactly easy for the second or third generation Vermeer family to come into positions of leadership at the company. It's a planned succession definitely, but any family member must work at a different company for a period of time before they can settle into a career at Vermeer. Plus, family members need to work their way up through the organization so that they "truly understand how things work, day in and day out."
"It gives a good foundation for growth, long term," explains Jeff Bradley, Vermeer's Recycling and Forestry Products Manager. "We're very excited about the third generation coming in, and seeing where they are going to take us."
Currently, 2nd generation Vermeer family members Mary Andringa (Vermeer) and Robert Vermeer hold the positions of President/CEO, and Chairman of the Board, respectively. The third generation is also finding their place within the company. Jason Andringa, Mary's son and Gary Vermeer's grandson, was recently appointed President of Forage & Environmental (consisting of agricultural equipment, as well as wood processing and composting equipment), and Mindi Andringa Vanden Bosch holds the position of Continuous Improvement Corporate Manager.
Grinding it out
Vermeer's Environmental division oversees production and distribution of equipment including stump cutters, brush chippers, whole-tree chippers, horizontal and tub grinders, and within the last decade, a full line of trommel screens as well as compost turners.
"In the wood recycling business, we started around 1995 with the introduction of our TG 400 Tub grinder," explains Bradley. "Then about the year 2000, we started into horizontal grinders, with our HG 525 model. "We have learned a lot and continually improve," continues Bradley. "At this point we've got both tubs and horizontals, with multiple model designations, and variations on each of them."
Bradley explains that while they still sell a fair number of both types of grinders, from a wood processing/recycling industry standpoint (though tubs were around first) horizontal grinders have taken a lead (in number of units sold) over the last decade, compared to tub grinders.
"Both do a similar job," says Bradley. "With tubs, long material needs to be cut into 10- to 12-foot lengths. But from a regrind standpoint, you can't beat a tub. It depends on the material type you are grinding."
"The tubs I think have received a bad rap, with respect to thrown object issues. We have done a lot to address that, with our patented thrown object deflectors, for example, and feel this patented design reduces thrown object distances providing a reduced operating zone over conventional tub offerings."
"If you go to most municipal sites, or anywhere they have to haul material, I would say 90 percent of those do not have anything over 10 to 12 feet long. The majority of the time you truck material, it will be pre-cut, so these kinds of operations are ideal for a tub."
The move into composting
"Back in the mid 2000s as we grew our product line of grinders, almost every yard we went into had a screener and most of the compost operations had turners as well," explains Bradley. "We repeatedly ran across customers that kept saying 'why don't you offer turners and screens? I would love to buy everything from one supplier.'
"That's helped drive our decision to look at entering the composting market. We wanted to be able to offer the customer the complete package: grinders, screeners, turners, pretty much everything to get them up and running in composting and organics recycling."
In 2006, Vermeer acquired the design rights to SCAT Engineering's elevating face compost turning technology, and between 2007 and 2009 purchased Wildcat Mfg., the South Dakota-based trommel screen and compost turner manufacturer. With the Wildcat acquisition, Vermeer also acquired the company's Freeman, South Dakota manufacturing facility, which is now Vermeer Freeman Manufacturing.
As of November, 2013, Vermeer announced the official phase-out of the Wildcat by Vermeer brand, and will now brand all composting equipment and screens as Vermeer.
"With our CT 1010 TX elevated face turner, you can basically do what they call a 'continuous block', or trapezoid-type composting setup," explains Bradley. "Meaning you create a big block, peel off ten feet at a time, and then move it over. By doing this, you are more efficient and you don't need space between the windrows. Basically, you can cut your pad size in half, depending on windrow sizes and other factors. From a setup standpoint, the savings in concrete alone often pays for the turner.
"The other advantage is that you have a fixed incoming material side, where you have all your raw material, process it, and put it in the trapezoidal pile. And then every time you turn it, you're turning it towards the trommel screen. At the end of the process, that finished material is right next to the screen."
Innovation on the table
Beyond a safer tub grinder and the advancement of elevating face composting technology, Vermeer has played a central role in bringing multiple innovations to the organics recycling industry during their more than six decades in the equipment manufacturing business.
The company worked very closely with Ohio-based PT Tech (www.pttech.com) on the development of the hydraulic clutch (an alternative to the dry clutch) which is now a mainstay in the wood grinding industry. According to Bradley, the hydraulic clutch allows for minimal adjustments and provides durability and ease of maintenance benefits.
Vermeer has also been a pioneer in the development of machine monitoring systems, and maintains an in-house staff of programmers and hardware experts.
One other technology/innovation that Vermeer is particularly proud of is their patented Duplex Drum System. "It's the heart of all our grinders," says Bradley.
"For years, folks have had to deal with pin and plate style drums, which means as soon as you have a contaminant or it wears, or you have to replace the holder that holds on to the cutting tip, you have to use a large press, or literally 'beat on it' for hours. As soon as you pull a rod out, all of your teeth fall off it, because it is one continuous rod all the way through the drum.
"With the Duplex Drum System, you can pull out one individual hammer, of one individual cutter, and it doesn't affect the rest of the drum. You don't have to 'beat' the pins in and out of the pin and plate drum anymore."
Bradley says the new Duplex Drums on their grinders provide better serviceability, and very quick maintenance turnaround, with bolt-in reversible wear components such as hammers, tips and liners.
On the biomass and waste-to-energy side of things, Vermeer recently introduced dedicated chip drums for their 4000 and 6000 series horizontal grinders, providing users with the ability to switch from a Duplex drum to a chip drum.
"The chip drum uses adjustable depth-of-bite knives to fit a wide variety of chip size requirements for the biofuels market, which is looking for a uniformly-sized chip that has consistent BTU value," explains Bradley. "On a grinder using a grinding drum or mulching drum, it will produce a mulch with a lot of frayed edges, and with that you lose consistent BTU value. Our new chip drum produces a square, smooth chip, and we can put screens in to get almost any size desired. When you are producing electricity, you've got to have a consistent heat source."
When it comes to machine power options, Vermeer is not just about diesel anymore. The company's BC1000 brush chipper is now available with an LPG (propane) engine, and all of the company's grinders and trommel screens are available with electric power.
Bradley says from an operational cost standpoint, with electric power there is no engine maintenance, no loss of horsepower, and he points to the fact that electricity costs fluctuate very minutely compared to fuel costs. For stationary operations, Bradley says electric power makes great sense and should be a trend that increases steadily in the future. This, he adds, is especially true now, with Vermeer's new power distribution system that allows electric machine power to react smoothly, like a diesel engine, when processing varying material loads that require varying power.
Moving on down the road
"What I have seen is that more and more municipalities are looking for alternative ways to handle their waste stream, and in doing so, they are finding best practices, and discovering what works best in collection and separation," says Bradley. "Nearly every couple of weeks I hear of another community that is converting to single stream collection and putting in an MRF where they are separating out the organics."
"The beauty of that is, it is only going to grow the organics recycling industry because there is going to be more available product. Separation has for a long time been the 'Achilles Heel' of growing the organics recycling industry. Now with a lot of the other organics added in and the rise of single-stream collection, it provides new opportunities in waste management – whether it be for power generation or for composting. The whole organics recycling industry is poised to continue to grow."
Bradley's positive outlook extends to the fact that manufacturers are starting to look beyond Tier IV Final emissions requirements, which he says, have taken up a great deal of focus, time and expertise over the last decade.
Bradley concludes; "Once we get down to Tier IV Final, and then to the next generation, I think we're going to have a lull, where we don't have to go through the updates for a period of time. Over the next five to ten years, we'll be looking for that next major innovation.
"Like our founder Gary Vermeer said; 'there's got to be a better way.' We just need to find it."
Company info
Related products