Kal Tire nears launch of OTR tire recycling facility in Chile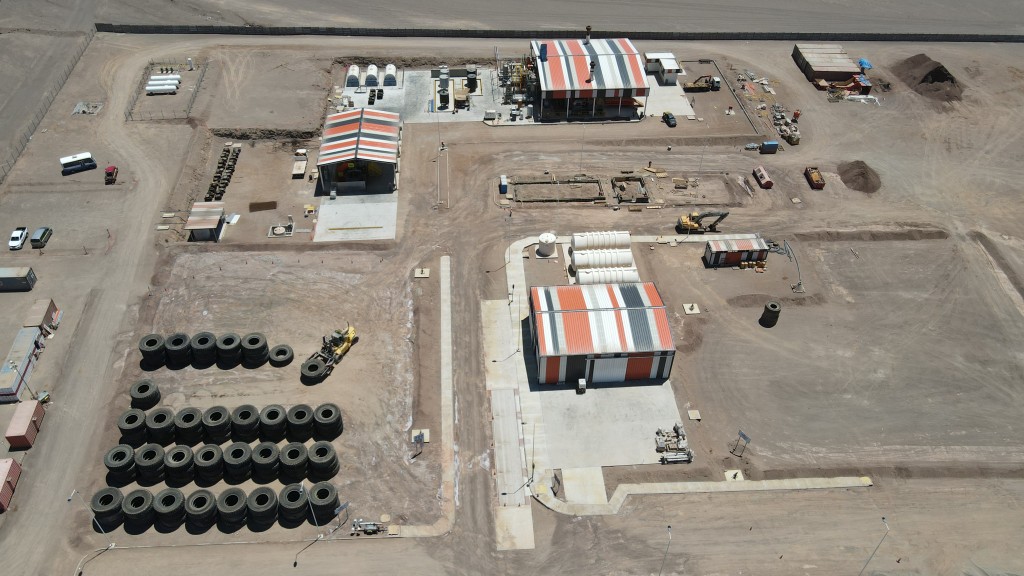 Kal Tire's new off-the-road (OTR) tire recycling facility in Antofagasta, Chile, is getting closer to full start-up.
One of two thermal conversion reactors has successfully completed commissioning and is now undergoing full load tests to process 20,000 kg of tires, the equivalent of five 63" tires. Commissioning of the facility's second reactor is nearly complete and full production is in sight.
"Kal Tire is committed to solving one of our customers biggest challenges with scrap tires—the disposal of them," says Dan Allan, senior vice president, Kal Tire's Mining Tire Group. "There have been many learnings to get to this stage, but we wanted to ensure we were building a recycling facility to the highest standards in every aspect of design, safety and environmental considerations."
Determined to provide a quality scrap tire solution in Chile, in 2015 Kal Tire began the process of studying, engineering and even building the equipment so it could offer thermal conversion recycling. The process uses heat and friction to induce a reaction that converts tires into their base elements (fuel oil, steel and carbon black) so they can be reused.
Located in the heart of Chile's mining industry, the 20,000 square metre plant consists of an area to inventory scrap tires, cutters to reduce them in size, two reactors, oil storage tanks and carbon storage. In late 2020, the first reactor passed its 'wet test', followed by numerous other tests. Full load tests are now underway for the first reactor to process 20,000 kg of tires. The equivalent of five 63" tires will be converted into 6,500 litres of alternative fuel, 4,000 kg of steel and 8,000 kg of carbon black as well as enough synthetic gas to fuel the plant itself for seven hours.
"To have the first reactor successfully commissioned is a significant achievement because it means we can now confidently work toward full operation for our customers, who have been very supportive of this project," says Pedro Pacheco, vice president operations, Latin America. "We also spent a lot of time working with the Chilean government to receive environmental certification. Their level of due diligence is commendable, and we want to recognize their leadership in creating this legislation."
When it comes to safety, consideration has been given to every possibility. A large water reservoir and numerous water cannons were installed along with infrared sensors and a special fire encapsulation ingredient. With earthquakes common in Chile, the facility has been engineered to withstand a magnitude 9.0 earthquake.

OTR tire recycling in Chile has recently been passed into law. Starting in 2023 through 2026, 25 percent of mining tires must be recycled, which increases to 75 percent as of 2027, and to 100 percent as of 2030. Existing piles of scrap tires are the responsibility of mines, and given the size and maturity of mines in Chile, there are many tires awaiting this next step.
With commissioning of the second reactor nearly complete, Kal Tire aims to be in full production by summer, recycling 20,000 kg of tires each day. "The lessons we have learned along this journey have been invaluable," says Allan. "What we now have is a scalable plant and can add reactors if we choose to. We also certainly support others looking to be a part of recycling end-of-life tires in Chile—and we hope the same high standards of safety and engineering will be applied."
Related Articles
Traditionally, waste management companies have operated using a simple "management of waste" approach to operating a MRF. Throughput targets and continuous operation (minimal downtime) were the main driving forces. The industry has changed however, and the focus moving forward is now on optimizing system performance and reliability, in conjunction with increasing recycling rates and a drive for a "greener" and more sustainable tomorrow.
When considering the addition of, or upgrade to, an "intelligent" MRF, for municipalities or private operators, the main factors should always be the client's (operator) current requirements, and evolving market needs, which include throughput, reliability, output quality, and adaptability. Equally important is a full understanding of what is really expected from any proposed system. Having an engaged and focused mindset for the project with the client from the beginning, will impact and drive the entire design process. This then impacts the overall project result, through to the productive, efficient, ongoing operation of the facility itself.