Terex launches new dust suppression system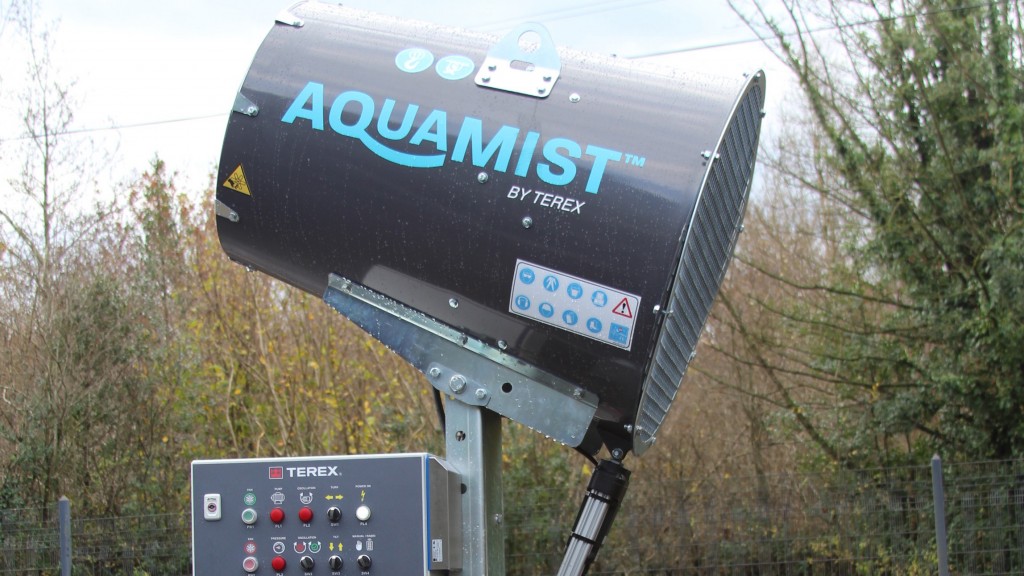 Terex has introduced Aquamist—a dust suppression system that is now available across its materials processing brands: EvoQuip, Fuchs, Powerscreen, Terex Ecotec, Terex Finlay, Terex MPS and Terex Washing Systems.
The Aquamist dust suppression system offers an improvement over conventional jets or water-sprays to manage the build-up of dust and better protect workers on job sites by using a high capacity misting fan that produces finely divided water droplets in the size range 10-150 micron diameter.
At this size, they easily combine themselves with dust particles of similar dimensions and precipitate them out of the air and, because water-mists "float" more than a conventional spray, they cover and envelop the dust cloud more effectively.
Paul Kearney, Vice-President of Parts and Solutions for Terex Materials Processing explains, "It is globally accepted now that airborne dust that is formed on jobsites can significantly contribute to respiratory illnesses. As increased legislation comes into place globally to mitigate this, more effective control of dust is needed. Our Aquamist system will better support worksite operations and strengthen our commitment to making the workplace a safe and healthy environment."
Related Articles
For C&D recyclers, waste haulers, demolition contractors and landfills, there is a growing opportunity to profit from rethinking processes. Although every operation is different, by streamlining the front end of the C&D operation processes with purpose-built technologies, recyclers can tap into new end markets, accommodate higher material volumes, stay ahead of regulatory restrictions, increase recovery rates and add commodity revenue, while decreasing labor and other costs.
Download the new eBook to learn about:
Finding opportunities in the alternative to landfilling C&D
How facilities can increase their profits from C&D
Using the right C&D processing technology in the right locations