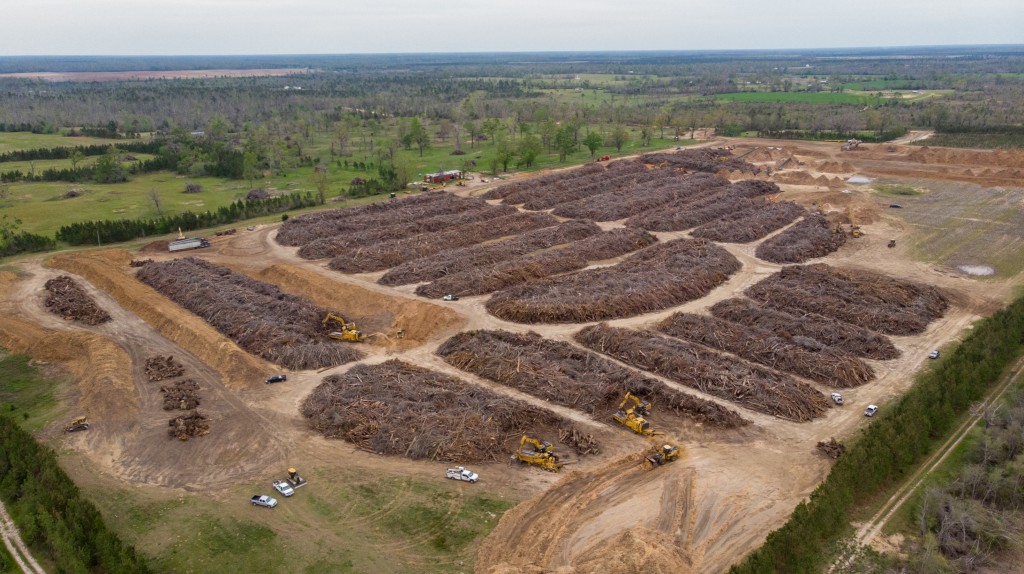 While the damage left in the wake of Hurricane Michael in 2018 garnered international attention, the real work began after the news crews packed up their gear. Handling a good chunk of the initial and long-term recovery efforts for Hurricane Michael was Ceres Environmental Services Inc., which employed a total of nine Vermeer horizontal- and tub grinders to complete the job.
"Total devastation" are the words many community leaders used to describe the aftermath of Hurricane Michael back in the Fall of 2018. While recent hurricanes like Katrina may have resulted in more acute structural damage, Michael will be best remembered for the sheer volume of vegetation destruction it caused up and down the coastal communities of Florida and Georgia.

Ceres is one of the world's largest disaster recovery companies, with a specialty in helping restore and repair communities after large-scale natural disasters. The company has skilled crews that can help with every phase of cleanup and recovery after a disaster. After Hurricane Michael, many of Ceres' resources were dedicated to removing and processing green organic waste in Jackson County, Florida.
"Hurricane Michael severely impacted this area of Florida," explained Donny Bauer, project manager for Ceres Environmental Inc., a wholly owned subsidiary of Ceres Environmental Services Inc. "There were an incredible number of toppled trees in communities and rural areas as a result. Our crews were called in to help clear green debris from roadways, haul off the organic waste and grind the material to a reusable size."

Recovery Phases 1 and 2
The first step of the recovery process is referred to as "cut and push." Once local officials and FEMA cleared crews to move in to begin recovery efforts, Ceres crews were responsible for clearing the roadways so emergency vehicles and others aiding with the cleanup efforts could access the area. Once that was done, crews then turned their attention to hauling away all of the green waste collected by other teams and landowners throughout the county.
"Organic waste was cut down to more manageable sizes so it could be hauled off to a separate site for additional processing," Donny explained. "With hurricanes, the volume of material is just too much to handle efficiently using just chippers in communities. Chippers are still widely used, but the heavy, bulky stuff gets transported and ground up by horizontal and tub grinders."
Phase 3 — Grinding
Collected organic material in Jackson County was hauled away to a 120-acre (48.6-ha) lot, where it was stacked high for further processing. Ceres brought in nine grinders to reduce the waste volume by roughly 75% — taking essentially 120 acres (48.6 ha) of material down to just 5 acres (2 ha).
The grinders crews used to tackle the mountains of material using two Vermeer HG6000 horizontal grinders, four Vermeer HG6800TX horizontal grinders on tracks, two Vermeer HG8000 horizontal grinders and one Vermeer TG7000 tub grinder. The Ceres team selected these units because of their mobility and production levels. "120 acres (48.6 ha) is a lot of area, and it's certainly more efficient to reposition the grinders than having to carry material to those machines," Donny explained. 'With the four tracked HG6800TX grinders, in particular, we could quickly move them from one pile to the next, which helped reduce cycle times and save on fuel costs."
Also, Ceres grinder operators stress that the controls on Vermeer horizontal grinders are universal from one model to the next. "Common controls aren't something found with every grinder manufacturer," Donny said. "Also, these machines are operator friendly, which makes it less of a challenge for novice operators to get up to speed quickly."
While eight units onsite were horizontal grinders, the lone Vermeer TG7000 tub grinder played a vital role in the process. "High-speed winds tend to knock trees over at their roots, so we're left with a lot of huge root balls to contend with," explained Donny. "Our grinder has a 10-foot (3-m) wide tub that makes quick work of those larger and odd-sized pieces of material."
Keeping on top of maintenance
Project deadlines and the volume of material dictated the number of grinders needed to take on the massive project. Ceres is one of the few organizations even capable of running that many grinders on a single site. However, running nine grinders and maintaining all of them is a tall order for any organization. "The very nature of the work we were doing meant we were going to be going through a lot of wearable parts," said Donny, "and we had to plan for regular maintenance on each machine."
To maximize grinding production, the Ceres team enlisted the support of Vermeer RDO before work even started. "We consulted with the Vermeer RDO team to make sure we had a good inventory of parts on hand, so we didn't have to wait for anything to get shipped in. Their team understood what we were up against and went above and beyond by setting up an onsite parts trailer and service technician to support our maintenance team."
The Ceres team also employs the Vermeer Damage Defense system on several of their grinders, which alerts and automatically initiates the shutdown process when certain metal contaminates are detected. "On hurricane projects, there is a lot of debris mixed in with the organic waste, so it's not if we'll encounter a metal, it's when," said Donny. "We've run across contaminates on the project, including utility hole covers and even a tractor drawbar. By my estimate, Damage Defense has saved us tens-of-thousands of dollars in repair costs and time."
Phase 4 — Wrapping it all up
Ceres grinding crews went through 120 acres (48.6 ha) of organic waste in a little over a month. The material produced onsite is now being reused as biofuel, landscaping material and organic matter for farm fields. None of it will go to waste, and that helps reduce what's going into landfills and good for the environment.
Ted Dirxx is applications specialist for Recycling and Forestry, Vermeer.

Company info
Related products