EvoQuip Experience Day shows off compact crusher and screen lineup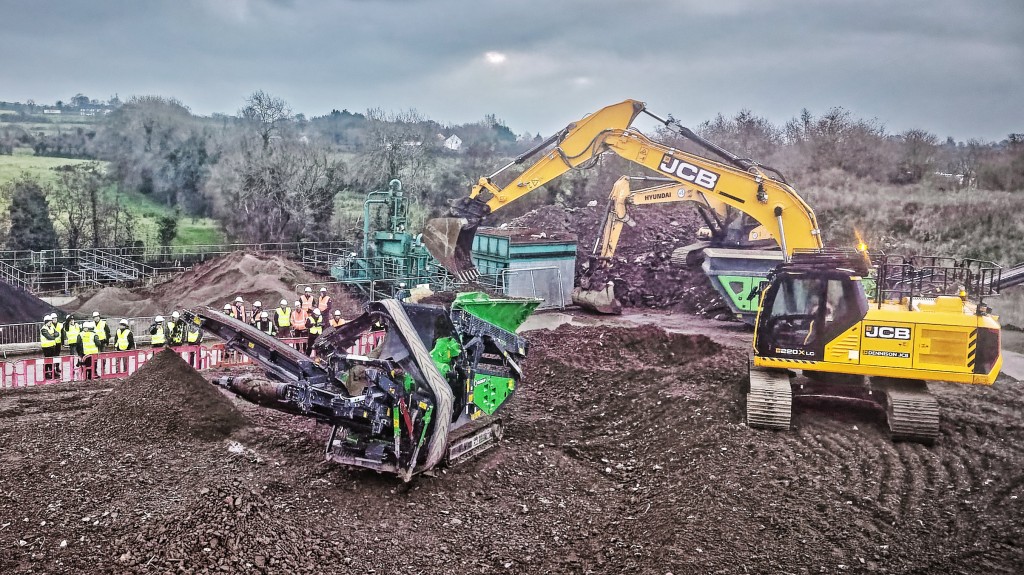 EvoQuip recently hosted an exclusive 'Experience Days' event in Ireland to showcase live working demonstrations from its versatile range of compact crushing and screening equipment.
The successful event, which took place at AG Wilson Ltd in Northern Ireland, was attended by over 200 guests, from over 50 companies across more than 16 different countries—showing the incredible interest in the equipment, which is suited to many industries including building and construction, quarries, farming and agriculture, landscaping, and plant hire.
With a focus on 'simplicity' and 'efficiency' the six live machine demonstrations onsite used different feed materials to allow attendees to see the versatility of the range as well as the quick set up times, ease of transportation and simple operation. The working demonstrations included the Cobra 290 Impact Crusher feeding into TC75R 75ft Radial Conveyor, Colt 600 Scalping Screen, Cobra 230 Impact Crusher and Colt 1000 Scalping Screen, Bison 120 Jaw Crusher as well as a static display of the Bison 280 Jaw Crusher and Harrier 220 screen.
The guests were also surprised by the news of the Colt 1600, which has been in secret development for some time with the first machines scheduled for production in the coming months. The experience didn't stop onsite, with guests being treated to local hospitality that evening with traditional Irish meal and entertainment at the nearby Old Crumlin Road Jail.
Commenting on the event, EvoQuip Business Line Director Matt Dickson said, "EvoQuip was delighted to work with AG Wilson Ltd to host so many customers and dealers to our demonstration event to showcase the capability of our equipment and discuss the latest compact crushing and screening innovations from EvoQuip. These machines are a great solution for those doing limited crushing and screening on a particular site as ease of transport and fast set up times, provide a solution to turn waste into profit and reduce costs of purchasing raw materials, before being moved to next site to generate more revenue. In addition, it was terrific to be able to announce in person our plans for the brand new EvoQuip model—the Colt 1600—which will be available in early 2020. We were delighted by how well the news of this latest product was received at the event."
All EvoQuip models can be fitted with OMNI by Terex, ground-breaking technology that will revolutionize the crushing and screening jobsite. OMNI is a tablet based system that is fitted within the cab of a material feed excavator and provides centralised remote access to multiple machine control systems within a crushing and screening train. It has been diligently and intuitively designed to give unrivalled, easy-to-use control to the operator with information and views of the entire machine train. The innovative technology has won multiple awards globally for safety and site management innovation.
A number of EvoQuip products can also be fitted with T-Link telemetry system which provides the customer with real time information on the performance of their machine. Telematics maximizes uptime, parts and service availability and provides factual up-to-date information from the field.
Company info
Related products