Terex Finlay introduces 883+ triple shaft heavy duty screener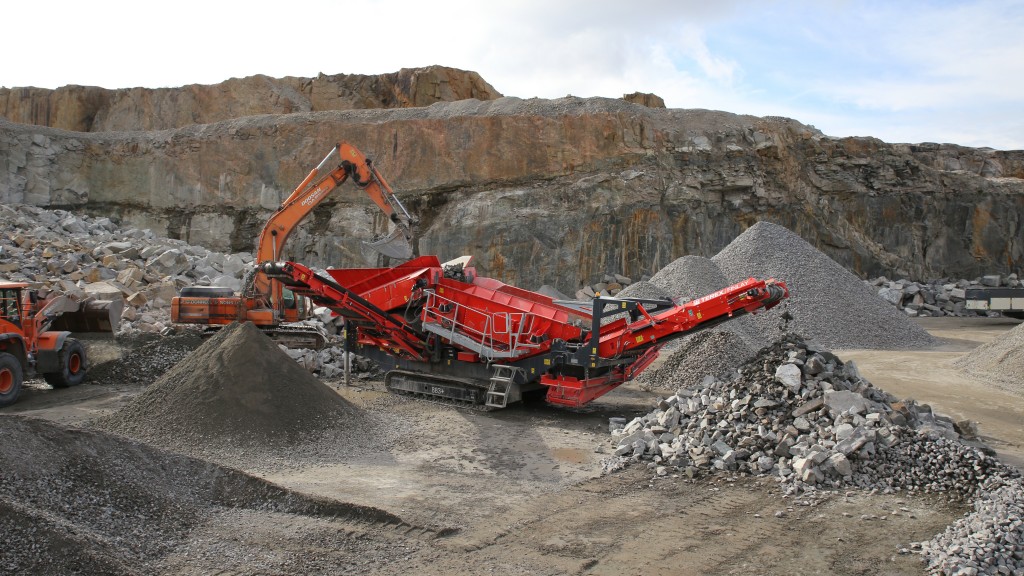 Terex Finlay showcased the latest addition to their 8-Series line up of heavy duty screeners, the '883+ triple shaft' at Bauma 2019. This new model has been developed specifically to work in a variety of dry and difficult sticky applications including quarry, mining, sand and gravel, construction and demolition debris and recycling applications.
The heart of this new model is the new triple shaft screenbox, featuring two "true" full size 16' x 5' screening decks. The triple-shaft design of this new screenbox employs an oval motion stroke to generate an aggressive screening action, reducing plugging and blinding over the screen decks to ultimately provide a quality product with high tonnage output.
The aggressive screening action of the machine with the larger throw on the screenbox makes it ideal for fine screening a diverse range of materials. Even when under heavy load during the testing phase the screenbox has consistently produced high tonnages across a range of difficult and challenging applications.
Terex Finlay has retained some of the in-built features of the current 883+ screener, including the ability to hydraulically raise the discharge end 500mm to facilitate easy and efficient media changing.
Three new design features are being introduced in this plant; firstly an increased width for the fines conveyor to 900mm wide. Secondly, the company has increased the hydraulic power to the fines conveyor and thirdly we have set the engine to run at a lower speed. Each of these features have been incorporated to maximize the overall operational efficiency of the plant.
These updates will be carried across into the standard 883+ platform and will be a feature on plants configured with either the standard screenbox or Spaleck screenbox option.
Key features of the 883+ triple shaft:
Higher G-force and larger stroke of the triple shaft screenbox provides the optimal solution for high productivity in dry and sticky applications.
Multiple media configurations including bofor bars, finger screens, woven mesh and punch plates are available for a wide range of applications, from fine screening to heavy scalping.
All media configurations are compatible with both the standard and triple shaft screenboxes.
The banana profile of the bottom deck maximizes the screening of fine materials.