​D&S replacement granulator knife bolts help reduce risk of expensive knife failures in recycling
The right parts play a pivotal role in preventive maintenance and increased uptime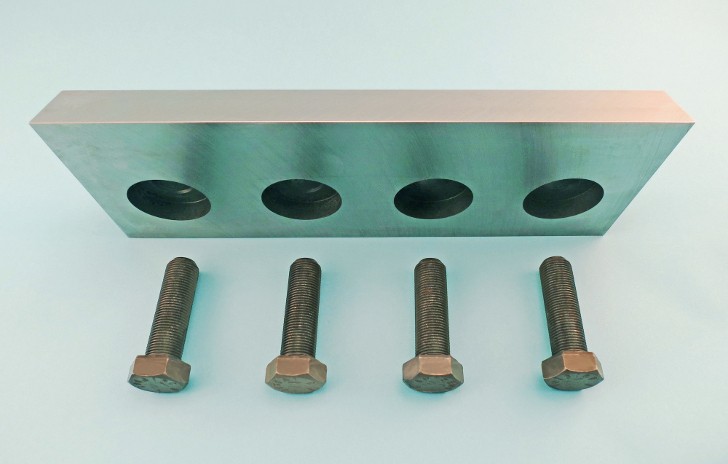 When granulating knives for the recycling industry don't perform, or worse, have a catastrophic event, it can result in hours or even days of costly downtime of production lines. Failure of fastening bolts on the knives can result in damage to the more expensive knives and/or recycling processing machines.

Bolts stretch and wear over time. Equipment manufacturers recommend replacing bolts every time knives are sharpened or replaced. Manufactured under an ISO 9001:2015 quality system, replacement Granulator Knife Bolts from D&S Manufacturing, a division of Hyde Industrial Blade Solutions (IBS), help reduce the risk of knife failure due to bolt fatigue.

D&S Granulator Knife Bolts are made from carbon alloy steel and are quenched and tempered to achieve optimum tensile strength. These Grade 8 bolts are rated to a minimum tensile strength of 150,000 PSI, strong enough to withstand the toughest granulating production challenges.

Coated with a black oxide finish, D&S Granulator Knife Bolts are fully threaded up to the bolt head and are manufactured to all applicable IFI standards. They also comply fully to the Fastener Quality Act of 1999.
Approaching a century and a half in business, Hyde Industrial Blade Solutions services a wide variety of markets including food processing, cloth and textile and leather, hose and tube, tire and rubber, plastics processing, paper converting, packaging and abrasives as well as for general industrial applications. Hyde Tools, Inc. is the largest manufacturer of industrial machine and hand knives and tools for remodeling, restoration, building trades and do-it-yourselfers in North America.
More from Metals Recycling
Single-Ram and II-Ram High-Capacity Balers
At Machinex, we've been designing sorting systems for over 35 years, so we know how essential it is for MRF operators to have a baler they can trust and not worry about its operational reliability. This is why we design and manufacture reliable single-ram and II-ram high-capacity balers to specifically help optimize their operations.
Watch the video of our expert who presents the main features of Machinex balers delivering these important benefits:
Easy & accessible maintenance
Reduced maintenance & bale handling costs
Energy savings
Optimal bale density
For C&D recyclers, waste haulers, demolition contractors and landfills, there is a growing opportunity to profit from rethinking processes. Although every operation is different, by streamlining the front end of the C&D operation processes with purpose-built technologies, recyclers can tap into new end markets, accommodate higher material volumes, stay ahead of regulatory restrictions, increase recovery rates and add commodity revenue, while decreasing labor and other costs.
Download the new eBook to learn about:
Finding opportunities in the alternative to landfilling C&D
How facilities can increase their profits from C&D
Using the right C&D processing technology in the right locations