SEDA T-REC XXL latest in tire recycling technology available from ELV Select
Using laser-aided quick adjustment system, T-REC XXL separates tires from steel and alloy rims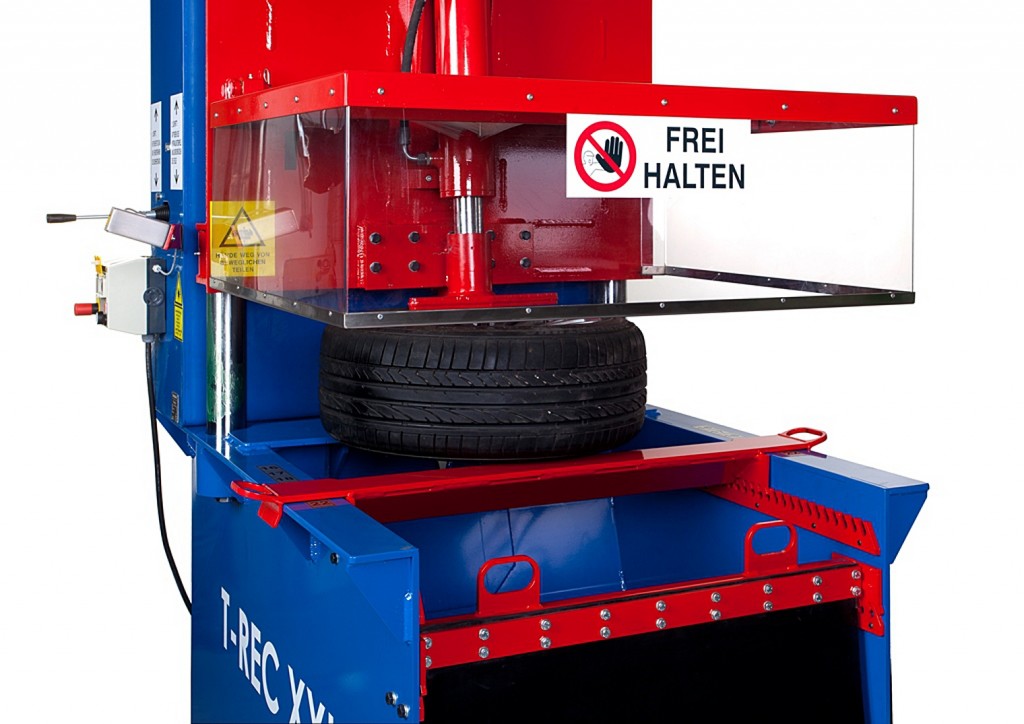 SEDA's new T-REC XXL is designed to quickly and easily separate tires from wheel rims. T-REC stands for Tire-Recycling, and with this advancement of SEDA's technology, recyclers and other users are assured more power and dimension when processing tires. These units will process about 100 tires per hour, and incorporate unique time saving and safety features. T-REC XXL will process all kinds of tires, including run-flat tires, with both alloy and steel rims, including those found on bigger cars such as: Audi Q7, VW Tiguan, BMW X5, and Mercedes ML.

With its unique, laser-aided quick adjustment system T-REC XXL can separate tires from all sizes of rims, steel and alloys up to a maximum size of 22 inches. The unit incorporates a sturdy piercing device to deflate the tire and hold it in place while a hydraulic unit pushes the rim down and away from the tire, providing a cycle time of only 20 seconds. Additionally, a self-raising plastic and steel mesh guard protects the user from shattered alloy rims.
This Austrian-built equipment is available in Canada through Ontario-based ELV-Select.
Company info
Related products
More from Tire Recycling
Single-Ram and II-Ram High-Capacity Balers
At Machinex, we've been designing sorting systems for over 35 years, so we know how essential it is for MRF operators to have a baler they can trust and not worry about its operational reliability. This is why we design and manufacture reliable single-ram and II-ram high-capacity balers to specifically help optimize their operations.
Watch the video of our expert who presents the main features of Machinex balers delivering these important benefits:
Easy & accessible maintenance
Reduced maintenance & bale handling costs
Energy savings
Optimal bale density
For C&D recyclers, waste haulers, demolition contractors and landfills, there is a growing opportunity to profit from rethinking processes. Although every operation is different, by streamlining the front end of the C&D operation processes with purpose-built technologies, recyclers can tap into new end markets, accommodate higher material volumes, stay ahead of regulatory restrictions, increase recovery rates and add commodity revenue, while decreasing labor and other costs.
Download the new eBook to learn about:
Finding opportunities in the alternative to landfilling C&D
How facilities can increase their profits from C&D
Using the right C&D processing technology in the right locations