Keestrack introduces R5e hybrid impact crusher
Economy model for high performance demands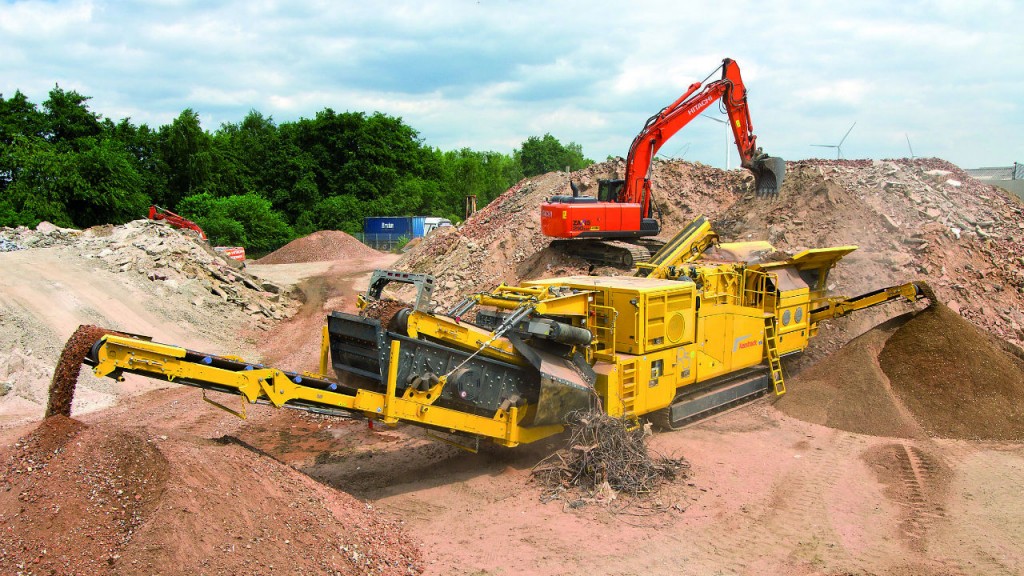 In its drive to reduce costs through the electrification of its track-mounted processing units, Keestrack is currently concentrating on hybrid crushing technology. Following the launch of its fully hybrid H4 cone crushers and B4e jaw crushers, Keestrack is now introducing the R5e hybrid impact crusher unit, designed to guarantee full capacity at low power consumption costs with the aid of a directly driven 350 t/h crusher and electrical transport and screen components.
Keestrack's track-mounted impact crusher units comprises three models, starting with the compact R3, which is proving itself on the market as a highly flexible 30 tonne "construction-site crusher". Keestrack's top-range R6 flagship model has a total weight of a mere 60 tonnes when fully equipped and remains the most prominent machine among the 1300-impactors for recycling, large-scale projects, and quarrying applications. The large-scale "Destroyer" unit has been available for several years as an R6e model in a diesel-electric hybrid version with electric motors driving the conveyor belts and screen components.
Since 2014, the Keestrack R6e has been available with a 250-kW electric motor for the crusher and an electric 110 kW drive for the on-board hydraulic system, and optionally also the all-electric plug-in operation from the mains. Thanks to a high-performance on-board diesel engine, the large-scale crushers remain highly flexible, while up to 45 % of the energy costs can be saved even in semi-stationary operations. Such an advantage is also directly reflected in Keestrack's sales figures: In 2016, 80 % of the R6 machines were represented by diesel-electric or all-electric sales. This year, the total number units sold in 2016 was reached before the end of the first six months - 90 % of these being in the form of hybrid or fully hybrid models.
The Keestrack R5 is a mid-range series of models with approx. 42 t basic weight and a maximum 50 tonnes with an overband magnet and double-deck final screen including oversize material recycler. Even when it was introduced over three years ago the mobility and production rate of the diesel-hydraulic crusher proved to be virtually unrivaled for its performance class - and now following a series of recent upgrades, Keestrack is presenting the R5e, a diesel-electric version of its 350 t/h all-round model.
Extensive electrification
Similar to the larger R6e impact crusher model, the R5e has a highly efficient 5100 kg rotor (B/Ø: 1000 /1260 mm, feed hopper: 800 x 1050 mm) driven directly via the 345 kW Volvo six-cylinder diesel engine (TAD 1373 VE; EU IV) ("rotor-by-diesel"). The operating hydraulics powers all the lifting cylinders on the chassis and conveyor belts, the track drive, the vibrating discharge chute and double-deck primary screen and the compact double-deck post-screen module with oversize/stockpile conveyor. A 160-KVa generator now supplies the power to all other conveyor systems - including the 5 m³ vibrating feeder - and the new Keestrack Neodym overbelt magnets (option). On the basis of the anticipated higher mobility compared to the R6e, the Keestrack R5e does not offer plug-in network operation, but can drive the subsequently connected screens or stockpile conveyors (approx. 38 kW connected load) via the 63 A supply.
With a total additional weight of a mere 500 kg compared to the diesel-hydraulic version, the electrical unit guarantees the full mobility of the Keestrack R5e, which is also available with an optional dolly trailer chassis (transport height/width with final screen: 4000/3000 mm). The hybrid unit can be deployed just as quickly at the building site: All conveyors and additional modules can be configured without lengthy additional assembly work or support, the sequential automatic starter of the Relytec control unit is responsible for starting up the system components. The system uses load and level sensors to optimize production rate and quality during operations. All system functions can be controlled by radio remote as a standard, the optional Keestrack-er GPS/UMTS monitor precisely documents all functions and provides information on potential malfunctions or required maintenance work.
Practical tests have demonstrated a considerable decrease in fuel consumption of up to 45 % compared to diesel-hydraulic models, mainly due to a more even rotational speed of the high-torque Volvo diesel engine (max. 2380 Nm at 1200 rpm). Fundamentally, the extensive reduction of complex hydraulic lines results in lower cooling requirements, lower risks of leakage and clearly lower maintenance demands during everyday operations.


Company info
Related products
Related Articles
On January 1st, 2021, the Basel Convention's plastics waste amendments became effective in Canada. The amendments focus on the international movement of plastic wastes that may have limited recycling options or be more difficult to recycle. This change will likely be felt all along the supply chain, including collectors, processors, and exporters. If you export plastic waste for recycling or final disposal, or if you are an exporter of other scrap materials, including plastic, paper, or e-waste, you may be subject to Canada's Regulations, and a valid export or transit permit may be required.