Vermeer offers brush chipper with gas engine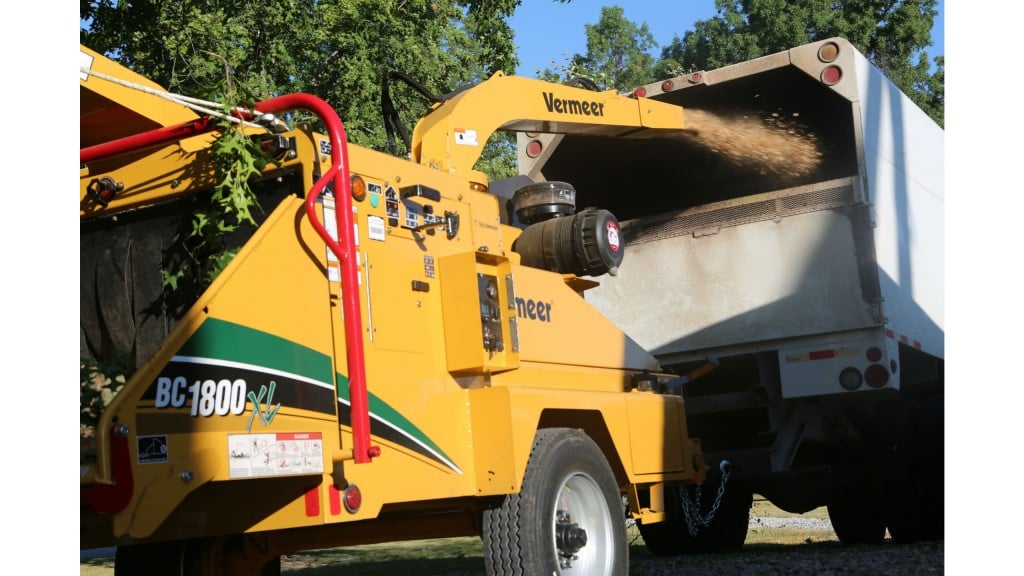 Vermeer continues to expand its line of gas chippers with the introduction of the BC1800XL gas brush chipper — its largest, most powerful gas model to-date. Sharing the same performance qualities as its diesel counterpart, the new Vermeer BC1800XL gas brush chipper is the right machine for large-diameter chipping jobs, ranging from land clearing to tree care operations.
"From companies looking to standardize their equipment with their fleet of trucks to organizations looking for more economical equipment options, the demand for gas-powered tree care equipment is on the rise," said Matt Hutchinson, product manager for tree care, rental and landscape at Vermeer. "With the BC1800XL gas brush chipper, customers will get a large-diameter chipper with the same level of productivity and reliability as a similar-sized diesel-powered model."
The BC1800XL gas chipper is outfitted with a 165 hp (123 kW) PSI 5.7 L gas engine that can handle logs up to 18 inches (45.7 cm) in diameter. The onboard Vermeer SmartFeed control system helps maximize the chipper's performance by monitoring engine rpm's, sensing jams and automatically stopping or reversing the rollers. The unit's vertical feed rollers with helical cleats are designed to hold material firmly, to minimize vibration, shock and structural loading to the rear of the machine.
To boost fuel efficiency, the BC1800XL gas chipper comes with the Vermeer Ecoldle™ engine control system that automatically lowers the engine speed when material is not being fed into the chipper and increases speed when new material is added. It also helps reduce noise on the jobsite, which is important when working in residential areas.
The Vermeer Tree Commander remote control comes standard with the BC1800XL gas brush chipper. From the remote, the operator can control all brush chipper functions for even more productivity. The remote can either attach to the user's belt or be mounted directly onto the operator's station of a Vermeer mini skid steer.
The BC1800XL gas chipper's 67-inch (170.2 cm) wide feed table provides ample room for material. There is a four-position upper feed control bar mounted over the feed table that enables the operator to stop the feed rollers and select forward or reverse. A patented bottom feed stop bar that disables hydraulic flow to the feed rollers when contact is made provides additional operator protection.
An optional 150-foot (45.7 m) winch to aid with moving larger logs with less effort is also available on the BC1800XL gas chipper.