Squeezing More Value From Waste
Paprec Trivalo Côte d'Azur sets high standard for a multi-material waste facility, serving over one million people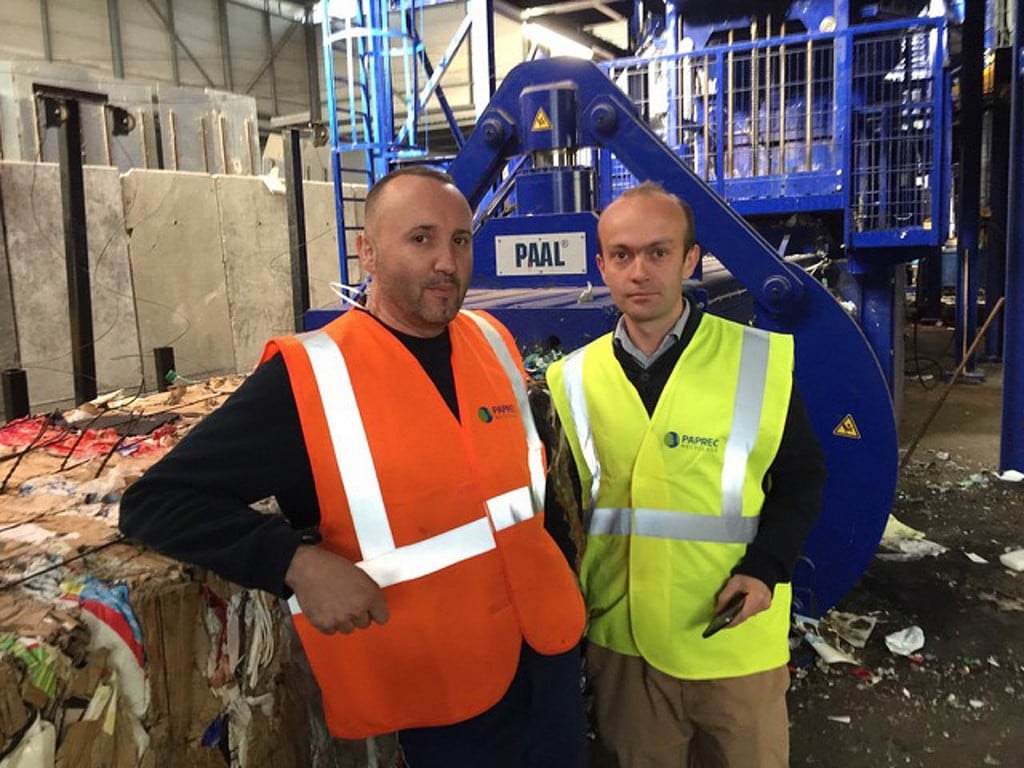 In February of 2017 SMED (Mixed Waste Disposal Unit of the Middle Pays des Alpes Maritimes) and the Paprec Group launched a sophisticated waste sorting facility in Cannes, France, home of the famous film festival.

Says Benjamin Tizon, Agency Director, Paprec Trivalo, Cote D'Azur, "Over two kilometers of conveyors were designed to meet precise specifications of incoming local recovered materials. We are the only plant in France able to extract opaque polyethylene terephthalate (PET)."
Paprec's channel baler from Kadant PAAL, Europe's leading producer of high-performance horizontal balers, compresses multi-material bales so tight that an extra seven tons, or nearly one-third more material, can be loaded on each truck leaving the plant—a major cost savings. Top level plant efficiency, including steady, continuous baling, add to the overall success. With a capacity of 36,000 metric tons, the facility in Cannes is capable of treating sorted waste of about one million inhabitants of the Alpes Maritimes region. "We separate more paper and plastic packaging at lower cost than anyone in France," says Jean- Marc Délia, President of the SMED.
Adds Ludovic Aberbour, COO at Paprec Trivalo, "An important end point to our process is the Kadant PAAL baler, which compresses to extreme density. The PAAL® Konti baler handles multi-materials with ease using recipes designed for a wide range of materials, including difficult plastics."
Aberbour points out that Paprec Trivalo can stack well-formed, dense bales up to three high, which was never possible before. "Transport costs are dramatically lower, because an additional seven tons of recovered materials can be loaded into each container truck. Customers appreciate our efficiency and ability to lower overall costs."
"Society is increasingly aware of the importance of sending far less waste to landfill or for energy recovery. They want to recycle and reuse everything possible. Communities trust us, as the French leader of recycling, to ensure a high level of service for re-use of valuable resources, meeting this strong environmental demand," confirms Jean-Luc Petithuguenin, founding president of Paprec.
With fifteen factories in France, Paprec already selectively collects on behalf of more than eight million inhabitants and is France's first independent recycling business with its 102 sites and more than 5.5 million metric tons of waste treated and recycled.

High Tech Recycling
Their process is truly advanced, comprised of nine optical sorters, three ballistic screens, a trommel, two Foucault currents and a multi-material channel baler.
Comments Tizon, "Our process is designed to optimize output and working conditions for the site's 50 employees, serving the community well, and providing our customers with quality recovered raw materials.
Bale compression suited for each customer
According to Oliver Kerr, lead engineer with Kadant PAAL, "We have worked closely with the Paprec team to define their recipes. Depending on the mix of cardboard, paper, and PET for example, presetting is done automatically. In each case the PAAL Konti baler squashes and ties off the bales. Compressing is universal, but you must treat different materials differently to get the best quality bales."
With plastics you compress and hold, hold, hold, so that memory is squeezed out. It takes a powerful compression capability to do this consistently and keep running smoothly."
Continues Kerr, "The PAAL Konti baler is preferred by many because of its ability to process a broad range of materials. When a facility runs continuously, and transportation costs are an issue, our solution is ideal.
Less energy consumption
The PAAL Konti baler is equipped exclusively with axial piston pumps. The power-regulated control of these pumps leads to higher throughput. Significantly lower drive power is required at the same throughput, for example only 55 kW instead of 75 kW.
The tried and tested cutting system was further developed to provide even more efficiency. The optimized blade shape and the adaptation of the clearance space above the fixed knife results in a significantly reduced cutting force, thus less energy consumption.
Safety & maintenance gains
In addition to the highly accessibility of the press chamber by the two very large doors, the access to the tying unit has been improved. This was achieved by the addition of a three-sided
platform with ladder at the tying unit of the large-format baler making it easier to insert the binding wire and ensuring easy access to all components for service and maintenance in
the now completely open tying unit.
According to Craig Heely, managing director of Kadant PAAL's UK operation, "As the market leader, we excel at standardization. Even though Kadant PAAL balers are offered with a huge number of options, they are pre-designed and pre-specified. Start up time could be said to be 'plug and play.'
Key Benefits of Kadant PAAL Konti Baling System

• Energy savings from the latest generation axial piston pumps.
• Higher throughput, combined with lower energy consumption by:
o New position measurement system of the pressure plate (Ram).
o New optimized knife cutting design.
o New optimized automatic stamper design.
• Easy to use pre-set recipes with PLC and updated operator panel from SIEMENS,
• Increased lifetime of machine, thanks to changeable bolted wear-plates on all PAAL Konti balers
• Higher bale weights due to new optimized channel design and hydraulic system pressures.
• Ease of maintenance, ensured by:
o Enhanced accessibility at both sides of the tying unit.
o Larger inspection door, at the rear section of the baler.
o Remote maintenance (SPS), offering the possibility of using remote access and service.
• Advanced user-friendly operation, due to new interactive operator control panel, with higher pixel resolution.
Kadant PAAL was founded in 1854 in Osnabrück, Germany. Since its introduction of the first continuously operated horizontal baler in 1960, PAAL has delivered more than 30,000 machines and today is the #1 channel baler manufacturer in Europe.

Kadant PAAL is distributed in North America by Bulk Handling Systems out of Oregon.
The Paprec Recycling group was founded and has been run since its creation by Jean-Luc Petithuguenin. Paprec is an exceptional recycling specialist. In 25 years, it has grown from 45 to 4500 employees at nearly 110 sites in France and Switzerland. Paprec Group achieved in 2016 a turnover of more than 950 million euros for more than seven million tonnes of waste collected and valorized. Since 1994, when it was founded, the Group has experienced an average annual growth rate of 25% in its tonnages and turnover. With the acquisition of COVED in the first quarter of 2017, the group will grow to 8,000 employees and a turnover of 1.4 billion euros. It will then value ten million tons of waste.
The first independent recycling company in France, present in all the existing sectors, the Group is No. 1 in the recycling of plastics, paper, cardboard, building waste and the sorting of selective collection of households. It is No. 2 in the recycling of waste electrical and electronic equipment, No. 3 for green waste, wood, biomass and ordinary industrial waste.
Paprec Group is known and recognized since its creation for its commitment to diversity, secularism and the fight against all forms of discrimination in the company. In October 2016, Paprec Group received the Axa Global Corporate Responsibility Award. In November 2016,