From tires to clean crumb rubber, to granulate and fine powder
Toronto Recycler's gradual investment in an end-to-end complete tire recycling system yields increased revenue streams from multiple type and size used tires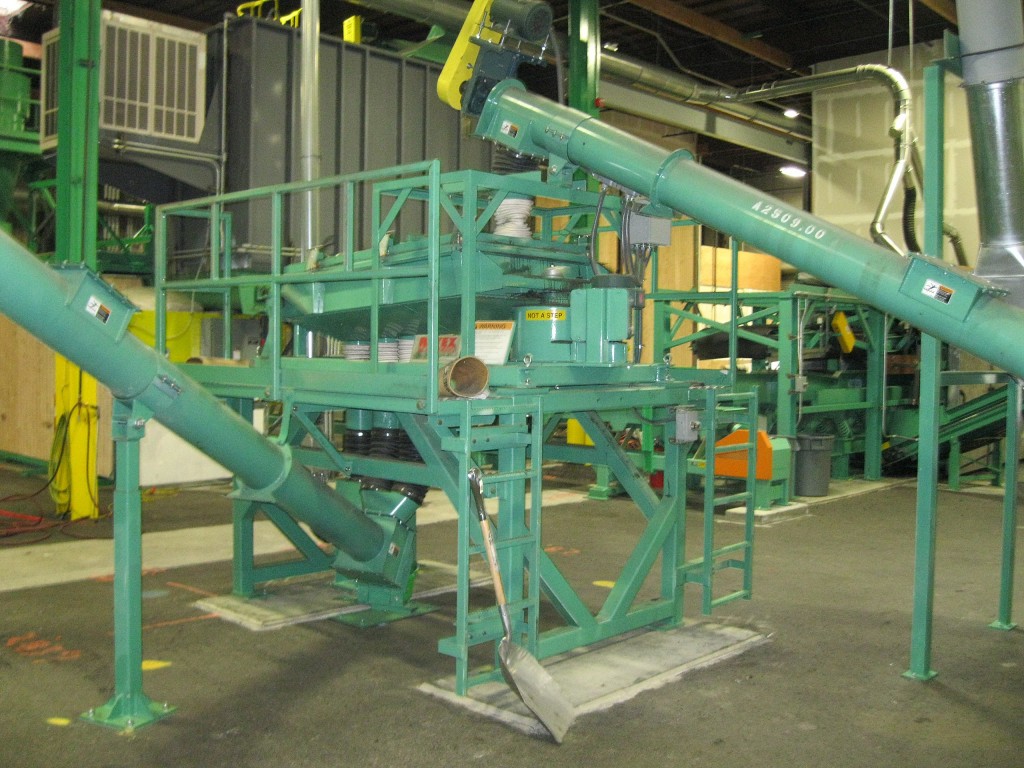 Vinh Ngo, the owner of Ideal Rubber Industries Corp., based in Brantford, Ontario, Canada (near Toronto), has been decisive on many fronts. He opted to work with Granutech-Saturn Systems shortly after he set up his recycling operation in 2009, and has subsequently retained Granutech-Saturn as his key vendor in establishing a tire processing system that allows him to convert scrap tires (including large format and OTR tires) into high-quality crumb rubber and powder in a multi-step phased approach.

Ideal Rubber's tire recycling system combines the proper level of investment, planning and management to help the firm meet and exceed Ontario's regulatory guidelines while creating products that meet the quality standards of and enjoy steady demand from end users.
The Ideal Rubber Brantford plant is situated on 4.4 acres of industrially-zoned land in a 20,000-square-foot facility.
"One of our missions is to keep our city sanitary and attractive for its citizens by recycling waste tires, converting them into useful products for a variety of applications…including the manufacture of molded products," says Ngo.
Granutech-Saturn's Sales Manager Greg Wright has observed Ideal's business practices closely and says the company's practices are "geared to produce a reliable and consistent source of clean crumb rubber product for its buyers."
It is in fact, key among Ideal Rubber's goals is to see that no waste streams at all be produced from used tires, a feedstock material that is all too often dumped illegally and considered problematic. Ideal Rubber Industries says it plays a crucial role in reusing scrap rubber in a positive manner not only for the environment, but also for consuming industries.
To meet these goals, Ngo and his company have consistently turned to GSS to provide the equipment, support and know-how needed to turn scrap tires into a stream of marketable "clean rubber" products.
PARTNERING WITH GRANUTECH-SATURN SYSTEMS
"We've been using Granutech-Saturn equipment since 2009," says Ngo. He also says he has remained loyal in reinvesting with Granutech as his system has expanded for one predominant reason: "They make a very well-built machine," he stated.
Ideal Rubber's Granutech-Saturn tire recycling system consists of numerous machines that work in coordination—to convert discarded car and truck tires into clean crumb rubber, in mesh sizes ranging from 6-20 mesh (about 3 millimeters in diameter) to 20-30 mesh (less than 1 millimeter in diameter).
In the Ideal Rubber system, whole tires are fed to a Saturn®-brand hybrid-drive dual-shaft shredder shredder and a second shredder behind that which provides further tire reduction of the tire shreds. Next, a Saturn Grizzly M80 grinder creates smaller chips that can then be fed to a Saturn G3 granulator and finally to Saturn Powderizers that produce crumb rubber in its final forms.
The Saturn dual-shaft hybrid-drive shredder is one of Ngo's newest machines, and it has allowed him to expand his business due to its flexibility in handling both low fiber and high fiber tires. "Prior to the hybrid-drive machine, we were only able to process passenger car tires, but the new Saturn shredder allowed us to start taking in and processing truck tires as well," Ngo says, adding that he also processes off-road agricultural equipment tires (OTR tires) through the new shredder.
The system also includes a series of conveyors, hoppers and surge bins that can maximize output while at the same time ensuring no single size-reduction machine is being fed more material than it can handle.
"We have grown our company based on matching our feedstock flow capacity, equipment capacity and customer needs volume to balance the efficiency of the overall system," says Ngo. "The flow from feedstock in and crumb rubber out to our customers can be achieved in the shortest possible time, so we don't sit on any inventories," he adds.
Ngo is also impressed with the consistent maintenance and customer support services he receives from Granutech-Saturn. "From the beginning, Granutech has been a very supportive vendor, providing not only phone, online and e-mail support, but also onsite support visits as well, when needed," he stated , "but, the engineering and design of these machines makes them easy and quick to maintain, with downtime in my operation kept to a minimum," he added. Granutech-Saturn confirmed that all Saturn machines come complete with a start-up process to make sure everything is running properly and to allow the user to go over the maintenance procedures.
As it nears the milestone of a decade in business, Ideal Rubber finds itself running a Granutech-Saturn tire processing system that has boosted its business output and operated reliably with minimal downtime. Granutech-Saturn Systems, based in Dallas, has been serving a global customer base for nearly fifty years and has major product installations in some of the world's leading tire recycling operations.