EDGE Innovate showcasing a range of material handling and recycling equipment at CONEXPO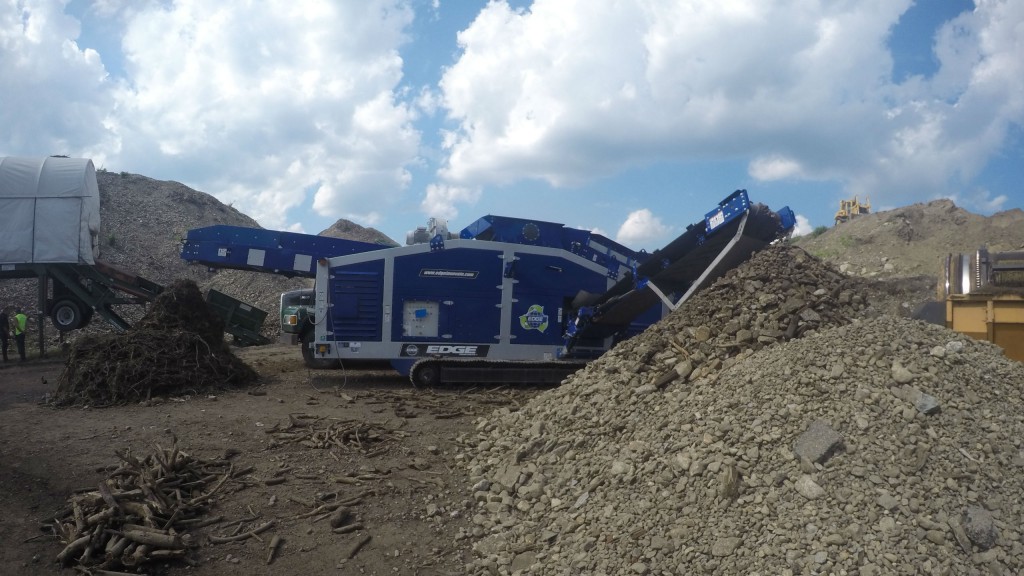 EDGE Innovate has announced that it will be showcasing the latest additions to the Edge Recycling Range; the MC1400 Material Classifier and the FreeFlow 186. As well as these, the huge TRT622 Trommel and TS65 track stacker will be on display at booth S5454 during CONEXPO.
EDGE Innovate's new MC1400 will provide operators with the ability to extract impurities from highly contaminated material in just one pass. The EDGE track material classifier utilizes controlled air flow as a separation medium, and provides the ideal solution for the cleaning of compost and biomass fractions with its ability to separate heavy and mid-weight fractions from lights. The MC1400 will allow operators to separate up to four different fractions as standard; lights (plastic, paper, film) mid-weight (wood) and heavy fractions (aggregate, glass, etc.). Ferrous metal will be extracted via the magnet head pulley found on the heavy fraction discharge conveyor with the option of attaching an additional magnet to the mid-weight conveyor. With the capability to accept a larger piece size of up to 400mm (16"), EDGE Innovate states that the MC1400 is not only ideal for organic recycling and biomass fractions but also extracting valuable commodities from construction and demolition waste.
The EDGE FreeFlow Screen allows for two screening operations in one unit. Customers can now processed un-prescreened material via the FreeFlow's robust scalping screen top deck whilst providing a fine screening function of difficult to screen material via the flip flow bottom deck. The EDGE FreeFlow Screen range provides a highly efficient screening solution for sticky, moist materials with a high percentage of fines and is ideal for the processing of compost, wood, skip waste, trommel fines, construction and demolition waste and incinerator ash. The screen has been designed to eliminate the blinding or blockage of the screen media that often occurs with traditional screens when screening wet or sticky material. The flip flow incorporates a heavy duty screen structure which generates a huge throw that propels material upwards and outwards so that the material can get time to untangle and separate. With increased throughput, high efficiency, adjustable speed and throw and quality end products; the EDGE FreeFlow Screen range is the ideal separation solution for difficult to screen materials.
Designed for maximum productivity; the EDGE TRT622 is a highly flexible, multi-purpose screening plant that is ideal for applications such as soil, recycling, composting and C&D waste. Incorporating impressive design features such as a 180° radial fines conveyor, unique load sensing hydraulic drive system and eco-power saving functionality coupled with a user friendly HMI control panel enables for the TRT622 to easily adjusted to suit various applications. A quick barrel exchange is facilitated via the hydraulic sliding feeder, enabling operators to simply lift out the existing barrel to be replaced with the various barrel types available.
Company info
Related products
More from C&D Recycling
But we've been successfully sorting paper on the front end with optical sorters since 2005. Why have we been so successful? Because we know it's not JUST about the optical. We focus on your entire operation, so you make the most of your fiber line. Is your optical sorter living up to its potential? Call us at 203-967-1100 for a free system evaluation.
Traditionally, recyclers across Canada have sent a huge percentage of their recovered scrap metal to Hamilton, Ontario, or Pennsylvania in the U.S., via open-top rail cars and truck trailers. The scrap is then melted down and turned into new steel. This is still the case for much of our scrap steel, but recently the growing trend toward containerization has introduced new opportunities for efficient, cost-effective shipping of both non-ferrous and ferrous materials to overseas markets.