Wood waste good for business
Husband and wife team from minnesota add wood waste recycling to their capabilities with help from Vermeer grinders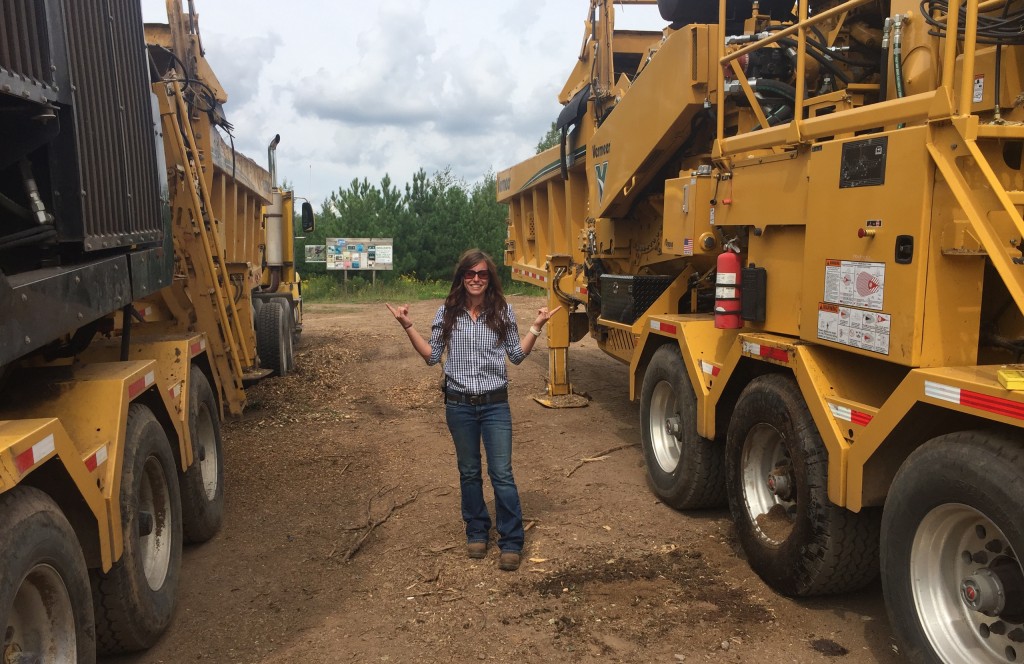 Waste Wood Recyclers LLC took an indirect route to the recycling and forestry industry. The Duluth, Minnesota-based company has its roots in the trucking industry as well as auto repair. Garrett Campbell ran an auto shop, and that led to owning several tow trucks. His wife, Ashley, started a trucking business. She then bought several tractor-trailers and eventually started hauling material for area lumber mills.
A couple of years ago, Ashley and Garrett noticed that many of the local mills had piles of wood waste sitting around waiting to be processed. That was their "light-bulb moment."
She is now the owner of Waste Wood Recyclers and the trucking business, while Garrett owns their repair shop.
Waste Wood Recyclers started operations in 2015, using Vermeer horizontal and tub grinders. The company grinds and chips material from logging operations and lumber mills. More recently, they have also started to do more work for municipalities.
Waste Wood Recyclers' end product goes primarily to biomass power plants, with some getting sold to mulch producers. Currently, the company is giving serious consideration to expanding further into the mulch side of the business.
So, how have Wood Waste Recyclers been able to grow their recycling company? It helped that Garrett came from a logging family and knew several logging companies in the area. They got several jobs cleaning up after mills, and word spread among others, including loggers and haulers going in and out of mills.

"They saw our equipment at the mill and, by word of mouth, our name started getting out," Garrett says.
He also attended the meetings of a local timber association to spread the word about the company. Waste Wood Recyclers now operates within a 160 km (100-mile) radius of Duluth and expects to deliver more than 72,500 metric tonnes (80,000 tons) of processed material to customers by the end of 2016.
Business is so good that Waste Wood Recyclers now works year-round. Anyone who understands the nature of Minnesota winters knows that means dealing with extreme cold. In January, Duluth (similar to most of Southern Canada) has an average high of minus 6 degrees C (21 degrees Fahrenheit) and an average low of minus 16 degrees C (2 degrees Fahrenheit). December and February aren't much warmer.
When operating in the cold, Waste Wood Recyclers uses preheaters (small heating systems) on most of their equipment to warm up the engine and fluids long before operation. They also switch to winter fuel blends that have additives for cold-weather usage. They typically work longer hours to take advantage of equipment that is warmed up and have put an increased emphasis on daily inspections and preventive maintenance to help keep equipment in good condition.
"We operate all year long, even when it's 30 degrees below zero (minus 34 degrees C)," Ashley says.
A family affair
The Waste Wood Recyclers fleet includes several tractor-trailers, a skidder, an excavator and a Vermeer HG6000 horizontal grinder. They also regularly rent a Vermeer TG7000 tub grinder and are considering purchasing the machine in 2017.
The company has seven employees, with Ashley driving a truck, Garrett bidding jobs and occasionally operating the skidder, and his brother Garon Campbell operating the grinder.
"Working with my wife is great. Working with my brother – that has its moments," Garrett says jokingly.
Waste Wood Recyclers does not have its own yard to process material, so they go to landing areas in the woods and to lumber mills to grind and chip. Aspen is the predominant tree species in the region.
When they work in the woods, the jobsites are often remote, on uneven terrain and require a small footprint. That makes it critical to have a grinder that is mobile and fits in a tight footprint.
"Usually, we're going in after the loggers are done and gone," Ashley says. "We use a skidder to bring material right up to the grinder, and that way we can get rid of the finer branches and chunks of wood better than other methods and leave the site so it almost looks like a park when we're done."
Finding the right grinder
The Campbells demo'd several different grinders before deciding to get a Vermeer HG6000 horizontal grinder.
"The production is definitely, hands-down, what we like best about it," Garrett says. "I don't think any competitive chip drum on the market can hold a candle to the chip drum on the HG6000 when it comes to production."
Using a chip drum has changed how Waste Wood Recyclers does business. When they started, most of their work involved grinding material for mills. Now, they estimate that about 40 percent of their work is grinding and 60 percent is chipping, primarily for loggers.
"There are a couple of power plants in our area that only want chips, not grindings," Garrett says. "That expanded our territory a little bit, and we've accumulated more loggers as customers."
The specs of most of their fuel chip customers call for a 7.62 cm (3-inch) minus chip size. To achieve this, Waste Wood Recyclers uses a 10.2 cm (4-inch) square screen with a baffle.
For grinding, they most often have a 10.16 cm (4-inch) minus spec. Screen configurations are changed frequently, but a common setup is a diamond screen with a baffle.
A lot of the grinding occurs at the lumber mills, where the material tends to be more mixed and a little wet. These days, they keep the chip drum on the HG6000 rather than switching it out when they want to use the grinding function, so when they have material to grind, they rent another horizontal grinder or a Vermeer TG7000 tub grinder.
Recently, Waste Wood Recyclers has also started grinding material for area municipalities. A lot of it is storm debris. They will do the cleanup and then take the material to the municipality's yard and grind it on site.
The bulk of the material that passes through their grinder goes to biomass plants, like the fuel chips, but some is sold to mulch producers as far away as the Twin Cities (Minneapolis/St. Paul) 241.4 km (150 miles) to the south. For now, at least.
It shouldn't come as a surprise that the Campbells are again considering expanding their business portfolio. After all, they went from owning an auto repair business to adding trucking, and then from hauling material for mills to grinding and chipping.
"We wanted more, I guess," Ashley says. "In the future, we'd like to have our own site where we can stockpile debris, and then at some point we'd like to produce our own coloured mulch."
Gregg Hennigan is a technical writer based out of Des Moines, Iowa.

This article is reprinted from Recycling Product News, Volume 24, Number 8, 2016.
Company info
Related products