Cat medium wheel loaders updated to include new connect technology, additional safety features and reduced operating costs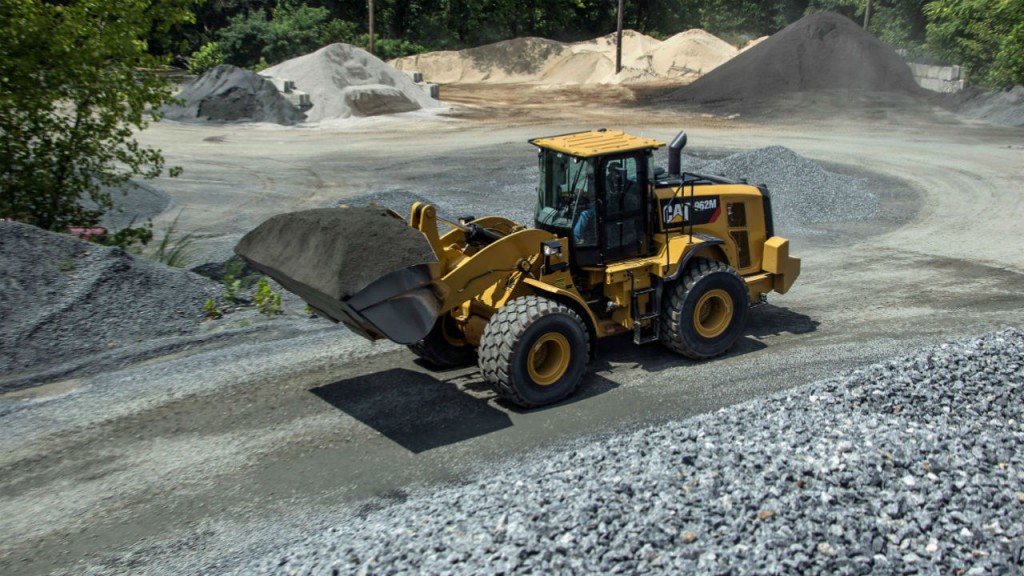 Caterpillar is has announced the 2016 product update to the Cat M Series medium wheel loader product line (950M, 962M, 966M, 972M, 966M XE, 972M XE, 980M and 982M). The 2016 product updates include all new Cat Connect Technologies, additional safety features and reduced operating costs.
Cat Connect Technologies
The new Product Link Elite system is now offered as standard equipment providing faster cellular and satellite connection capabilities. In addition, the standard machine is shipped from the factory ready to accept the Cat Production Measurement system. Version 1.2 of the system now indicates when the linkage is in the weighing range, allowing operators to confirm that an accurate scaled weight is being determined. The system also allows operators to manually activate the tip-off feature for those applications in which "auto" tip-off detection is not ideal.
The updated Cat Production Measurement system helps the operator to more easily navigate truck and material identification lists via the monitor. The easy-to-calculate system allows the use of multiple buckets by "zeroing" up to 66.5 percent of the original calibration weight (previously less than 15 percent). In addition, the standard third-party payload interface enables third-party scale systems to be shown on the cab touchscreen as well as Cat VisionLink. If the system is installed with a payload printer, the printer can be mounted using pre-drilled/tapped holes on the right front ROPS tube.
The Cat Object Detection system is integrated into the standard display. This radar system increases the operator's awareness of obstacles up to 52 feet (16 metres) behind the machine. The system utilizes market-leading capability, speed-based zones and provides five proximity-warning levels which increase in intensity and frequency as the "Stop Zone" warning area approaches.
Additional safety features
New cab steps increase step durability and improve boot contact for increased safety in and out of the cab. Longer-lasting, lower power–consuming LED lights replace the auxiliary halogen-type light option providing four or eight LED work lights at the front and rear of the machine, and two in the rear hood.
An optional 4-point seat belt restraint system provides superior protection from frontal collisions. Additionally, a new, easily visible, roof-mounted, seat belt indicator LED light shines green when the seat belt is buckled promoting operator safety.
Optional wheel chocks are conveniently mounted to the front frame of the machine reducing the opportunity for the machine to roll. Furthermore, additional mounting provisions in the cab allow operators the ability to customize their machine and mount items such as a fire extinguisher or a radio.
Other enhancements include: a newly designed right-hand window that makes an emergency exit from the machine faster; additional storage in the base of the cab door that does not impact visibility; repositioned grab rails that provide safe, easy entrance to the cab. Furthermore, operators can grasp a new grab handle below the membrane switch pad while driving over rough terrain or getting in and out of the seat.
Reduced operating costs
The XE models, 966M XE and 972M XE, feature a new Economy Mode that provides up to 4 percent improved fuel economy during general machine operation and up to 8 percent improved fuel economy in aggressive truck-loading applications with essentially no loss in production capability. This reduction in fuel consumption is in addition to the XE models' basic reduction in fuel consumption, up to 25 percent, compared with comparable torque-converter-equipped models. The Economy Mode, enabled and disabled via the LCD touch display, automatically lowers engine speed to 1,400 rpm when full power is not required and is transparent to the operator.
The Variable Ground-Speed Limiter, previously available for only XE models, is now available for all conventional M Series medium wheel loaders. This feature allows site managers to set machine speed limits from 9 to 25 mph (15 to 40 kph) with independent adjustments for forward and reverse. The settings are protected with the machine service-mode password.
An updated touchscreen display now allows operators to select information displayed on the "quad screen," which can simultaneously display, for example, axle oil temperatures, instant fuel rate, electrical system voltage, and temperatures for fluid in the torque converter and hydraulic system.
A newly designed engine hood allows easier routine service and features a new actuator that speeds opening to ~35 seconds. The new impact-resistant hood exhibits greater durability during operation as well as improved cooling airflow and enhanced rearward visibility. Optional impact and corrosion-resistant, hood-mounted rear roading fenders are now available on all models
The newly designed, impact and corrosion-resistant front fenders provide increased coverage to protect the cab from wheel spray. Fender packages for low-profile tires which provide enhanced lateral and fore-aft stability are available for all medium wheel loader models where an additional deflector ensures 100 percent tire coverage.
Company info
Related products
Related Articles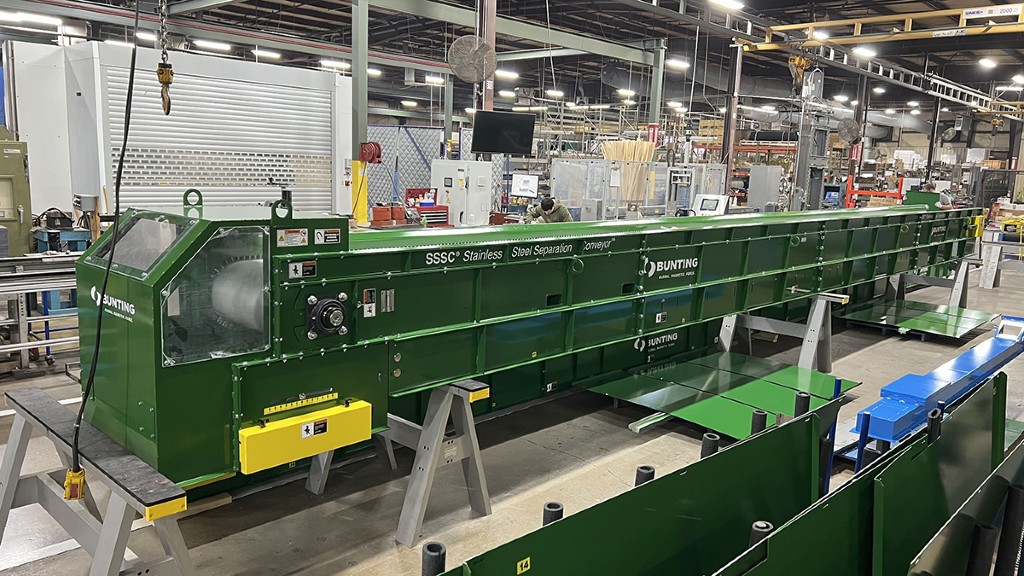 Bunting builds company's longest stainless steel separation conveyor for recycler in North Carolina