Bunting builds company's longest stainless steel separation conveyor for recycler in North Carolina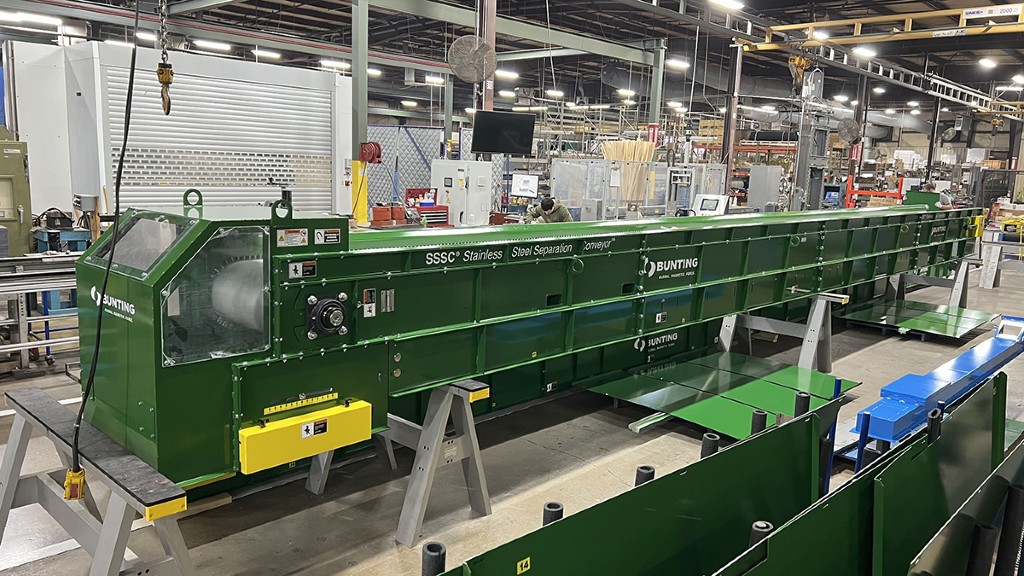 The stainless steel separation conveyor (SSSC) leaving Bunting's Kansas manufacturing facility is the largest Bunting has built so far. The model SSSC 12-24-462 is only 0.61 metres wide but sits at the end of an 11.6-metre-long conveyor. The high-intensity magnetic separator is destined for installation in an automotive recycling plant in North Carolina.
The stainless steel separation conveyor features a neodymium magnetic head roll positioned at the end of the conveyor. The magnetic strength enables the recovery of weakly magnetic mid-sized fragmented stainless steel from automotive shredder residue (ASR).
After initial application discussions, the recycler reviewed the installation and concluded that they required a single, longer SSSC rather than the standard 3.7-metre-long unit. This would then negate the requirement for an additional inline feed conveyor.
The 11.6-metre-long SSSC was far longer than any previously built unit, which posed a number of challenges for Bunting's design engineering team. During the design process, the team considered the belt support system, the drive mechanics, the framework, and the housing requirement for such an application. Using knowledge of supplying shredder feeder conveyors to the plastics and waste industries, the team modified the standard SSSC design and extended the belt length to 11.6 metres.
Once in production, the SSSC 12-24-462 will handle between 1 to 1.6 tonnes per hour of mixed automotive shredder residue.
The automotive recycler also ordered a high-intensity separation conveyor (HISC), with a standard 300mm long conveyor. The HISC 6-24-48 recovers fragmented stainless steel from smaller-sized scrap.