BACE vertical balers designed for paper recyclers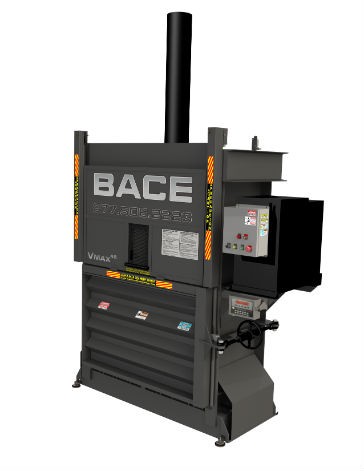 BACE Baler and Compaction Equipment vertical balers are specifically engineered for paper recycling applications in IC&I and recycling facilities, and are built specifically to meet Canadian safety standards. According to Recycling Equipment Canada (REC), the Ontario-based supplier for BACE, these balers offer high quality and high efficiency with lower operating costs over the long term.
Key features of BACE vertical balers (V-MAX 45 Smart baler shown) include a solid feed gate, which minimizes spillage of shredded paper, a safety cable through the cylinder, capped platen channels, and slanted angles on the front door. Units produce high density, consistent bales for maximum price potential, a full bale light is standard on HD models and above, and an available submersible power unit with less power usage provides higher pressures, faster cycle times, denser bales and a longer warranty. Export (VMAX) versions produce bales specifically sized to consistently achieve maximum allowed load in 40-foot shipping containers.
Additionally, an optional Intellibale feature counts and weighs every bale before ejection and integrates with office management systems to help recyclers maximize profits from recycled paper. Intellibale allows users to know the bale weight of every bale, creating total transparency, as well as the number of bales produced, and includes business intelligence with dashboard to help manage recyclables.
According to REC, BACE Baler and Compaction Equipment only makes vertical balers and is the largest dedicated manufacturer of vertical balers in North America.
Company info
Related products