Strategic partnerships lead to success in e-waste
Collaboration and resource sharing between electronics recyclers can benefit the entire industry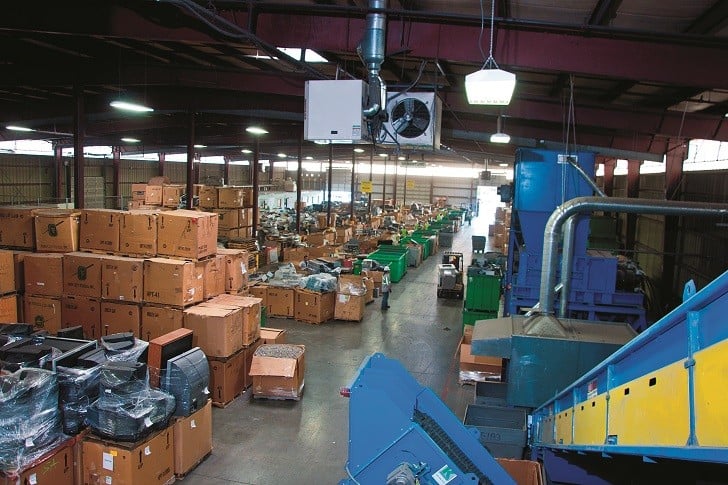 In an age of unprecedented technological innovation where the use and subsequent disposal of consumer electronics is constantly increasing, it may come as a surprise that many electronics recyclers in the U.S. are closing their doors. With heaps of outdated laptops, cell phones, LCD screen televisions and electronic devices piling up, it would seem that the recycling business should be booming.
When Gina Yob joined 3S International in 2013, she was struck by the narrow lens through which recyclers viewed each other. With such a large supply of material available and in need of processing, it seemed unnecessary for companies to be in such sharp competition. As Yob began to look at the numbers, she realized that if recyclers collaborated with each other and shared their resources, they could all benefit.
This notion struck a chord with Linda McFarland of IMS Electronics. The two chanced to meet at a dinner during an industry conference, and were soon discussing opportunities for their two companies to work together. With McFarland's extensive network and expertise paired with Yob's innovative ideas and exclusive access to cutting edge BLUBOX technology for recycling flat panel displays and lamps containing mercury, a strategic partnership was born.
"The idea is to partner with like-minded recyclers to share our strengths and benefit our companies and communities," Yob said. "We will only partner with companies that adhere to strict environmental standards. While each recycler brings their own specialized recycling methods and niche skills to the table, our strength is in providing the best downstream solution to process LCDs and mercury-containing devices on a large scale. We don't want to compete with other recyclers, we want to work together. My hope for this collaboration is to keep as much mercury out of the environment and away from communities as possible."
This focus on collaboration within the electronics recycling industry is one part of 3S International's planned growth, and paves the way for the opening of a new facility this year in Southeast Michigan. It has also brought about immediate success.
Since partnering with IMS Electronics and a number of regionally and nationally based recyclers, including Kuusakoski Recycling and Valley City Electronic Recycling, 3S International has experienced an exponential boom. The first few weeks and months of the partnership brought in more than a million pounds of end-of-life electronics, and the numbers are continuing to rise.
The structure is simple: each recycler shares their resources and collection methods Once electronics are collected, they are sorted and the materials are shipped to the company who can recycle them best.
3S International provides its partners with the best technology in North America to process LCD screens and mercury containing devices. LCDs are processed by 3S's Swiss-designed BLUBOX, which separates hazardous particles and extracts valuable output fractions for further processing. This fully automated process is packed in a 40-foot container, under negative pressure and therefore meets the highest safety standards. The BLUBOX is capable of recycling high capacities of flat panel displays (1,000 kg/h) and lamps (500 kg/h) and can meet the e-recycling needs of around six million people annually by processing 15 million pounds of electronics and lamps per year.
"The development of mutually beneficial and strategic partnerships among ewaste recyclers is really a shift in thought for how the industry currently operates," Yob said. "The opportunity to take the e-recycling industry as a whole to the next level exists if we work together to make an impact. There is such a huge need for safe electronics processing and downstream solutions right now that it does not make sense for recyclers to be in competition with each other. There are more than enough end-of-life electronics waiting to be processed, and now is the time for us to tackle the problem on a much larger scale."
Owned by CP Global, IMS Electronics is a large company with cutting edge resources and a broad national scope, providing electronics recycling services in California, Washington, Ohio and Georgia. The company has long placed a focus on risk reduction through HIPAA and environmental compliance, earning numerous industry certifications, including ISO 9001, ISO 14001, OHSAS 18001, and R2. McFarland knew the company's new partnership with 3S would be good for business, but it has also opened up the opportunity to provide customers with the only true downstream solution for LCDs and mercury-containing devices.
"3S has the only true process for the safe disposal of mercury and LCDs, which are set to be the next big item to recycle, following CRTs," McFarland said. "This partnership allows us to provide the best downstream for our clients' LCD and mercury-containing devices.
"There is a huge benefit to electronics recyclers to open doors for each other. We all specialize in different categories of recycling, and together we can do so much more to combat the e-waste crisis."
By joining forces and playing to their strengths, electronics recyclers are able to expand their reach, improve their business and enhance their impact in the regional, national and global marketplace.