Cat MH3022 and MH3024 Wheeled Material Handlers Deliver Added Performance, Operator Convenience, Lower Operating Costs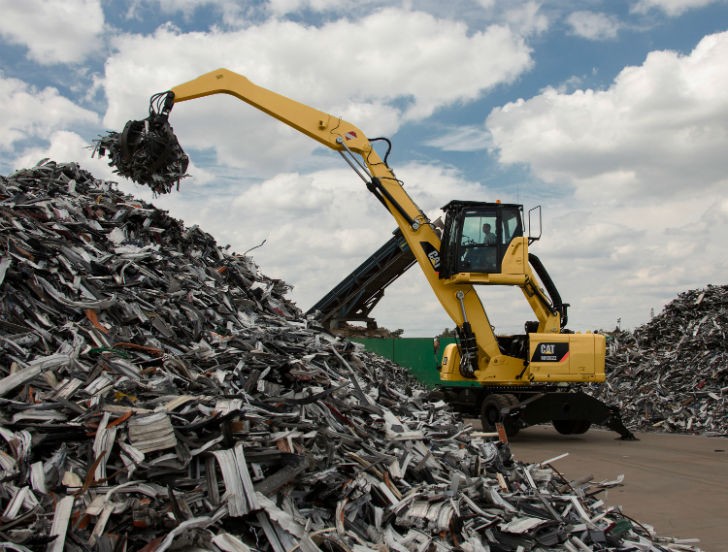 The new Cat MH3022 and MH3024 are the smallest models in the new Caterpillar line of wheeled material handlers in the greater-than-20-ton size class. Building on the solid reputation of their predecessor models, the M318D MH and M322D MH, the MH3022 and MH3024 feature a new engine and redesigned hydraulic system that combine to reduce fuel consumption by up to 10 percent. Redesign of the cab and cab access, added lighting, and vision-enhancing cameras promote greater safety, comfort, and convenience for the operator, and a wide choice of dedicated front linkages, work tools, guards, and undercarriages allow the new purpose-built models to work productively and durably in industrial, scrap-recycling, mill-yard, and waterway applications.
Intensive field surveys help Caterpillar continuously improve the design of wheeled material handlers for low-cost operation and maximum customer value, while maintaining proven Cat quality, reliability, and features, such as the Cat Smartboom, load-sensing hydraulics, dedicated swing pump, and large working envelope.
The MH3022 and MH3024 use the Cat C7.1 ACERT engine, rated at 169 horsepower (126kW, 171 PS), and have operating weights of 22.7 and 25.7 metric tons, respectively. The engine meets US EPA Tier 4 Final/EU Stage IV emission standards and features refinements that yield added torque and faster response to changes in load. With a durable, field proven design, the engine now integrates an emissions aftertreatment system, which requires no attention other than periodically replenishing the diesel exhaust fluid (DEF) tank.
Emissions technology includes the Cat NOx-reduction system, selective catalytic reduction, diesel oxidation catalyst, diesel particulate filter (DPF), and high-pressure/common-rail fuel system. The DPF features passive regeneration which does not require operator intervention and causes no interruption in the work cycle. The design of the engine and the aftertreatment system results in low fluid consumption for new models, conserving both fuel and DEF to lower operating costs.
An engine-idle shutdown system saves fuel by shutting down the engine when it has been idling for a preset amount of time. In addition, the Eco Mode has been refined and reduces engine speed with no reduction of power, providing reduced fuel consumption with no compromise in performance.
A new electronically controlled hydraulic system combines with new medium-pressure pumps and new fan pump to enhance hydraulic response and reduce overall load on the engine for greater fuel efficiency. The optional Cat Bio HYDO Advanced hydraulic oil and bio-diesel blends up to B20 can be used without reducing the life of these systems.
An automatic system, when enabled by the operator, senses machine parameters and locks the axle-oscillation function and sets the service brakes, readying the machine to work. This feature reduces operator fatigue by removing the need to constantly press the brake pedal and results in added productivity. Brake and axle lock are automatically released when the operator presses the travel pedal again. Also, a new travel-lock system, engaged via the switch panel, combines implement-stop and swing-lock functions.
The engine, as in predecessor models, is longitudinally mounted with the cooling package forward of the engine, resulting in easy, ground-level access to routine maintenance points. An electric fuel-priming pump eliminates filling filters before installation. All the coolers are now grouped in the same compartment, and the condenser can be tilted with no tool for ease of cleaning. A new industrial package will provide improved protection when working in harsh environments, including a thin-grid mesh and engine air pre-cleaner. Electrical and hydraulic components are now grouped in specific areas for ease of service, and an automatic centralized greasing device (Auto-lube) is standard, allowing operators to remain focused on the job. Access to the top platform is also improved, including a new service platform for DEF and fueling, as well as new handrails.
Company info
Related products
More from Metals Recycling
Single-Ram and II-Ram High-Capacity Balers
At Machinex, we've been designing sorting systems for over 35 years, so we know how essential it is for MRF operators to have a baler they can trust and not worry about its operational reliability. This is why we design and manufacture reliable single-ram and II-ram high-capacity balers to specifically help optimize their operations.
Watch the video of our expert who presents the main features of Machinex balers delivering these important benefits:
Easy & accessible maintenance
Reduced maintenance & bale handling costs
Energy savings
Optimal bale density
For C&D recyclers, waste haulers, demolition contractors and landfills, there is a growing opportunity to profit from rethinking processes. Although every operation is different, by streamlining the front end of the C&D operation processes with purpose-built technologies, recyclers can tap into new end markets, accommodate higher material volumes, stay ahead of regulatory restrictions, increase recovery rates and add commodity revenue, while decreasing labor and other costs.
Download the new eBook to learn about:
Finding opportunities in the alternative to landfilling C&D
How facilities can increase their profits from C&D
Using the right C&D processing technology in the right locations