New Waste Handler configuration for M318D MH Material Handler designed for high productivity in confined work areas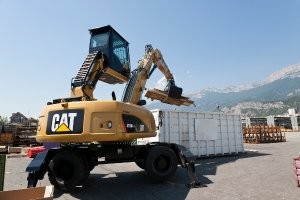 The new Cat® M318D MH Waste Handler is a wheel excavator designed specifically for use in work areas with limited space, whether overhead or adjacent to the machine, whether indoors or outdoors. This new configuration, which meets with accepted industry criteria to ensure safe operation and high production when working in close quarters, incorporates significant undercarriage and boom modifications, while retaining the proven features of its conventional M318D MH counterpart: fuel-efficient Cat C6.6 ACERT™ engine, load-sensing hydraulics; dedicated swing pump; heavy-duty axles; stabilizer configurations; and spacious cab with optional joystick steering.
The M318D MH Waste Handler features a purpose-built undercarriage that preserves the rugged strength of the conventional M318D MH undercarriage, but adapts the structure to the machine's specialized application. The heavy-duty swing-bearing tower is now centered on the undercarriage, placing it equidistant from axles and stabilizers for symmetry and optimum balance, whether working over the front or rear. In addition, the tower is larger to accommodate the hydraulic cab-riser swing bearing. The new compact undercarriage is compatible with all sticks and booms available, including MH, standard and one-piece booms.
A new boom for the M318D MH Waste Handler is now available to fit the machine to its tasks. The new boom has a shorter pin-to-pin length of 5.35 meters (17.55 ft.), compared with the conventional M318D MH's dimension of 6.4 meters (21.00 ft.). This compact material-handling boom, designed for use either with the 4 200-millimeter (13.78-ft.) stick or the 4 900 mm (16.1 ft) drop nose stick, features a welded, box-section design with thick, multi-plate fabrications in high stress areas for superior durability. These modifications ensure that the new M318D MH Waste Handler meets all dimensional requirements and allows the new configuration to maintain a competitive edge in reach, height and lifting capacity.
According to Cat, the M318D MH Waste Handler also delivers more working power than its competitors, having a net engine-power rating of 124 kW (168 PS), main hydraulic pressure (implement circuit) of 350 bar (5,076 psi), and a rated hydraulic flow of 290 L/min (77gpm) for the implement and 112 L/min (29 gpm) for the swing.
Design specifics In addition to features that fit the M318D MH Waste Handler to work in confined areas, an optional Waste Handling package specifically equips the machine to work efficiently in waste transfer stations or other dusty applications.
The Waste Handling option features an automatic, hydraulically driven fan that cleans debris from the radiator by periodically reversing airflow after a specified interval (from 2 to 60 minutes, set manually at the monitor). A dense wire-mesh hood complements the automatic fan by facilitating optimum cooling and reducing radiator clogging, and a new seal has been added around the engine hood. For added engine protection, a pre-cleaner separates and ejects debris from engine intake air before the air reaches the machine's primary air cleaner.
For optimum efficiency and low-cost operation, the M318D MH Waste Handler's C6.6 engine is electronically controlled to maintain consistent net power in all operating situations. Electronic control, coupled with the engine's common-rail fuel system, helps reduce fuel consumption, whether the machine is working or traveling. Added fuel savings result from the reversible cooling fan, which is also an electronically controlled, on-demand type that automatically adjusts its speed based on coolant and hydraulic-oil temperature.
For increased durability, the cab uses heavy steel tubing around its exterior bottom perimeter for resistance to fatigue and vibration. This design also allows a falling-objects guard to be bolted directly to the frame, but the guard can be raised easily for convenient windshield cleaning. A rearview camera is standard and displays images on the in-cab monitor.
As with all Cat Wheeled Material Handlers, the M318D MH Waste Handler can be equipped with a quick coupler and a range of specialized work tools. The new configuration's overall design retains ground-level access to routine maintenance points, including remote grease points.
Company info
Related products