New Cat® MH3037 Wheeled Material Handler Features Advanced Power Train, Powerful and Efficient Hydraulics, and Ground Level Entry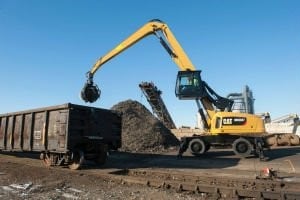 The new Cat® MH3037 is the third member of the new wheeled material handler line that Caterpillar is introducing in the greater-than-25-ton size class. The new Cat material handlers are purpose-built to work productively and durably in industrial, scrap recycling, millyard and waterway applications, while affording maximum protection and convenience for the operator. A patented "ground entry and exit" with a step-in cab that lowers to the front or the side of the machine enhances convenience and safety for operators and service personnel.
The MH3037 has an operating weight of 82,900 pounds (37 600 kg) and is powered by the Cat ACERT™ C7 engine featuring an electronically controlled, mechanically actuated, unit-injector fuel system that uses multiple-injection fuel delivery for optimum power and economy in all operating situations. The MH3037 configuration is rated at 225 horsepower (168 kW).
High strength structural steel and advanced welding techniques ensure structural integrity. A powerful hydraulic system provides rapid response with efficiency, and new serviceability features simplify maintenance. These design elements combine to provide low-cost operation and maximum value for MH3037 owners.
Structures and hydraulics
Major structures use continuous welds that incorporate extensive chamfering and beveling to reduce stress concentration. Booms and sticks are constructed from single-piece top and side plates to eliminate the need for seams and internal baffles. The upper frame is designed specifically to dissipate loads transferred through the front linkage and counterweight, and the lower frame has a unique, tapered design to evenly distribute loads and reduces stress. Oversized pins and bushings strengthen pivot points. In addition, extensive finite element analysis and strain-gauge testing throughout the design process help ensure long-term durability. Along with a 29-ft (8.8-m) boom, the MH3037 can be equipped with a short 19 ft 8 in. (6 m) or long 23 ft 6 in. (7.2 m) front configuration to best fit the application.
Using a closed-center, one-pump, load-sensing implement hydraulic system with electro-hydraulic pilot control, the hydraulic pump generates only as much oil flow and pressure as required for the application, yielding powerful, rapid response and fuel-saving efficiency. To further enhance overall hydraulic power and efficiency, the machine regenerates boom-down oil flow, reducing the volume of oil the pump must produce.
Reflecting the precise hydraulic design, the MH3037 divides hydraulic functions between the upper and lower main control valves, with the upper valve managing the boom, stick, work tools, cab riser and cooling circuits, and the lower valve controlling travel, steering and outriggers. This provides optimal flow management to allow multiple machine functions to operate at the same time without compromising performance. An independent, closed-loop swing system maintains swing priority at all times.
The hydraulic oil cooler, air-to-air aftercooler (ATAAC), and engine radiator are all mounted side-by-side to reduce clogging caused by airborne debris and to provide better access for cleaning when necessary. Working with an auto-reversing fan, the cooling system ensures optimum operating temperatures between 140 and 160F (60 to 71C) are maintained—which protects oil quality, extends component life and promotes optimum machine performance.
The power train of the MH3037 incorporates limited-slip differentials on both the front and rear axles to provide true all-wheel-drive performance. A variable displacement hydraulic motor coupled with a two-speed transmission provides high- and low-speed travel with creeper speed capability for excellent control due to the infinitely variable travel speed. An oscillating rear axle with oscillation lock provides the capability to work on rough, uneven terrain while maintaining the stability to work free on wheels without outriggers deployed.
Operator safety and convenience
The hydraulic cab-riser system features patented "ground entry and exit" with a step-in cab, enhancing safety for operators and service personnel. Cab height is adjustable up to an eye level of 18 feet (5.5 m). On the MH3037, raise time from ground level to maximum height is approximately 8 seconds; lowering time from maximum height to ground level is 10 seconds.Adjustable sensors control the height of the cab above the ground. Manual safety override valves in the cab and at ground level enable the cab to be lowered safely in the event of engine power loss. This allows the operator to exit the cab safely.
The MH3037 can be equipped with an optional impact-absorbing falling objects guarding system (FOGS). This includes a top guard to protect the operator from falling debris and a front guard to protect from flying debris in the work area. An adjustable limiter prevents work tool contact with the cab, and load-holding valves on hydraulic cylinders prevent sudden uncontrolled drop of the boom, stick, cab or outriggers in the event of a failed hydraulic hose.
Images from the standard rearview camera are displayed via a high-definition color monitor. A separate monitor displays operating parameters, starting fluid level, machine warnings and activated work functions, which are conveniently controlled with the joysticks. The system allows operators to set functions according to preference and provides maintenance reminders, diagnostic capabilities and out-of-specification alerts.
Joystick controls in lieu of a steering wheel enable operators to experience smoother, faster production and allow better sight lines to the work area. The cab includes a polycarbonate skylight, removable panes and a rear window that serves as an emergency exit.
Company info
Related products