SE Series 7000 Suspended Electromagnets updated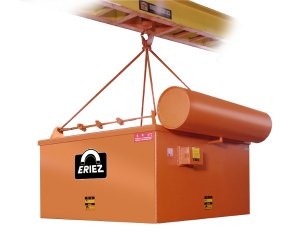 Incredibly powerful and rugged Eriez® SE Series 7000 Suspended Electromagnets remove damaging tramp metal from coal, limestone, sand, gravel, municipal waste, wood products, recycled materials, other ores and almost any nonferrous material conveyed in heavy burden depths on flat conveyors or chutes.
SE Series 7000 Suspended Electromagnets now feature several new design elements such as state-of-the-art, adjustable oil expansion tanks that prevent condensation and protect against hot spots to extend coil life. An array of special options are also available, including upgraded coil design for elevations greater than 3,000 feet above sea level, high fire point coolants, zero speed switches, dust covers, pulley guards and controls, permanent extensions and monitoring devices, force-cooled units for high temperature applications and more.
Twenty three magnet sizes, 69 standard models and hundreds of designs are available to suit specific application requirements. Approved by leading safety agencies, these air-cooled, dry-type electromagnets require no coolant fluids and reduce power consumption by up to 50 percent. UL-Listed construction is offered on units for use in hazardous, dusty and gassy locations.
Eriez manufactures both Manual Cleaning (MC) and Self Cleaning (SC) models. All SE Series 7000 Suspended Electromagnets are backed by Eriez' exclusive five year coil warranty.
SE Series 7000 Suspended Electromagnets in select sizes are available for NEXT DAY shipment from the EriezXpress Program. Additional sizes are offered for shipment in TEN DAYS from the 10-Day Xpress Program.