Machinex MACH Ballistic separator designed for 2D and 3D materials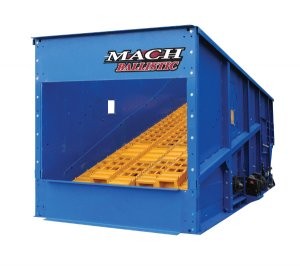 The MACH Ballistic separator is designed for sorting 2D materials (plastic film, paper, cardboard and fibres) and 3D materials (containers, plastic bottles, cans, stone, wood, etc.) While 2D materials travel up the unit's slope in a forward direction using paddles, the 3D material bounces or rolls downward. Fine particles can be collected separately with optional variable screen openings.
This separator can handle different material types including single-stream, municipal solid waste, and commercial / industrial waste. Multiple separators can be configured vertically or horizontally to address particular sorting challenges. In addition to being designed specifically for sturdy, reliable operation, these units provide MRF operators with a range of benefits including: separation of fibres, containers and fine particles; increased quality of sorted material; reduced operating and maintenance costs; easy, safe maintenance; and versatility, ensuring different material types can be processed within a single system.
Company info
Related products