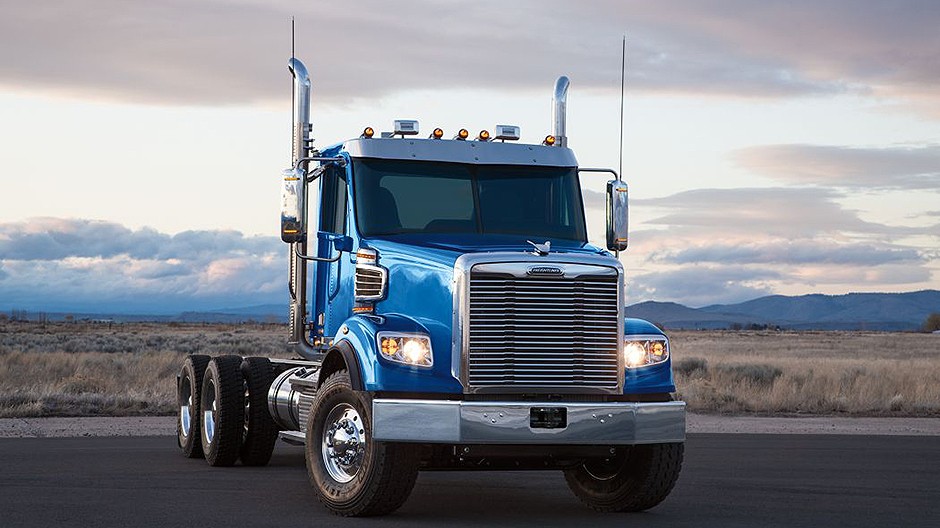 The 122SD is the ultimate work truck: powerful, rugged and versatile. These heavy commercial trucks can haul anything from granite to logs to heavy equipment with ease — across severe terrain, down a mountain and around hairpin curves. As a leading heavy truck manufacture, we've designed the 122SD to be dependable, comfortable and profitable. These heavy commercial trucks can take you and your business to new heights.
Features & Benefits
PICK YOUR POWER
With the 122SD, you get to choose between two of the most respected engine brands in the world. All three of Detroit's flagship engines—the DD16®, DD15®, DD13® and the Cummins ISx15.
HANDLES EXTREME LOADS
Comes with steer axles rated from 12,000 to 22,000 lbs., drive axles rated from 23,000 to 70,000 lbs, and an industry leading 1,900 square inch radiator to cool engines up to 600hp/2050lbft. torque with loads up to 160,000 lbs.
HANDLES EXTREME ROADS
Every 122SD is built with "pillow-block" front cab mounts designed to dampen shock and vibration. The rear cab mounts use air springs spaced apart to give the truck a wide stance for great stability.
PUT TO THE TEST
The 122SD is tough. Test after test proves it. The components, systems and entire truck has been subjected to an array of virtual and physical tests to ensure the 122SD delivers the expected function, performance and reliability.
CONTROLS
The 122SD dashboard is command central with ivory-colored gauges and a dash structure designed with fewer sections, making it one of our quietest and most durable.
Specs
Key Specifications

| | |
| --- | --- |
| Horsepower | 350 to 600 HP |
| GVW | 92,000 lbs. |
| Torque | Up to 2050 @ 1100 RPM |
| Engines | Detroit™ DD13® Detroit™ DD15® Detroit™ DD16® Cummins ISX15 |