Manufacturer
| | |
| --- | --- |
| Address | PO Box 502366, Indianapolis, IN, 46250, US |
| Phone | 317-578-3961 |
| Website | lubeaboom.com |
| Follow Us | |
About
LUBE-A-BOOM® was founded in 2002 by Harley and Marilyn Wilson but the idea goes back to the mid seventies when Harley was a service representative for Grove Manufacturing (now part of the Manitowoc Crane Group). While chattering booms may be infrequent; when they do occur it can be a big problem; especially in critical lift situations. Chatter can also be a safety issue with machines actually being asked to be removed from job sites. Add to that, premature wear pad failure or boom section(s) damage and it is easy to understand the need for using only the best lubricant available.
Not just unique to Harley but also other service people who tried various concoctions of additives such as STP* and PFTE mixed with various greases to try and stop and/or prevent boom chatter is how we got the idea for LUBE-A-BOOM®. Mixing your own "brew" is, flying by the seat of your pants since there was no engineering standards or consistency since you are taking existing products and hoping they work. Also, because this was a "niche" product, and not a market for the major oil companies, we saw it as an opportunity. After many attempts over 25 years and realizing that the product was going to have to be developed by starting with a "clean piece of paper", we went on a search to find a company that manufactured and formulated such products. A company was found and a plan was soon put in place to develop the product to LAB specifications. After months of formulating, field and laboratory testing, LUBE-A-BOOM® friction reducing lubricant was born and we had our first production run in July, 2003. An interesting side note is that we always knew the name of the product would be called LUBE-A-BOOM® and it is trademarked. LUBE-A-BOOM® was also formulated for pins, bushings and bearings so it is not limited to booms. LUBE-A-BOOM® is a superior product for many applications and some companies use it exclusively on all types of equipment.
We decided to call LUBE-A-BOOM® a lubricant versus grease since we also had it produced in an aerosol. LUBE-A-BOOM® AEROSOL was completed and into the market by April, 2004. The aerosol continues to be a best seller along with the Original LUBE-A-BOOM®.
LUBE-A-BOOM® AEROSOL is a very unique product since it required taking the Original LUBE-A-BOOM® grease and formulating it so it would not only spray, but leave a film unlike anything else in the marketplace. It is also being used for many applications other than booms.
Because we sell our products through a national and international distribution, it has allowed LUBE-A-BOOM® to be able to get valuable feedback and requests for other products. Thus, LUBE-A-BOOM® DRY FILM aerosol, LUBE-A-ROPE™ wire rope aerosol, LUBE-A-GEAR™ open gear aerosol, LUBE-A-BOOM® clear aerosol, LUBE-A-PIN™ and LUBE-A-PAK™.
LUBE-A-BOOM® has several OEMs using our products as well as the U.S. Marine Corps, used our products in Iraq. LUBE-A-BOOM® is being used in many different environments, extreme hot in Iraq to extreme cold, in Iceland. LUBE-A-BOOM® is also an accepted product for machines working in coastal regions since it has excellent water and salt water resistance properties. Several OEMs are using our products and they continue to find their way into uses on industrial and other types of construction equipment.
We have dealers in several countries including Canada, Mexico, U.K., Spain, Australia, Trinidad and Tobago with a successful dealer network in the U.S. it was just a matter of time before our business would expand into other countries. We now have dealers in Canada, Mexico and New Zealand and anticipate having representation in other countries.
Our philosophy has been and continues to be that lubricants that solve problems or extend the interval by lasting longer, will always be in demand and we have a simple sales strategy "Try our products against what you are presently using and let the best one win".
Lube-A-Boom Product Categories
Related Articles (1)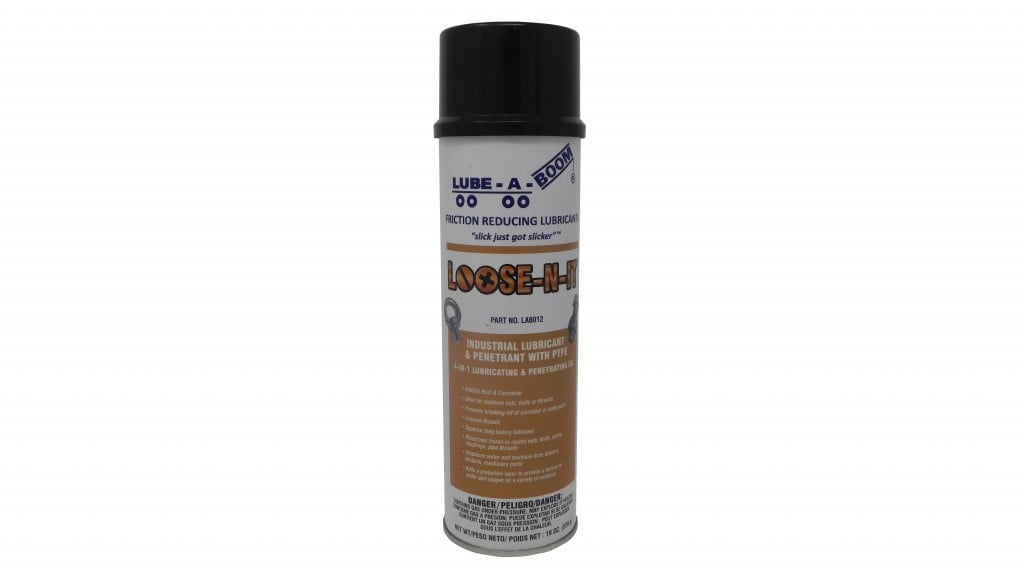 LOOSE-N-IT 4-in-1 lubricant now available from LUBE-A-BOOM