Manufacturer
| | |
| --- | --- |
| Address | 2830 Argentia Road, Unit 9, Mississauga, ON, L5N 8G4, CA |
| Phone | 1-888-862-7461 |
| Fax | 905-858-0597 |
| Email | [email protected] |
| Website | beka-lube.com |
| Follow Us | |
About Beka - Lube Products
BEKAWORLD LP (formerly known as Beka-Max of America Inc.) is North America's source for BEKA-branded central lubrication systems by Baier+Köppel GmbH as well as a growing range of lubrication and maintenance products for heavy equipment.
Beka-Lube Products Inc. (in Canada) and BEKAWORLD specialize in custom solutions that take the time, effort and waste out of routine lubrication requirements. BEKA is an industry-leading name in oil and grease pumps, as it has been since 1927. No one offers a wider range of lubrication systems and technology. And no one offers a deeper range of experience in matching the right solution to your application.
For mobile construction equipment, processing machinery, heavy-duty hydraulic breakers, lifting booms and more, BEKA is here to help you run easy, run longer, every working day.
Although grease pumps and line fittings may all look alike, take a closer look. You'll see important differences that affect long-term costs and performance. Smart routing and installation of grease circuits will save setup costs and prevent future problems with machine vibration, pinch points and accessibility. There is no substitute for experience when it comes to planning your autolube system. Having served North American industry for more than 25 years, supported by a worldwide legacy dating back to 1927, BEKAWORLD has helped thousands of US and Canadian equipment managers specify the right solution.
Learn how a BEKA autolube system keeps your equipment up and running, avoiding unscheduled down time...and you making money. We can't wait to answer your questions! Visit our site and sign up for RUNTIMES, our regularly published newsletter. Or check out our blog at http://www.beka-lube.com/blog/. It's packed with helpful hints and operating tips along with the latest news from BEKA.
MEET THE BEKAWORLD LINE UP OF AUTOMATED PUMPS AND SERVICE.
Maximize lubrication with GIGA PLUS
Like having three BEKAWORLD pumps in one, the GIGA PLUS central lubrication pump is suitable for any type of machine autolube system, be it a sectional, single line, multi-line or progressive network. GIGA PLUS has three independent outlets for lubricant supply that are tied together by internal channels within the pump housing. Depending on the machine's lubrication needs, each channel can be joined to a different section and set to a unique cycle, or they can all be combined for one lubrication circle. Talk to us about your lubrication requirements.
PICO pumps fit where others can't
Autolube systems are integral to large equipment, but small machines need it too. PICO central lubrication pumps were engineered specifically for smaller equipment such as compact excavators and skid steer loaders that have little space built in for added components. Fitting into spaces 60% smaller than required for a typical autolube pump, PICO pumps install easily into the engine compartment to provide metered greasing service for up to 8 points and/or distribution blocks. The electronically-driven PICO pumps are available in 24V or 12V models, with or without integrated controls. Even special vocational applications like garbage packers have incorporated the PICO pump into their units for longer life, increased residual values and minimizing any unscheduled downtime.

EP1 pumps offer autolube flexibility
Providing automatic lubrication for equipment in on- and off-road applications, electric EP1 central lubrication pumps from BEKAWORLD are suitable for standard NLGI-rated greases and are engineered to pump EP2 shop grease to all service parts automatically even in temperatures down to -13ºF/-25ºC. Heavy-duty EP1 pumps are available with up to three independently-operating lubricant outlets. The electronic monitoring of grease level, pump function, distributor function, pipe rupture and lubricant feeding is supported by an integrated data logger with a diagnosis module. Used as initial equipment by many leading OEMs, EP1 pumps are available in 24V or 12V models. Got a question about your application? Our design team cannot be stumped! Call us at 1-888-862-7461 or send your questions to [email protected].
Breaking ground with BEKA HAMAX
An autolube system on equipment may make sense, but don't forget about that demanding hydraulic breaker pounding away at the end of the machine's stick. Operating without adequate lubrication will quickly damage the attachment. The answer is the BEKA HAMAX, which bolts securely on to any make and model of medium to large breaker. The adjustable feed-rate pump supplies lubricant to the breaker as soon as the breaker is activated. HAMAX is also available in a compact version for smaller breakers. The HAMAX system can work as a stand-alone or in conjunction with a carrier mounted auto-lube system. Whether it is the HAMAX or one of the other 6 systems designed and built specifically for attachments, we have the system for you.
Complimentary Products
Our Mato Products complement BEKA Systems with professional-grade manual, pneumatic and electrically powered grease guns and sprayers for technicians in the shop and in the field.
For mobile or stationary construction equipment, heavy duty hydraulic breakers, lifting booms and more, BEKAWORLD is here to help you run easy, run longer every day.
About BEKAWORLD LP
BEKA is today's leading global brand of automatic lubrication systems for industrial, over-the-road and off-road applications. Since 1927, BEKA has been trusted by equipment manufacturers and owners for high quality innovative central lubrication systems. Across the US, BEKAWORLD and its dealer network delivers on the BEKA promise of environmentally friendly, trouble-free products that increase component life, reduce repair costs and increase the value of your equipment. We measure our success by your up-time.
For more information about BEKAWORLD, please contact:
Jacquie McDougall, COO BEKAWORLD LP
PO 234 258 Sonwil Drive
Buffalo, NY 14225
Toll-Free: 1-888-862-7461
www.Beka-Lube.com
Beka-Lube Products Inc. Product Categories
Related Articles (6)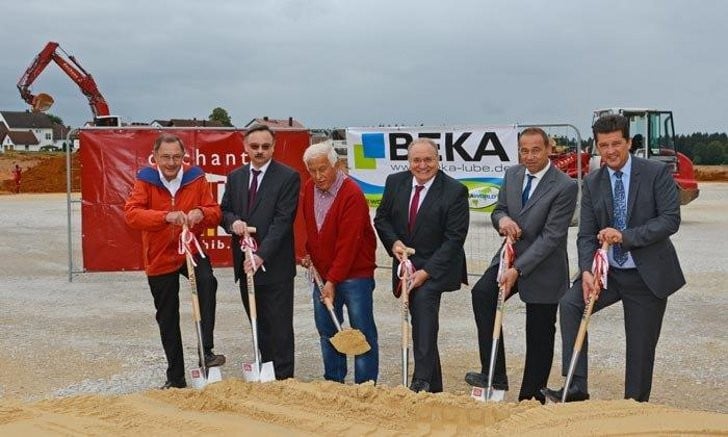 ​Groundbreaking ceremony held for new BEKA plant in Germany