Republic Introduces Cutting-Edge Recycling Technologies in North Carolina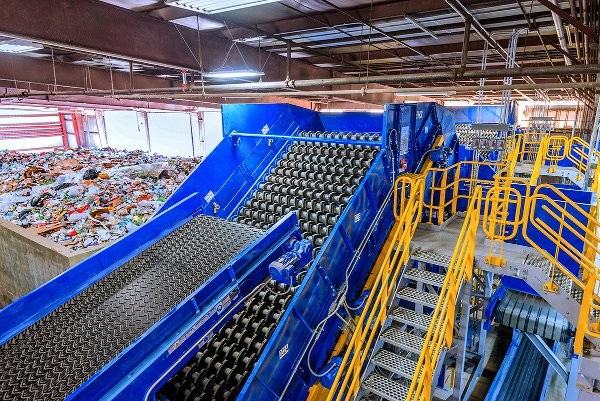 Republic Services today dedicated the Conover Recycling Facility in Catawba County, which will introduce or expand single-stream recycling capabilities throughout Alamance, Catawba, Guildford, Montgomery, Richmond, and Stanly counties. The expanded, highly-advanced facility – designed, manufactured and installed by Bulk Handling Systems (BHS) – has the capacity to process more than 25 tons of mixed recyclables per hour, or 400 tons each day.
"This is an historic day for a community we are fortunate to serve," said Drew Isenhour, area president of Republic Services. "This area is home to considerable natural beauty, and we are proud to deliver with Catawba County a cutting-edge recycling facility that will help to preserve the local environment for future generations. The reality is that we can all do more to reuse and recycle in our daily lives, and this facility will empower North Carolinians to do so for decades to come."
The Conover Recycling Facility accepts and processes all plastics marked 1 through 7, paper products, cardboard, glass, aluminum, and other materials. The facility utilizes several advanced technologies, including a touch-screen Human Machine Interface control, Supervisory Control and Data Acquisition monitoring, and innovative sorting technologies that maximize sorting efficiencies. The facility has the capacity to sort and process incoming materials, and ship finished commodities to domestic and international markets.
There are approximately 43 full-time employees working at the Conover Recycling Facility. In addition, the facility offers a unique Learning Center for the community to visit, experience a rare, up-close view of the recycling process, and learn more about recycling and sustainability issues.
The Conover Recycling Facility is approximately 49,000 square feet in size, and will serve more than 146,000 homes throughout Alamance, Catawba, Guildford, Montgomery, Richmond, and Stanly counties in North Carolina. Recycling operations at the facility first began in 1990. In November 2013, the older equipment was removed and construction began in order to retrofit the facility so that it could accommodate new equipment and more advanced recycling capabilities. Commissioning of the new equipment began in March, 2014 and was complete in May.
Capacity is projected to increase by approximately 25 percent in the first year. Recycled materials can be processed and shipped to domestic or international markets as commodities within 24 hours of arrival. Finished bales of paper, plastic and metals weigh an average of 1,500 lbs.
The system has two optical sorters to process rigid plastics, scrap metal and aseptic containers/cartons. Other technologies include:
o NRT In-Flight Sorting: technology that detects and ejects plastics and aseptic cartons after they separate from the conveyor belt, while in mid-air. This process improves sorting efficiencies, helps to ensure the purity of recycled materials and protects the conveyor belt from object interference.
o BHS Tri-Disc: technology that creates precise sizing and superior material agitation, as well as minimizes disruptions from materials wrapping around machinery.
o Nihot Single Drum Separator: a new technology that segregates glass and other heavy materials from paper or lighter materials based on density, using negative pressure, or suction, and a ballistic effect off of the drum.
The facility's Learning Center offers educational videos and information on recycling and sustainability, and it provides visitors with a first-hand view of recycling operations.
Facts about material recovery
o Aluminum: Recycling one aluminum can saves enough energy to run a TV for 3 hours (Source- Reynolds Metal Company.)
o Glass: One ton of glass made from 50 percent recycled materials saves 250 lbs. of mining waste (Source – U.S. Environmental Protection Agency.)
o Paper: Recycling one ton of paper saves 17 trees and 7,000 gallons of water (Source – U.S. Environmental Protection Agency.)
o Plastic: The energy saved by recycling one plastic bottle will power a computer for 25 minutes (Source- U.S. Environmental Protection Agency.)
o Steel: Every pound of steel recycled saves enough energy to light a 60-watt bulb for 24 hours (Source – Penn State University.)
Republic Services employs more than 200 personnel, and serves more than 94,000 residential, 7,400 commercial and 1,400 industrial customers throughout central and western North Carolina. The Company operates four hauling divisions, three transfer stations, one landfill, and one recycling facility in the area. Through its subsidiaries, Republic has been proudly serving customers in North Carolina since 1947. www.republicservices.com.
Headquartered in Eugene, OR, BHS is a worldwide leader in the innovative design, engineering, manufacturing and installation of sorting systems and components for the solid waste, recycling, waste-to-energy, and construction and demolition industries. The BHS family of companies includes Nihot (Amsterdam) and NRT (Nashville).