World's largest dry AD facility producing electricity and compost in San Jose
SMARTFERM system technology behind the operation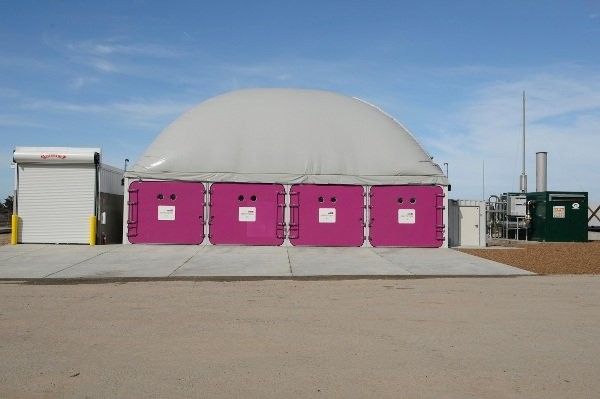 by Keith Barker, Editor, Recycling Product News
Zero Waste Energy (ZWE) opened its first facility in California, in January 2013. Serving as a pilot demonstration project for Marathon's SMARTFERM Anaerobic Digestion system, in conjunction with the local Monterey Regional Waste Management District (MRWMD), the 5,000 ton per year (TPY) anaerobic digestion (AD) facility began converting source separated organic waste into biogas for electricity as well as high-quality agriculture compost, drawing attention from across the country and the globe.
A little more than a year later, ZWE says the number and variety of their projects have grown significantly and begun to demonstrate the commercial viability of this technology, as well as the company's qualification and flexibility to serve as the designer/builder, operator and/or owner.
According to ZWE, the newly operating facility in San Jose, California is now the world's largest dry anaerobic digestion facility. Capable of processing 90,000 TPY of organics, the LEED Gold Certified facility can generate 1.6 MW of electricity as well as 34,000 tons of organic certified compost.
The feedstock is a combination of commercial organic waste separated from the municipal solid waste stream (MSW), pre and post-consumer source separated food waste, residuals from processing wet and dry materials, and yard trimmings.
After meeting on-site energy needs, surplus energy will be provided to the project owner's nearby Construction & Demolition waste processing facility. During off-peak hours, surplus energy will be sent back to the grid. Despite being the largest in the world, ZWE says the facility may soon be expanding even further. The project developer (ZWEDC) is currently in talks with the City of San Jose for a second phase that would process up to an additional 90,000 TPY of residential source separated organics and convert the biogas to renewable natural gas for use as CNG for fleet vehicles.
Future is bright – at home and globally
Zero Waste Energy, in conjunction with South San Francisco Scavengers, Co. and the Blue Line Transfer Station in California, has also recently begun construction on a facility that will transform 11,200 TPY of commercial and residential source separated organics into up to 150,000 diesel gallon equivalents (DGE) of biogenic CNG. It's estimated that each collection vehicle will collect enough organic waste during just one route to fuel itself for an entire day. Estimated for completion in Q3 2014, this South San Francisco facility will create a true closed loop system and will be one of the first projects of its kind in the United States.
And ZWE's interest is not limited to the United States. ZWE's newest project traverses the globe to Doha, Qatar where the company will be designing and implementing a comprehensive waste processing project for the country. Qatar's per capita waste generation is one of the highest in the world, creating a solid waste stream of approximately 60 percent organic waste, with the majority of the remainder composed of recyclables.
To address this waste stream, ZWE's Qatar project will encompass complete waste processing, including recycling of both MSW and C&D as well as Anaerobic Digester operations.
SMARTFERM technology
As for the technology behind their AD operations, ZWE says the SMARTFERM dry anaerobic technology, manufactured in the U.S. by Marathon Equipment Company (part of the ESG group), is the best technology available, in terms of performance and ROI, to handle the organic fraction of MSW.
SMARTERM is a modular, scalable system that can be installed in a space as small as 3,000 square feet and be constructed in as little as 120 days, allowing for the processing of from 4,000 up to 100,000 TPY of organic material. SMARTFERM systems have a 21 day batch cycle that speeds up the natural composting process and captures the inherent energy in organic waste. Made specifically for the waste industry, SMARTFERM is highly customizable to specific organizational needs in terms of size and desired outputs (including CNG fuel, electricity, CHP or compost).
ZWE says SMARTFERM is currently being used on projects underway in Alabama, Minnesota and California. As for ZWE's MRWMD facility in Monterrey, the electricity generated continues to be sold to the Regional Water Pollution Control Agency and has enabled the Agency to become energy negative. The more facilities that are developed, the more adaptable and flexible the system proves itself to be, especially when paired with complementary MRF and composting technologies.