Rewriting the book on C&D
Industry pioneer finds efficient, environmentally sound on-site deconstruction leads to 98 percent diversion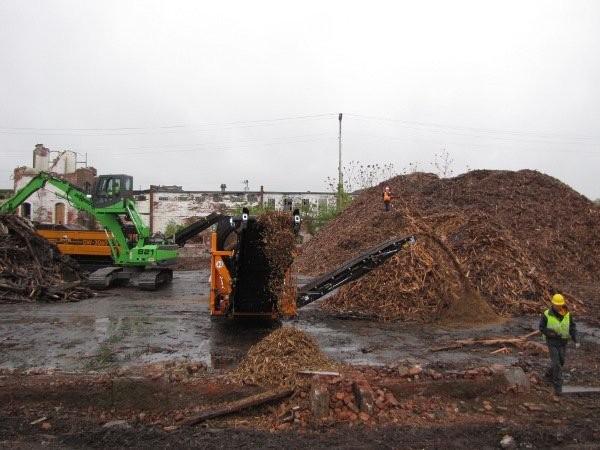 By the time Costello Dismantling was finished with its demolition of the 800,000 square-foot Quaker Fabrics textile mill in Fall River, Massachusetts, its expert crew had salvaged a treasure trove of southern yellow pine timber, massive granite blocks, concrete, bricks and metal. Of the project's 100,000 tons of mixed "waste" material produced, less than 2,000 tons were sent for disposal. The rest was recycled, reused, or applied on-site to offset fill costs.
When it comes to efficient, environmentally sound "deconstruction" methods, Costello Dismantling and its President, Dan Costello are way ahead of the curve.
"We look very carefully at each job to identify those materials that are most easily handled and recyclable, and determine the highest and best use opportunities for each type of material," explains Costello. "We have tailored our equipment fleet and our personnel training to be disciplined between the different markets for materials."
On-site processing and meticulous infeed handling
The heart of Costello's dismantling operation is an inventory of equipment carefully chosen to sort and process materials on the project site. When he's adding to the fleet, from shears to material handlers, Costello looks for robust, versatile machines that he can apply across a number of project types. He recently acquired a fleet of mobile Doppstadt shredders to convert wood waste into graded fuel products. Following on that purchase, he now has a new Sennebogen 821 material handler, with a mag-grab to feed his size-reduction equipment.
"The thing we learned early on was the need to meticulously manage the infeed," Costello explains. "That mainly involves picking out any heavy metals before the load goes into the shredder. This will minimize damage and minimize downtime on that side of the operation. The mag grapple gives us the capability to pull steel out of the wood, then load the wood into the grinder with the same grapple."
"The Sennebogen does a nice job of handling timbers so we don't damage them in sorting and loading," he continues. "It handles the wood delicately and efficiently. We're always looking for wood, carpeting, gypsum wallboards… it all requires a lot of very careful handling and the Sennebogen gives us those handling characteristics that we appreciate."
Costello reports that the 821 worked so well in the feeding application that he also sent it out on a demolition job to sort through mixed material and separate the iron. He describes the material handler as a secondary or tertiary machine on a project, following the primary machines which have already extracted the material from the buildings.
"The 821 cleans up the material for further processing. It separates clean concrete from wood material and gives us more economical options by keeping the waste streams separate. It does that job very well; it gives you good control over the sorting."
Visibility and control
To build his fleet, Costello has worked closely with his dealer representative, Bob Rosa of CN Wood.
"They've been a terrific dealer," says Costello. "Bob is so knowledgeable; he knows his equipment inside out and he knows how to maximize the machine for each application. And Bob Benard (CN Wood's owner) is a marvelous owner to be associated with. We rely on them to help us decide on all the equipment we need."
Bob Rosa says they are honoured to be part of the process. "Dan is brilliant and surrounds himself with good people. Others have come and gone in this industry but Dan continues to pioneer and lead the way." Rosa continues; "Our relationship is based on trust and faith and I am thrilled to have earned that position. My job is equipment and if I can't offer him the very best for his application, I will help him find it elsewhere."
Costello first became familiar with Sennebogen machines when CN Wood supplied an 825 scrap handler to his scrap metal processing yard.
"We found that, in addition to being well suited to handling scrap, it's very good at loading rail cars. We handle a lot of #1 bundles from our baling operation; the Sennebogen just made handling and loading that material so much easier and more efficient than a conventional excavator."
According to Costello, the elevated cab of the 825 allowed the operator to achieve more optimal loading and to complete the loading faster. Perched up above the rail car; the visibility from the operator's station allows more precise control in placing the bales. Costello also cites the fast cycling of the purpose-built material handler and the intuitive controls as factors in the machine's loading efficiency. Visibility and ease of control were exactly the characteristics he was looking for in his on-site processing fleet.
"One of the critical components of wood fuel product is to have absolutely no metal in there," says Costello. "With the 821, our operators are able to look right into the grinder and into the conveyor as they feed the loads in. That gives us a second opportunity to see any bar or other metal that shouldn't be going through."
Strict standards, greener footprint
Costello Dismantling is based in Middleborough, Massachusetts, where state landfill regulations are the strictest in the U.S. Local conditions gave Costello an incentive to excel at recycling demolition waste, and now the firm's expertise is at work all over the Northeast, from New York City to northern Maine. Costello's 50 full-time employees complete over 100 deconstruction projects each year.
In addition to meeting environmental standards, Costello's methods generate additional revenue streams which then allow the company to bid more competitively on large complex jobs.
"Whether through revenue generation or reduction in costs, it works out to be pretty much the same in that there's a positive value towards the project," he says.
"It's very common for us to recycle over 90 percent of the material." While producing wood fuel on the jobsite is a vital revenue source for Costello, he acknowledges that concrete and masonry material is by far the major component of any job.
"It's not uncommon to generate 40 or 50 thousand tons of concrete. There's a great environmental impact of being able to crush and reuse the material as fill, so the material never has to leave the site. You don't have thousands of trucks leaving the site with debris then an identical number of trucks coming back with another fill material. With small portable equipment, it's very economical to crush that material to make a specified end-product for less cost than the cost of transportation of trucking the material away."
A C&D tradition
Dan Costello takes the recycling potential of the demolition business very seriously. He is a past board member of the National Demolition Association and he serves on its Environmental Committee. He also chairs the product specification committee of the C&D Recycling Association (CDRA).
"In recent years, there's been a lot of change in the industry," he observed, "led by European markets, where there's a dependence on biomass fuel for power requirements and their strict avoidance of landfills. The demolition industry has been in the forefront of recycling since Egyptian times, when buildings were taken down and the materials were reused in new buildings. We have a very long and proud tradition as recyclers."
Company info
Related products